It's time to explore your North Carolina options with Nextiva VoIP services. Purchase a
Raleigh

area code and get instant activation on area code 919 for your business today!

When your local business presence isn't enough, Nextiva takes you where your customers are.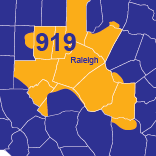 Raleigh is the capital of North Carolina and the second biggest city behind Charlotte. It has an estimated population of 468,000 people and covers 148 square miles in the central part of the state. Located in Wake County, area code 919 also includes parts of Durham, Orange, Wayne, Chatham, and other counties as well. A Raleigh area code is an asset to any business looking to expand in North Carolina because it's only 166 miles from Charlotte and 132 miles from Wilmington.
Raleigh was chartered in 1792 and is named after Sir Walter Raleigh. The city was built specifically to be the capital of the state of North Carolina. The economy grew steadily and in the 1800's Peace College was founded in the city. However, Raleigh still suffered during and after the Civil War and took an economic hit again during the Great Depression.
Finally, the Research Triangle Park opened in the 1950's and brought a population surge to the city as tech workers began to move into the area. Now, the city sits comfortably as the second-largest city in North Carolina and the 42nd largest in the United States.