Prescott

area code is a great way for any business to break into the Arizona market.

When your local business presence isn't enough, Nextiva takes you where your customers are.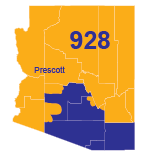 Prescott is a small town in the central part of Arizona. It covers 45 square miles and with an estimated population of 45,000 people, it is the 21st largest city in the state. Prescott is the county seat of Yavapai County but area code 928 also includes parts of the Grand Canyon, the Navajo Nation, and cities like Flagstaff, Winslow, and Yuma as well. A Prescott area code is an asset to any business ready to expand in Arizona because of their location only 99 miles from Phoenix and 212 miles from Tucson.
The city of Prescott was named after the American historian William H. Prescott. It started as a US Army post called Fort Whipple and even spent a few years as the capital of the Arizona Territory. Miners first came to Prescott during the Gold Rush in the late 1800's, and the city was incorporated in 1881.
The population and economy of Prescott grew throughout the early 1900's. Now, Prescott serves an escape from the heat for tourists from Phoenix and the rest of Arizona and sits comfortably as the 21st largest city in the state.