Every business can grow in Pennsylvania with a
Pittsburgh

area code.

When your local business presence isn't enough, Nextiva takes you where your customers are.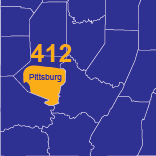 The city of Pittsburgh is the second largest in Pennsylvania after Philadelphia. It has an estimated population of 305,000 people and covers 58 square miles in the western part of the state where the Ohio, Allegheny, and Monongahela rivers meet. Pittsburgh is the seat of Allegheny County, but area code 412 covers parts of the Washington and Westmoreland counties as well. The city is located 133 miles from Cleveland, 305 miles from Philadelphia, and 370 miles from New York City.
Pittsburgh was founded in 1758 by George Washington and General John Forbes, and incorporated as a city in 1816. Steel quickly became the city's major industry during the Civil War, and soon afterward Andrew Carnegie founded US Steel in the city.
The population continued to increase during the 19th and 20th centuries, and soon Pittsburgh was the 8th largest city in the country. Demand for steel continued throughout World War II, so the city didn't hit an economic decline until the 1980's. Although the population has decreased since it's peak, the Pittsburgh area code is still the 63rd largest city in the United States.