Nextiva VoIP services make it possible for businesses to expand in California with a
Pasadena

area code.

When your local business presence isn't enough, Nextiva takes you where your customers are.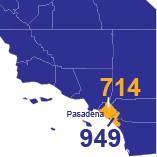 A Pasadena area code can help with ultra-targeted growth in the Los Angeles area, because the city is only 10 miles north of LA and has an estimated population of 142,000 people. Pasadena covers 23 square miles in Los Angeles County, but area code 714 and 949 includes parts of Orange County and San Bernardino County as well. One of the main strengths of Pasadena is its proximity to many important cities, and beyond Los Angeles it also sits 136 miles from San Diego, 264 to Las Vegas, and 383 from San Francisco.
Pasadena was incorporated in 1886 and began as a resort town. Hotels and luxury retreats grew, and soon it became a major vacation destination for many Americans. Pasadena thrived in the early 1900's and soon rivaled their neighbor of Los Angeles. The location in Southern California made Pasadena a strategic asset in World War II and the city continued to experience population growth.
Pasadena began to decline in the second half of the 20th century, but a strong and diverse economy is helping it overcome the setback. Now, the city sits comfortably as the 40th largest in California.