Now businesses across the country can grow in Louisiana with a
New Orleans

area code.

When your local business presence isn't enough, Nextiva takes you where your customers are.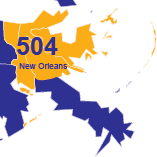 New Orleans may not be the capital of Louisiana, but it is the largest city in the state. Nicknamed "The Big Easy," New Orleans has a population of 391,000 people and covers 349 square miles on the Gulf of Mexico. It's located in the Orleans Parish in the southeastern part of the state, and area code 504 includes the parishes of St. Bernard, Plaquemines, and most of Jefferson as well. The city is the 12th largest in the southern US and sits 95 miles from Baton Rouge, 206 miles from Jackson, and 389 miles from Houston.
New Orleans was founded by the French Trading Company in 1718 and was a French colony until the Louisiana Purchase was completed and the United States took control of the land. The city quickly gained importance in the region, and experienced its economic peak in the 19th century when the slave trade propped up their economy. An economic decline followed after the Civil War and has continued to present day, where New Orleans still struggles to keep up with the other southern powerhouses in the area.
Recently, the biggest turning point in the city's history was Hurricane Katrina, which hit New Orleans in 2005. Afterward, the population dropped from 1.1 million people to around 300,000, and the Orleans Parish went from the largest to the third largest in the state.