With Nextiva, any
Los Angeles

area code is within reach for your business.

When your local business presence isn't enough, Nextiva takes you where your customers are.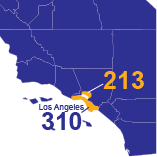 Los Angeles, California has a population of almost 4 million people and covers over 500 square miles. Because of that, it requires multiple area codes across the city. Area code 323 and 213 cover the central, downtown area of the city, including the neighborhoods of Koreatown, Hollywood, Huntington, Bell Park, Florence, and more. Los Angeles is the second largest city in the United States and is located in the southern part of California. It sits 102 miles from San Diego, 383 miles from San Francisco, and 386 miles from Sacramento.
Los Angeles was originally part of the Mexican territory, and was won by the United States through the Mexican-American War in 1848. California was given statehood in 1850 and the city of Los Angeles was incorporated in the same year. The discovery of oil in the area led to a population boom, along with the new connections to the Southern Pacific Railway.
The California Shipbuilding Corporation played an important role during World War II when the company built much of the ships for the war. The Los Angeles area code also contained six of the biggest aircraft companies, turning the city into a serious transport hub during the era. After the war, Los Angeles continued to grow. Now it sits comfortably as the second largest in the United States (only trailing behind New York City) with a population of almost 4 million people.