Reaching the local California economy is easy with a
Los Angeles

area code.

When your local business presence isn't enough, Nextiva takes you where your customers are.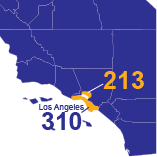 Los Angeles is the second largest city in the US after New York, so it uses multiple area codes to cover it. Area code 310 and 424 are located in the coastal part of the city and contain the West Los Angeles and South Bay areas, including Santa Catalina Island, Hermosa Beach, Beverly Hills, Malibu, Santa Monica, and other major neighborhoods in the city. In total, Los Angeles has an estimated population of 3.9 million people and covers over 500 square miles in southern California. Additionally, Los Angeles is located 102 miles from San Diego, 271 miles from Las Vegas, and 372 miles from Phoenix.
The territory of California was won by the US after the Mexican-American war in 1848, and the city of Los Angeles was incorporated in 1850. The population grew with railroad connections and the discovery of oil in the area. In 1910 the entertainment and film industry began to grow as well when Hollywood merged into the city limits.
The city experienced a manufacturing boom during World War II. It began producing much of the ships and planes for the war effort and shipped them from their strategic ports on the Pacific Ocean. Afterward, the city continued to grow and now it dominates as the second largest city in the United States.