Flagstaff

, Arizona is in the 928 area code in Coconino County, as part of northern Arizona, close to Humphrey's Peak, the State of Arizona's highest mountain.

When your local business presence isn't enough, Nextiva takes you where your customers are.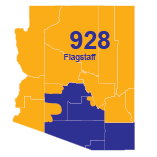 Get a Flagstaff area code for your business with Nextiva VoIP services. Access area code 928 from anywhere in the world and grow your business in the Arizona economy with Nextiva by your side.
No matter where in the world you are located, a Nextiva digital phone system can give you access to the local market in Flagstaff, Arizona. The city is the 13th largest in Arizona and has a population of 70,000. Flagstaff covers 65 square miles in Coconino County in Northern Arizona and is bordered by Bellemont, Winona, and Kachina Village. Area code 928 is only 76 miles from Grand Canyon National Park, and 145 miles from Phoenix, Arizona.