Chandler

, Arizona is located in area code 480. Use Nextiva digital phone services to get a local number in the Chandler area code for your business.

When your local business presence isn't enough, Nextiva takes you where your customers are.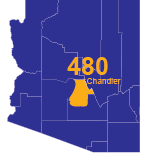 Nextiva VoIP services can connect you with a local phone number in Chandler, Arizona. The city is located in Maricopa County and is an important suburb of Phoenix, the state capital. The population was reported as 247,000 in May 2016.
Chandler, Arizona covers over 58 square miles and is bordered by Tempe, Mesa, Gilbert, and Northeast Phoenix, all of whom share area code 480 as well.
The city of Chandler, Arizona was founded in 1912 by Dr. Alexander John Chandler. The veterinarian owned 18,000 acres and turned it into the townsite. Within a year, the town square, high school, and even a hotel and the first golf resort in the state were all established in the city. The Williams Air Force Base was built in the 1940's, bringing jobs and population growth to the city with it. Since the 1990's Chandler has been ranked as one of the fastest growing municipalities in the United States.