Boise

, Idaho is in the 208 area code, located in the Northwestern United States.

When your local business presence isn't enough, Nextiva takes you where your customers are.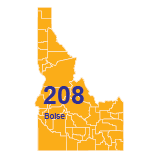 The capital of Idaho and county seat of Ada, Boise is basically the core and center of the state. With a population just over 200,000 measured in the 2010 there was seen to be an increase to about 220,000 in the 2016 calculation. The city is growing as the business center of the state, as well as the northwest region of the country. Much of the Boise economy is centered around Boise State University in many aspects, from employment to tuition and increase of population. There is much to be gained from the further growth and development of this university for the city as a whole.
Some of Boise's top employers include Saint Luke's Regional Medical Center, Boise State University, West Ada School District, Boise School District, Saint Alphorsus Regional Medical Center, Wal-Mart, JR Simplot, Albertsons, Hewlett Packard, Nampa School District, Wells Fargo and McDonald's. It's hard to believe that a city with what would be assumed to be basically unincorporated would hold such a wide array of large employers in different industries. This could also lead to increased technology advancement from industrial or manufacturing into the technological world.