The city of
Birmingham

has a population estimated at 229,424, as the largest city in the State of Alabama.

When your local business presence isn't enough, Nextiva takes you where your customers are.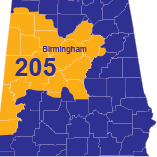 Birmingham is the most populated city in Alabama, measured at just over 212,000 in the 2010 census. It is also considered a larger focal point of US history, especially the southern civil rights movement through the 1960s.
It was also the industrial center through this point of time, very active through the 19th and 20th centuries, and now moving the southern state more into the upcoming technological and other advancements of the 21st century.
The most medical, law and other advanced higher education schools star located in this city of Alabama, though it is not the capital of the state. Located at the traveling center of the entire state there is much to be seen for the overall activity of this large city.
Also, with the headquarters of the SEC, athletic conference of the southeast, there is much to be said for what comes through as far as the popular activity of the Southeast region as a whole. A very active athletic conference, this headquarters adds incredible attraction for large and small companies alike.