Baltimore

, Maryland is in the 410 area code, with approximately 2.7 million residents as the 20th largest city in the U.S.

When your local business presence isn't enough, Nextiva takes you where your customers are.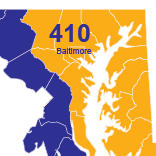 Baltimore Maryland area code 410 has many businesses in the Fortune 100, including the Baltimore Sun, with its single revenue over 43 billion dollars annually. Also, there has been measured a population inside the city limits of almost 620,000 in 2017, while the entire metro region was measured just under 3 million in 2016. One of the largest, fortunate and beneficial cities in the country, there is much to be seen for Baltimore, Maryland, area code 410, businesses to advance with the communication benefits of a VoIP system.
Johns Hopkins University and Johns Hopkins Hospital have become the more service-oriented focus of the city economy over the past half century or so, with an incredible development of the city in education and healthcare. With much of the city focused on these two locations, there is much to gain from the employees that are both on- and off-site to have access to beneficial PBX communication features. Many employees are active worldwide while their location is primarily in Baltimore and maintain area code 410 in their business communication helps to keep that solid local professional image.