Bakersfield

, California is in the 661 area code in Kern County, California.

When your local business presence isn't enough, Nextiva takes you where your customers are.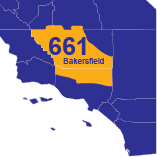 Population in the 2016 census measured just over 373,000 and one of the most highly noted cities to live in from California, ninth most populous in California and 52nd in the nation. Known for oil and agricultural economy, there is much growth for larger companies that are looking to add technology and further internal business development over the production and manufacturing externally. Also, the seat of Kern county, the most productive oil hub in the nation also surrounded by industrial production companies including natural gas, distribution, food processing, petroleum refining and more, Bakersfield and area code 661 have a great deal to offer the state and nation combined.
This makes the spot for larger corporations in industrial progression located well, but with the highly advanced population and supportive jobs living there is much to grow for smaller businesses and entrepreneurs along the Bakersfield streets. With the considering of the industrial economy the number of Business Service companies, banks and much more have grown over the past few decades with the further development for technology and the addition of the VoIP services into the offices of these as they move the Bakersfield population forward.