Austin

, Texas is in the 512 area code in Travis County, Texas.

When your local business presence isn't enough, Nextiva takes you where your customers are.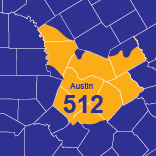 State capital of Texas and seat of Travis County, Austin, Texas, is a key locale for business growth and development in the state and national economy. The 2016 census population of Austin and area code 512 was estimated just over 940,000, and a growth of a little over 200,000 since 2010.
Some of the largest local employers include Cisco, eBay, General Motors, Google, Amazon, Apple, IBM, Intel, Oracle Corporation, PayPal, Texas Instruments, Whole Foods Market and 3M. So many of these technological companies located inside Austin continue to develop with the progression of their products and integration. Additionally, there is combined working with the help of the addition of the VoIP communication services to their offices. In addition, there are a number of small businesses and entrepreneurs that have ventured upon their own growth in the Austin area, with the potential for further technological development given the inclusion of the VoIP systems.