Area code 334 identifies
Auburn

, the most rapidly growing city and college town in Alabama.

When your local business presence isn't enough, Nextiva takes you where your customers are.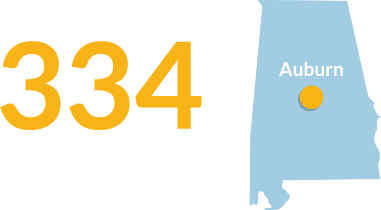 Area code 334, Auburn, Alabama, is the largest city in Eastern Alabama, with a measured 2016 census population of slightly over 63,000. Auburn is also located in Lee County, and part of the Auburn-Opelika metropolitan area with just under 160,000 while also bordering Georgia. The city is also the location of Auburn University, which employs roughly one quarter of the city's working population. Unofficial nickname of "The Loveliest Village on the Plains" based on a poem by Oliver Goldsmith, especially considering the aesthetic natural value of the region, and the image that this benefit provides to any company moving into area code 334 of Auburn, Alabama.
Area code 334, Auburn, Alabama, is also the fastest growing metropolitan area in Alabama and the 19th fastest nationally over the past three decades. With many small businesses and college graduates integrating into the region there is much for development in small and large businesses in Auburn, Alabama. With the addition of many small business and the further growth of the university in support of the local economy, there is much to see for the advanced technology and other industries for progression of Auburn. Considering all the fast advancements that Auburn was able to make throughout its initial development in the late 19th century, especially with growth of women in the economy and academic worlds, as well as the businesses growing through manufacturing and land development.