Atlanta

, Georgia is a major metropolitan region within the 404, 470, 678 and 770 area codes.

When your local business presence isn't enough, Nextiva takes you where your customers are.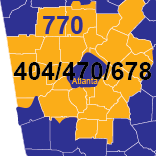 The largest metropolitan area in Georgia, Atlanta covers the four area codes of 404, 470, 678 and 770. Additionally, the 2010 census measured the population just under 600,000, with the overall 2017 regional metropolitan area measured at approximately 5.6 million.
Atlanta is one of the largest and most profitable cities in the country, ranking right around 18th with a GDP of over $320 billion most recently calculated. There is the recent recognition of the 1996 Summer Olympic Games, as well as the Olympics held in 1966. An incredibly diverse region, there is much to gain from the population of Atlanta, Georgia, area codes 404, 470, 678 and 770. There are a number of businesses up and down all industries located from corner to corner of the Atlanta city limits, within both Fulton and DeKalb Counties.
Highly recognized as a key point in the deep south movement in the 1960's, there is a great deal of social and business development that has taken place over the past half century. With the progression into the 21st century there is much development of the small business administration in the Atlanta area, with the number of companies that have entered the region and the speed at with they are growing.
Atlanta Business League, Atlanta Business Chronicle, Small Business Administration, Intown Business Center, Small Business Services, Business Furniture America, Small Business Development Center, Orange Business Services, Business Broker Network, Midtown Business Association Inc., Regus Business Center 2102, U.S. Government SBA Southeast, U.S. Small Business Administration, Catapult New Business, Lockton Company, as well as one of the nation's busiest airports play a role in the billions of dollars brought into the region annually.