The City of
Aspen

, in the 970 area code, is the most populous city of Pitkin County, Colorado in the United States.

When your local business presence isn't enough, Nextiva takes you where your customers are.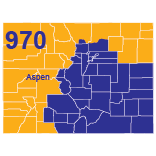 The 2010 census measured the city population at just over 6,600, considerably small, but also the county seat of Pitkin County, Colorado, one of the most populous regions of the state. Aspen, Colorado is named after its large amount of "aspen" trees contained within a small area. Largely a mining community in the end of the 19th century it has grown by this point to contain much more business- and economy-based large and small companies with the advancement of technology and development. It has become more known for Aspen Center for Physics, Aspen Mountain Ski Resort, Aspen Music Festival and School and Aspen Institute. There has been much to grow from the advancing residential and academic community of the area over the last half-century or so, bringing more people into the area.
While it was originally considered to be a sort of natural or "hippy" culture, from the1970s and some original songs from John Denver, and more middle twentieth century with musicians and artists, the advancement of the business culture has joined the area and the cost of living has increased to sort of replace the populate to more of a family and corporate environment.'