Ann Arbor

, Michigan is in the 734 area code, within Washtenaw County and includes a population of approximately 114,024, as the fifth largest city in Michigan.

When your local business presence isn't enough, Nextiva takes you where your customers are.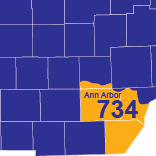 Centered around the University of Michigan, Ann Arbor and area code 734 have developed a great deal over the past century. With a population over 110,000 recorded in the 2010 census, a great deal has increased in relation to students and graduates building up the area. Also, one of the largest domestic regions of Michigan, area code 734 and Ann Arbor is ranked due to residential and business growth combined.
Local Ann Arbor businesses have a great deal to gain from the ng population, especially in retail, restaurant and more. Area code 734 will continue to build from technology of VoIP in what it can provide to customer service and advanced business communication. Additional strength of large technology and biotechnology companies like Barracuda Networks and Arbor Networks are already in the fast-paced progression and heading the way for smaller businesses entering area code 734.
There are also automobile companies and other manufacturing unions located in Ann Arbor where the addition of technology and networking can continue the development and advancement of the digital networking within the 734-area code in the 21st century.
Small companies have also entered the area, including Oxford Companies, West Washtenaw Business Association, Pictures Plus, Michigan Union, Oakwood Business Services, Denison Consulting, Tecumseh Products Company and many more. There has been the growth of many industries in the 734-area code from manufacturing and production to business service and consulting. From the many businesses that are able to develop in physical growth, there is much to gain from the digital phone service in providing connections to customers, clients, vendors and more.