Albuquerque

, New Mexico is in the 505 and 575 area codes, with an estimated city population of 521,999 in Bernalillo County.

When your local business presence isn't enough, Nextiva takes you where your customers are.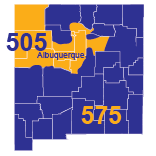 Many small and large businesses are working in their own financial and technological development in area codes 505 and 575 of Albuquerque, New Mexico. For this reason, there is much to be gained from the small advancements that can help with those developments, including VoIP. Whether it is a network for the building of customer and client database across the area codes of 505 and 575, there is much to be said for the advanced digital communication to be gained in the construction, growth or relocation of a business to Albuquerque.
Businesses like Business Law Southwest and Neda Business Consultants in Albuquerque provide much to be said for small companies in the area with the space left for growth and development in the 505 and 575 Albuquerque area codes. No matter the movement into the location there is the ability of the digital business phone growth in this area populated with a little over half a million.