Albany

, New York is in the 518 area code, as the capital of the state of New York with an estimated population of 94,172.

When your local business presence isn't enough, Nextiva takes you where your customers are.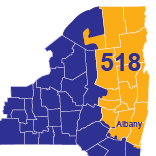 Area code 518, Albany, New York, is more than just the state capital and the seat of Albany County. Considering the technology, development and boisterous business region of Albany there is much to be expected from the building of a new company or relocation of another. In downtown Albany there is much to be said for the inclusion of many quality businesses, available for the benefit of a wonderful residential community as well.
With the inclusion of companies like Gordon Companies, Downtown Albany Business Improvement Inc., New York Business Development, Nutek Business Products, The Business Council of New York and more. There is much to be said for the Albany 518 area code and what can be developed for the new businesses, small and large, that look for further development. With a great deal of technological growth and advancement, there is much to be seen for the advanced VoIP services to be added for the benefit of all businesses in the area.
With the 518 Albany area code open to the greatest developed businesses, the capital of the state, and the residential growth of the area inside the communications, healthcare and other development businesses growing speedily. With the Chamber of Commerce active for almost a century, there is much to be expected from the continued Albany development, businesses in research and development, entrepreneurial growth and more. There are many businesses gaining billions in business growth, like Global Foundries at over four and a half billion, and then even Pitney Bowes and Empire Blue Cross. Many industries have been covered in Albany area code 518, and there will be much more to gain over time.