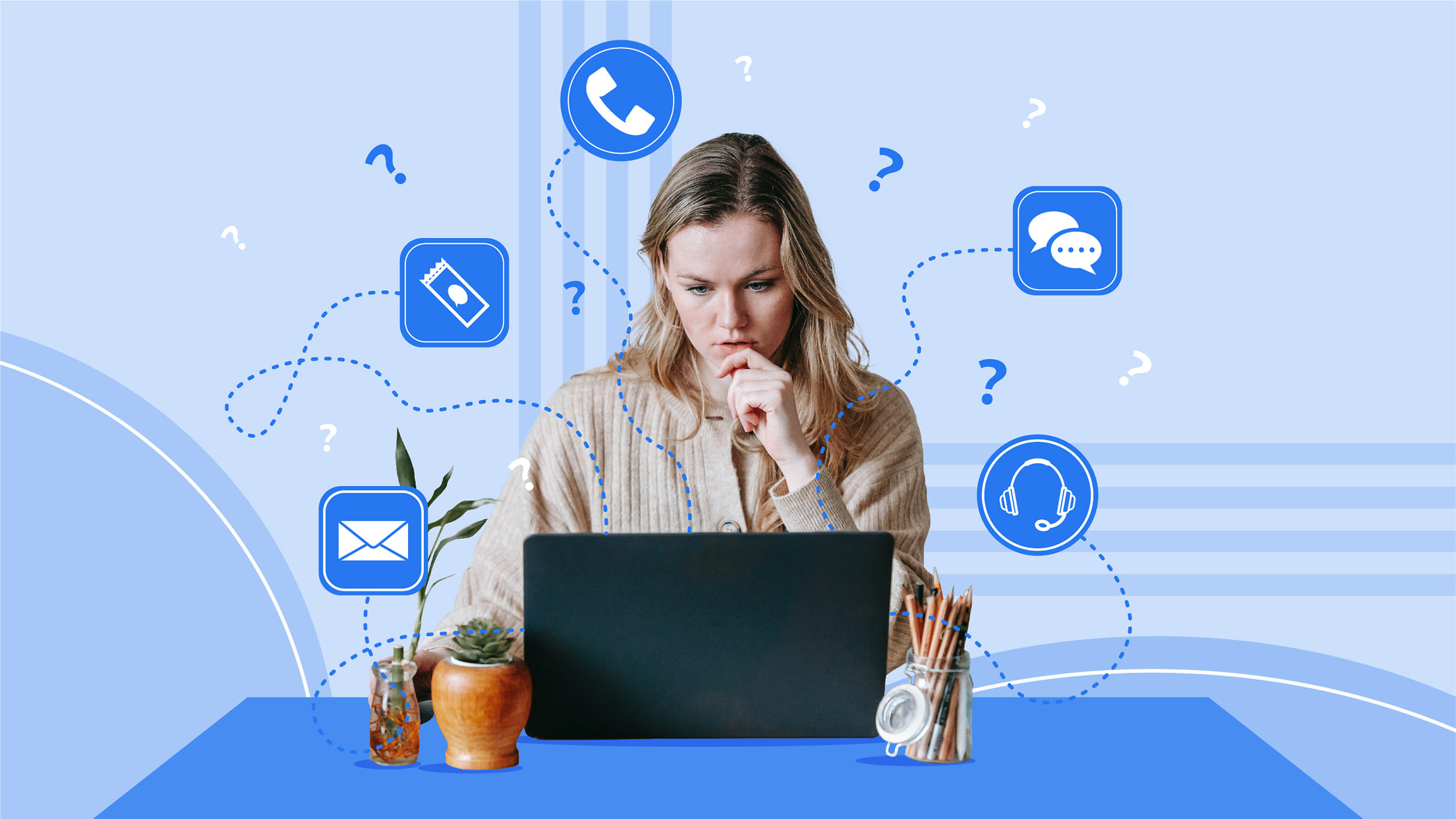 Contact centers are the heart of your business' live relationship with its customers. Choosing the correct provider is crucial because you need to ensure access to:
the best suite of tools;
industry-leading uptime and reliability; and
scalability for future business needs
This article will examine some essential features to consider when choosing a contact center provider.
What is a contact center?
A contact center is a physical or virtual/hosted division of a business that manages incoming (and often outbound) customer contact. Every business that runs a contact center will need contact center software to help manage the calls and requests. Contact center software is an omnichannel tool that allows you to manage incoming and outbound contact via phone, email, SMS, live chat, support tickets, and more.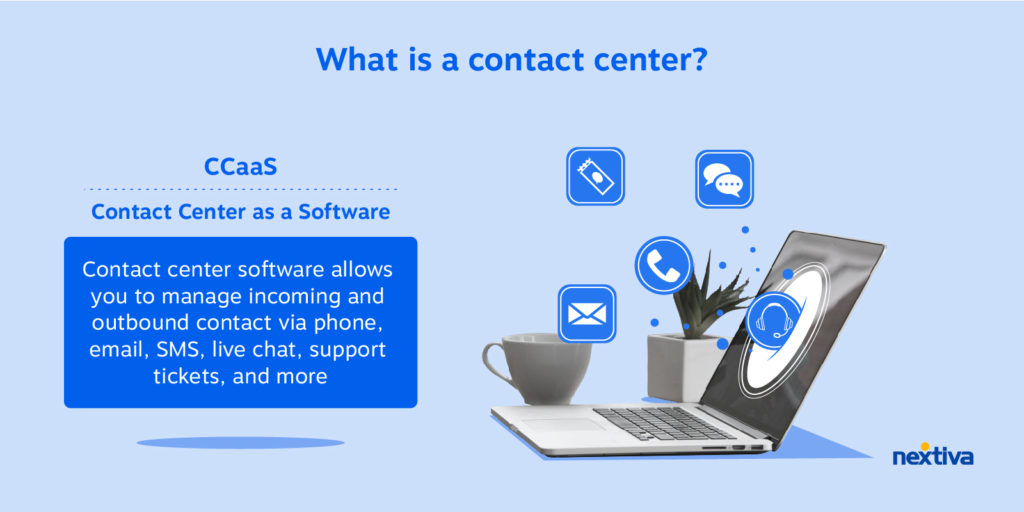 When choosing a contact center software provider, consider the full picture of how you want to reach customers and the data about them you want to capture and monitor. And because a modern contact center is both a business intelligence and customer engagement tool, choosing the right contact center provider platform will be a critical step in forming your future business strategies.
Top contact center features to look for
Here are some top features to consider when choosing a contact center provider.
1. Omnichannel vs. Multi-channel
The traditional phone-only 'call center' has been replaced by modern contact centers that can be multi-channel, providing customers with phone, email, SMS (texting), web chat, mobile app-based chat, and social media contact options. Customers typically deal with different agents depending on the channel they select, but are still receiving enhanced service over a phone-only call center.
More advanced contact centers are omnichannel, allowing for a consistent customer experience across channels by ensuring that customer data, issues, and past discussions with agents are incorporated into communications via their chosen channel.
With an omnichannel contact center experience, customers feel like their contact points with your company are an ongoing conversation, giving them confidence that you have a full understanding of their needs.
2. Skill-based routing
One of the most important routing methods is skill-based routing, which directs incoming contacts (calls, emails, chat messages, etc.) into queues for agents who are most qualified to handle them.
Skill-based routing is essential because it increases the likelihood of first-contact resolution (FCR) even in cases where a customer's question involves specialized knowledge, privileged access to personal data, or assistance in another language.
By employing skill-based routing, you ensure customers do not have to explain their problem to multiple agents or be transferred frequently until the correct skillset is found. This reduces the workload for other agents and increases customer satisfaction.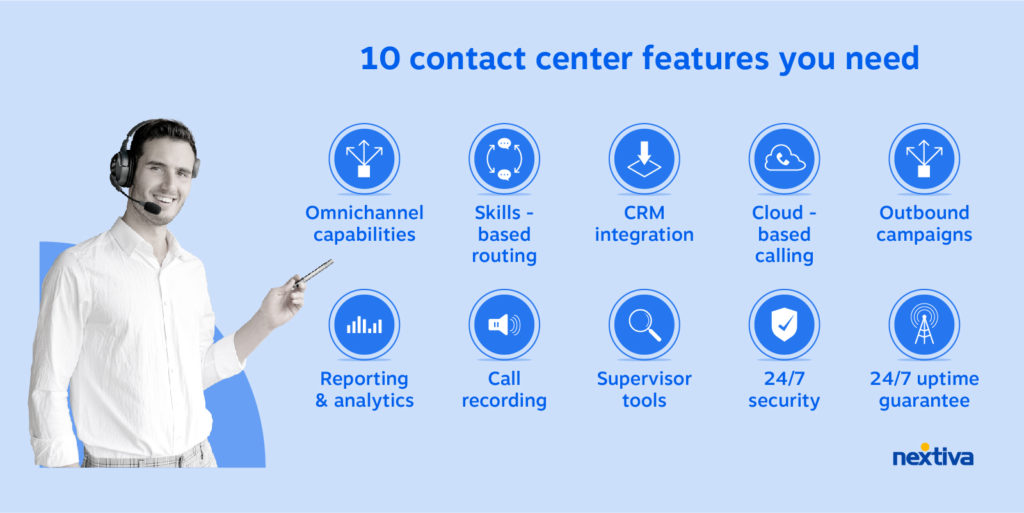 3. CRM integration
Seamless integration with your CRM is one of the most important features for a great contact center experience. Your agents can review a complete customer account history, giving them more insight into the products, services, and history the customer has with your firm.
They will also be able to access, store, and share critical information that makes it easy to tailor their customer service experience and deliver true omnichannel value. Ultimately, companies use an integrated CRM to help facilitate customer journeys that transcend a single touchpoint and deliver lasting satisfaction.
4. Cloud-based calling
Cloud-based calling enables your organization to benefit from a cloud-hosted communications service instead of investing in an expensive, equipment-heavy internal phone system. With cloud-based calling, your customer service agents can work from anywhere with internet access, significantly increasing business continuity resilience.
And because you are not tied to a large physical equipment structure, you can scale your calling needs up or down to meet demand, greatly reducing wasted costs. Top contact center providers can even deliver Contact Center as a Service (CCaaS), launching and operating their contact centers without any hardware needs.
5. Outbound campaign management
Outbound campaigns are critical sales, marketing, or customer information-gathering programs for your company. Top contact center providers will equip you with the best technology and information to make your campaign a success.
By combining automated dialing with appropriate routing methods, a robust outbound campaign management solution will free your agents up to focus entirely on their conversation with customers, maximizing their chances for a successful outcome.
6. Reporting and analytics
Contact center supervisors need access to a high volume of information on agent performance, contact volume across channels, agent response times, and other key data points – all in real-time.
Your contact center provider should equip you with an analytics dashboard allowing your supervisors to monitor and record calls or conversations, speak with agents, and respond to data-driven situations requiring immediate attention.
7. Call and conversation recording
Recording calls or conversations (i.e., web-based chats) is a critical part of any contact center's toolkit. Two-way recording (both sides of the conversation) increases agent accountability and quality assurance and gives you the ability to handle future customer complaints.
Additionally, recording provides legal protection by confirming customer agreements or commitments made during contact with an agent. Your training program will also benefit as you select real-life contacts as model examples for new agents.
8. Supervisor tools
Comprehensive supervisor dashboards allow your contact center supervisors to monitor agent performance by examining customer contact volumes and duration or even silent-monitoring calls or conversations in real-time. Supervisors can also manually adjust customer routing and queues to keep the contact center running smoothly in times of unusual or increased volumes.
As your business needs expand, you will find that contact center providers with robust supervisor tools put you in the best position to manage a growing volume of complexity.
9. 24/7 contact center security and uptime delivery
Your customer data and interactions deserve the utmost care. Your contact center provider should be at the forefront in providing world-class network security and monitoring around the clock, responding to issues in real-time to reduce risk. 
And because your business needs to be there when customers need you, make sure to choose a provider that delivers 99.999% uptime and spreads their operations across multiple geographies and data centers to empower your business 24-7.
What to look for in a contact center provider
Your ideal cloud contact center provider should employ a full suite of automation tools to empower agents and supervisors while improving customer service. Omnichannel support options, self-service automation, and skills-based routing should provide streamlined customer support workflows. And your teams should feel supported with industry-leading dashboards, powerful analytics, and network reliability that empowers them to deliver Amazing Service.
To learn more about cloud contact center solutions and how they can help your business, book a demo or talk to a contact center expert today.