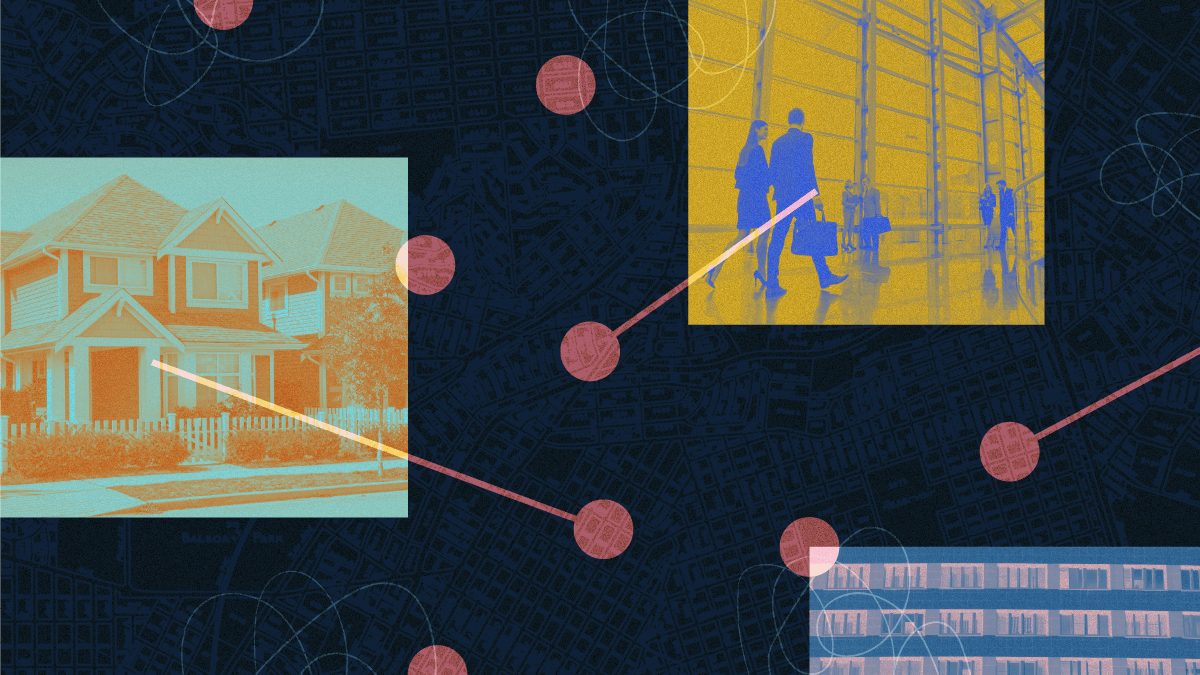 It's no surprise today's companies need to provide sensible remote work options for their staff. Working remotely offers businesses real-world opportunities and challenges for growth. With the recovery on the horizon, what does the future of work look like for small businesses?
There's anxiety at the intersection of technological shifts and adjustments to our cultural norms. Not every person and industry can retreat to the comfort of their home office.
Over 100,000 companies rely on Nextiva for cloud communications and customer management software. As a provider of an essential business service, we've had a pulse on small businesses around the country.
The reality is that some employers faced sharp declines, while others boomed. Employers with fewer than 500 employees lost a larger share of their workforce than larger firms, noted the Wall Street Journal. Smaller firms in the hospitality, entertainment, and travel industries underperformed enterprises.
For many small businesses, this year represents an upswing. The second round of financial relief has arrived through forgivable loans, grants, and personal economic stimulus checks. The Department of Labor reported that the unemployment rate fell from a peak of 14.8% in April 2020 to 6% one year later.
There remain some reasons to proceed with caution.
Americans faced two waves of the Coronavirus, taking over 575,000 lives with it. Virus mutations continue to impact select regions around the world with rising infections. Other undercurrents are lengthening the pandemic, such as media distrust and vaccine hesitancy.
Despite these hurdles, just over half of U.S. adults received at least one dose of the COVID-19 vaccine. With it comes the confidence to congregate with larger groups of people. Employers are exploring options seeking to balance working in the office and at home.
As companies tried many new tools to work from home, they stumbled into a new problem.
Unexpected workplace struggles
Since the pandemic, many companies have provided their staff several communication tools. Each app introduces more uncertainty and workflows to discuss work.
Employees struggle to stay on top of their phone, email, chat, conferencing, CRM, spreadsheets, text messaging, and social media. Every app is essential, yet they remain disjointed. Each message has a ding, pop, or buzz in a dizzying array of pop-ups — all competing for your undivided attention.
If you haven't felt this anxiety, you likely will soon. This conundrum is more common than you might expect. A study surveying 250 IT leaders at large organizations found that 91% respondents said they use two or more messaging and office productivity applications. A study from Productiv showed that nearly 40% of respondents have more than five applications open throughout the workday.
Beneath the surface is a demand for a unified communications platform to streamline work, increase productivity, and enhance the customer experience.
Another shift taking place is in the work environment itself.
Top talent demands more from employers
More firms now offer a hybrid work model that promotes flexibility for their team to work from anywhere. Microsoft's Work Trend Index reveals that two-thirds of company leaders are considering plans for hybrid work. Remote job postings on LinkedIn have increased more than 500% since the pandemic.
A survey conducted by Robert Half indicates that 34% of professionals who work from home plan to switch jobs if they have to return to the office. Finding the right talent elsewhere can offer a business a competitive edge.
While the novelty of video meetings has eroded for many, businesses have enjoyed cloud communications. Audio conferencing is still relevant and engaging. Picking up the phone to talk expresses a broader range of emotions than emoji appearing beneath a chat message.
As a provider of business communication tools, we've seen a few trends take hold over the past year:
Softphone usage is up — way up. We've more than doubled the number of people placing and receiving calls via an app versus a desk phone. These apps deflect costs and allow employees the flexibility to stay in touch from any location.
IT leads are overhauling their communications systems. We've fielded nearly twice as many inquiries to replace their analog phone systems. On-premises telecom is out; cloud VoIP is in.
Businesses are surprised by how many separate tools they use. Nextiva's all-in-one software saves companies more than $100 a month per employee. Combining phone, customer support, and sales solutions speed up everyone's workflow too.
These signals suggest more businesses are equipping their workforce with the right communication tools and growing again.
Don't fear the future of work — create it
Given that the future of work is uncertain, what can you do about it? One option is to wait on all the signals and data to decide on the path forward. The alternative is to adapt to the changing environment and stay competitive.
Instead of casting doubt on the future, define it. This perspective means adjusting to the norms customers and employees expect. It also means letting go of legacy ideas and decisions.
We've been through technological, cultural, and demographic shifts before. From typewriters to word processors. From pagers to text messages. Millennials, Gen-Z? Yes, them too. The pandemic has rewarded employers that adapt to market shifts. There's still plenty of growth ahead.
The action a company takes now pays dividends later with employee engagement, a better customer experience, and agility to stay highly competitive.
Four strategies to navigate the future of work
Company leaders not only had a drill in business continuity, but they also experienced it. Here are four recommendations to ready your firm for the future:
1) Invest in your tools and talent.
The investments you make now can help you overcome turbulent crosswinds. Disruptions in supply chains, public health crises, and civil unrest lower employee confidence. Communicating with speed and clarity allows companies to stay focused and serve customers uninterrupted. Cloud-based contact center solutions like Nextiva enable businesses to do both.
2) Get closer to your customers.
The companies that have thrived have been those with a deep understanding of their customers. They were aware of their customer's individual needs and interests. Measuring customer sentiment along the entire customer journey and making informed decisions enables you to respond faster to change. Dedicating resources here will help you outpace your rivals.
3) Find top talent in new, unexpected places.
Remote work has soared in popularity well beyond the past year. Millions of people have proven themselves as more productive while working from home. Owl Labs surveyed remote employees and uncovered that 70% of respondents had higher productivity and focus. While not all roles and industries are suited for remote work, the emphasis should be to determine if certain positions must be in-person or not.
4) Provide tools to communicate better.
Employees need to interact securely and reliably over a modern office phone system. Forcing staff to use personal devices invites security risks and other legal issues. Say no to extraneous messaging channels so you can keep everyone on the same page.
With these strategies in hand, you'll build a profitable business, wow your customers, and delight your employees. With Nextiva, the future of work isn't so distant. It's right now.