What we've coined as the future of work is quickly becoming the now. Learning from what works and what doesn't, we now have a combination of home workers, office employees, and some who switch between both.
It's this blend of staff that makes up the new term, hybrid workforce.
But unlike a standard "desk worker," the contact center agent has a unique role where working from anywhere other than the standard location becomes tricky.
Not only are agents dealing with customers from another location, now their supervisors and colleagues aren't within earshot.
The camaraderie and competitiveness disappear when everyone is no longer sitting together. It becomes harder to escalate queries.
Operating a contact center in the hybrid workplace is a challenge.
We can split the broader challenge into two key areas:
Cultural challenges.
Technical challenges.
Let's address what makes up these challenges so you can put a plan together.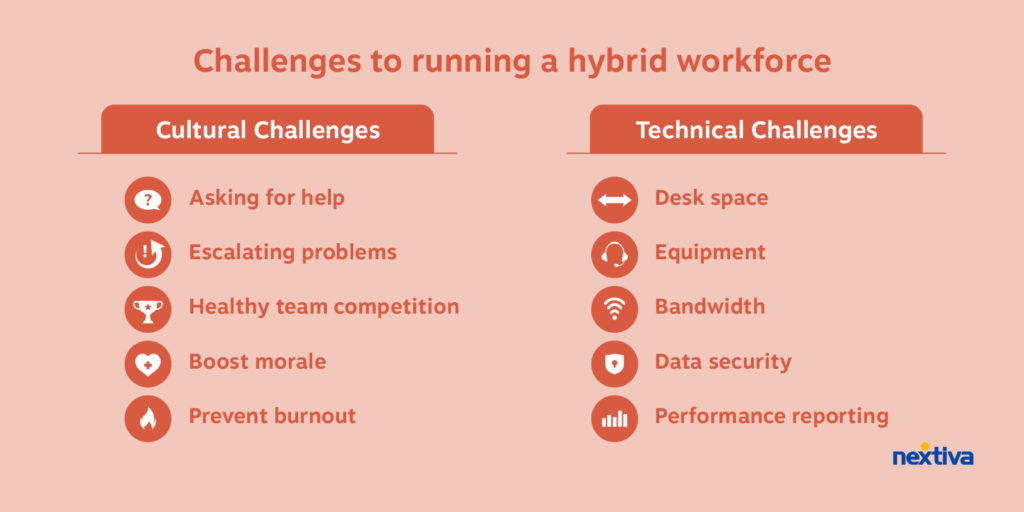 Cultural challenges in the hybrid contact center
Cultural challenges are those that concern people. Be it an agent-supervisor relationship or the approach to dealing with impatient customers.
To maintain the same (or better) customer experience, we must identify differences between how teams will work when changing styles and locations of work.
Here are the top five cultural challenges to think about when implementing a hybrid contact center.
1. Asking for help
When everyone is sitting together in an office, a tap on the shoulder or a wave of a hand is the simplest process when it comes to asking for help. Whether it's a colleague or supervisor, you can literally walk over to them.
Now, this sounds ideal on the face of it. But put yourself in the shoes of the agent who's been interrupted. They can't answer calls or do any admin work if they're helping someone else. And the routine of asking for help instead of learning can become habitual.
It's not the case that agents shouldn't ask for help. But, even when working in different locations, technology can help create a formal, productive process for getting help with an irate customer or technical query.
Solution? Skills-based call routing removes the chance of an agent receiving a call about a product or service they're unfamiliar with.
Secondly, you need the right kind of back-end communications software platform that joins up staff and enables genuine collaboration.
For example, if you need to check with a subject matter expert, you can check their presence indicator and send them an instant message. If you need to hand the caller over, you can transfer the call without breaking up the customer journey.
The same is true when you need to escalate to your supervisor…
2. Escalating queries
Just because agents will be in another location, it doesn't mean they're alone to handle the hardest inquiries.
Agents don't have to be in the office on the same day as supervisors.
When a customer is demanding to speak to a supervisor, they still can. If anything, the process is quicker.
Using the directory, agents can see which supervisors are available and transfer the call. There's no wandering around or hanging on for someone to end a call.
Rather than asking customers to explain their problem all over again, interaction history is accessible thanks to omnichannel functionality.
So, whether they first contacted by phone, web chat, or email, everything is recorded for the supervisor to get up to speed quickly.
3. Maintaining competitiveness
In sales environments, competition drives enhanced performance. When someone is top of the leaderboard on the office wall, everyone wants to take their crown.
How do you ensure this continues in a hybrid workforce?
By enabling gamification components in your cloud contact center, you can turn work into a competition.
You can use leaderboards, prizes, training, and even promotions and bonuses at the higher level. Some contact center software, like Nextiva Voice Analytics, have built-in gamification modules you can tailor to your business.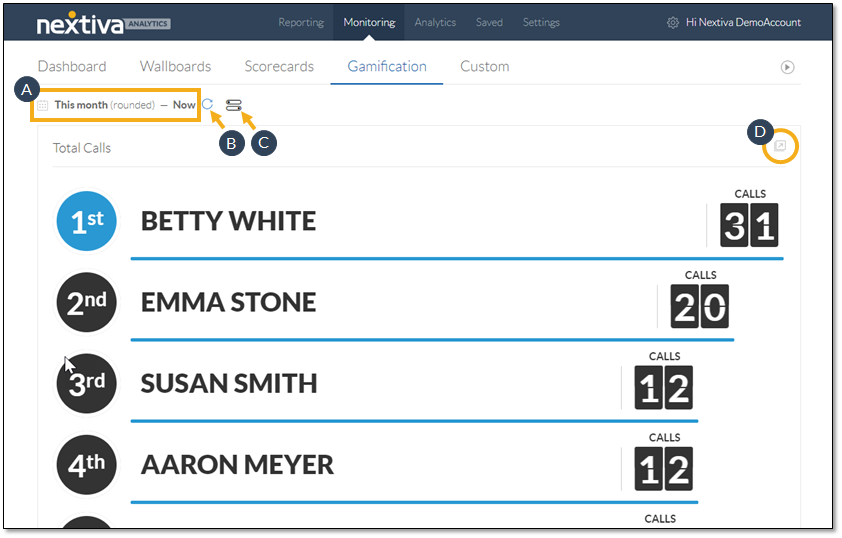 Outside of sales, agents have visibility of personal and group metrics like inbound calls, outbound calls, and talk time.
Metrics like these get included regardless of being in-office, at home, or a mix of both.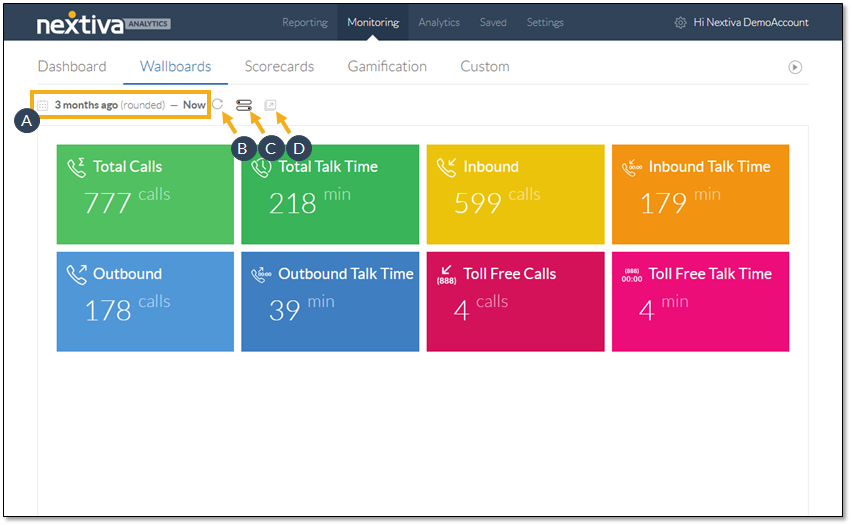 Wallboards provide a real-time and historical view of who's performing best and which targets you need to close the gap. These are accessible to anyone with the relevant contact center license. You just need to log in from any device to check who's outperforming who.
4. Boosting morale
When you've had a bad call, there's nothing better than letting off steam. But when you're working at home, nobody else can see that you need a minute.
But that doesn't mean you can't have a moment to yourself. All agents need to do is either put themselves in wrap-up mode or sign out of the queue so they don't receive new calls while they need to cool down.
You can also use gamification techniques to keep everybody engaged and run virtual events to replicate the after-work get together.
And don't forget, hybrid doesn't mean remote-only. You can still run team-building events for agents who don't come into the office every day.
5. Avoiding burnout
Like any type of employee, home or hybrid agents are susceptible to burnout and fatigue.
When working from home for the first time, it's easy to slip into work mode for longer than you would in the office.
Encourage and monitor agents so they don't form bad habits and find themselves burning out:
Play music (at a volume customers can't hear) so you don't feel alone.
Take the same length lunch break as you would in the office.
Get up from your desk every now and again.
Shift locations in your home (if possible).
Check-in with a colleague often.
In some cases, people might feel more fatigued on the one day(s) they go into the office. When you work four days from home without commuting, an hour either side of your allotted hours is a lot.
Save the in-office days for training, important announcements, and team building. Make sure agents' work environments are productive so there's no extra stress for trivial items.
For example, the last thing anyone wants is to arrive in the office and find they don't have a desk. More on hot desking in the technical challenges section…
Technical challenges in the hybrid contact center
Technical challenges are those that concern technology. While they may get triggered by people, the underlying changes and challenges lie within equipment, software, and integration.
Here are the top five technical challenges to think about when implementing a hybrid contact center.
1. Keeping a seat
When you stop coming into the office, you lose your permanent desk. So what happens when you do come into the office?
Hot desking is a method contact centers use when different agents will be logging into phone and computer setups on different days. Typically, an area is set aside for agents. So, if they do attend the office on the same day, they can sit together.
For example, John comes into the office every Monday and Tuesday and needs to answer calls. They log into "hot desk A" which is free for anyone to access as long as they have a login for your contact center software.
But on Wednesday, when John works from home, Jane can log into the same desk John was working from yesterday. They bring their own headset, log into the contact center software and resume their work.
Capacity planning becomes a challenge here, too. If you don't track or plan who comes into the office when, you could end up with too many people and not enough desks.
To combat this, keep your workforce management system up to date. Make sure you balance not just enough people to answer the phones but to allocate a seat as well.
2. Having the right equipment
If you don't have a laptop in the office, you don't have a laptop to take home with you. This makes hybrid working difficult for two reasons:
You must supply a laptop; or
You must ensure security on an agent's personal laptop.
Both of these are viable options. One comes with the associated cost of a new laptop. But, if you're rolling out a new department, this means you can provide a laptop instead of a desktop PC.
If you already have contact center agents in-office, you could use this as an opportunity to refresh hardware. When PCs are becoming end-of-life, it makes little sense to restrict agents by supplying another PC they can't take home.
The alternative—ensuring security on a personal laptop—isn't as hard as it sounds and is cheaper.
Using a virtual private network (VPN) and firewall setup, your IT team can replicate what you have in-office to keep remote workers secure.
Outside of laptops, agents can carry headsets home. Long gone are the days (hopefully) of sharing headsets.
3. Optimizing technology
It is rare that an agent's home is set up for network performance like your office. But that isn't necessarily a blocker.
When you've sorted security, the next thing to think about is bandwidth.
Before you empower an agent to work from home, get them to run a speed test. Minimum bandwidth requirements for phone and contact center software are:
100kbps per phone call
100kbps per video call
100kbps per contact center license
For support queries, agents can still raise tickets with IT. There shouldn't be any bias between in-office agents and home workers. If the issue is with hardware and needs physical attention, the hybrid element ensures a base for agents to return equipment to.
4. Keeping data secure
When agents leave the office, data doesn't leave the office with them. It's not exposed as an agent carries their laptop home on the bus.
This is because all your customer data gets stored in the cloud when you use Nextiva Contact Center.
If you use a CRM to manage customer contact, there is a dependency on whether it is cloud-based or hosted on-site. If the latter, you can use VPNs to create secure pathways between your office and remote locations.
For PCI compliance, payments taken via your contact center software work at home in the same way as if your agent was in the office.
By logging into their contact center console, they get the same secure payment screen and take payments in line with PCI guidelines.
5 – Reporting on performance
While it's tempting to check in on agents you can't see, a better way to monitor performance is to mirror your office analytics.
As long as agents use the same contact center software, their call time and CSAT scores get monitored.
An extra benefit to splitting office time and home working is you can spot trends and peaks in performance. If an agent is more productive in the office, there's a case for asking them to come in more often. Or you could work on removing distractions and optimizing the homeworking setup.
The same is true vice versa. We often see an upward curve when agents start to split time between the office and home.
Keep an eye on your contact center analytics to spot the beginnings of patterns. Then optimize when you learn what works.
Considerations for moving to a hybrid contact center model
Hybrid work challenges are overcome every day in both the knowledge worker setup and with contact centers.
During your transition, David Macias, an independent contact center consultant, points out five key elements he sees as crucial when moving to a hybrid contact center model.
Ambience: loud music or the TV on is a distraction for both agents and customers. If you can't get around it, there's tech like noise-reducing headsets.
Location: the kitchen or dining table is often not productive for work. Finding a dedicated space is recommended.
Bandwidth: If several people are working from home and children are using other devices, what happens to call quality?
Power: Older homes with older wiring could cause router resets. For example, when the dryer turns on, there's a small bleep on power and the router resets. Monitoring endpoints is important to help agents who live in places with unstable internet.
Reporting: It's important to learn if there's a difference in average handle time (AHT) when an agent changes location. Maybe the agent has an extra monitor at home and that's reducing AHT by 15 seconds.
It's important to think about the end goal while planning your hybrid contact center strategy.
Keep in mind that the benefits of hybrid working outweigh the challenges and considerations you're discovering at this stage.
What are the benefits of hybrid work?
Benefits of a hybrid work often include:
Lower carbon footprint.
Better work-life balance.
Higher staff retention rates.
Increased productivity levels.
Wider talent pool for recruitment.
Employer savings on furniture, office space, etc.
Employee savings on expenses (fuel, food, transport, etc.).
When you get a hybrid contact center right, everyone wins. Having happy and productive staff is contagious. Engagement and efficiency levels will be passed onto customers.
Happy staff + happy customers = high-performing contact center.
How to kickstart your hybrid contact center
Nextiva Contact Center enables organizations to move the entire business to a hybrid model.
Rather than letting your field sales and marketing teams work from home but force contact center agents to come in every day, empower agents to choose what works for them.
Since Nextiva Contact Center is deployed in the cloud, agents can log in wherever they have a secure internet connection.
You get the same access, analytics, and compliance regardless of location or work-style.
When you choose Nextiva Contact Center, we take care of the technology and you take care of your agents.