Grow your business in the second largest city in
Tulsa

with a Tulsa area code.

When your local business presence isn't enough, Nextiva takes you where your customers are.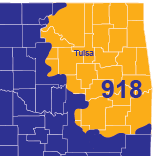 Tulsa is the second biggest city in Oklahoma behind Oklahoma City and has an estimated population of 403,000 people. Tulsa covers almost 200 square miles in the northeastern part of the state and is the seat of Tulsa County. Area code 918 is large and also includes part of all of 26 more counties as well. A Tulsa area code is an asset to any business looking to expand in Oklahoma because the city is located 108 miles from Oklahoma City, 122 miles from Norman, and 14 miles from Broken Arrow.
Tulsa was incorporated in 1898 and oil was discovered soon after. This prompted a population boom in the city, which grew substantially in the first 30 years of the 20th century. It was known as the "Oil Capital of the World" for decades and still has a strong energy industry today. Route 66 also started in Tulsa which made it an important stop for travelers through the US.
The city experienced a downturn when the price of oil dropped in the 1980's but has since recovered. Now they are focusing on diversifying the economy, revitalizing the downtown, and sparking more tourism in the area. Tulsa is currently the second largest city in Oklahoma and the 47th largest in the US.