Portland

area code is now easily accessible with Nextiva VoIP services.

When your local business presence isn't enough, Nextiva takes you where your customers are.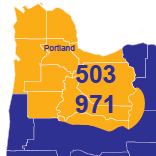 Portland isn't the capital of Oregon but it is the largest city in the state. It has an estimated population of 639,000 people and covers 145 square miles. Portland is located near the west coast in Multnomah County, but area code 503 and 971 includes parts of the cities of Salem and Astoria as well. A Portland area code is a perfect jumping off point for your first local number in Oregon because it's only 110 miles from Eugene and 174 miles from Seattle, Washington.
Portland was founded in 1845 and incorporated in 1851. It was originally settled by families from the Oregon Trail who branched out of Oregon City. It's location near the west coast on the Willamette and Columbia rivers helped establish Portland as a major port city and the population grew quickly. By World War II it had over 300,000 residents and the economy and job market surged with shipbuilding contracts for the war.
In recent decades a strong tech scene has grown in the area and the population has continued to increase with the booming economy. Now Portland is an economic and cultural hub of the west coast and sits comfortably as the 26th largest city in the United States.