Juneau

area code is essential for any business that is interested in growing in Alaska.

When your local business presence isn't enough, Nextiva takes you where your customers are.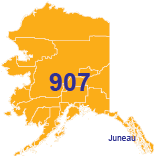 The city of Juneau is the capital of Alaska. It has an estimated population of 32,000 people and covers 2,700 square miles, making it the second largest city by size in the United States. Juneau is listed as a "unified municipality" in the Gastineau Channel in Alaska's panhandle, and area code 907 also includes the rest of the state which has a population of almost 740,000 people. Juneau is unique because it's only reachable by plane or boat, and it sits 850 miles from Anchorage.
The town of Juneau was the first in ALaska to be settled by Americans after the Alaska purchase. It started as a mining town in the 1880s and was incorporated in 1900. The capital city received its title in 1906 when it was moved from the town of Sitka.