Is Virginia on your radar for business growth? If so, get connected to area code 757 with Nextiva VoIP services, and enjoy instant activation on your
Virginia Beach

area code today!

When your local business presence isn't enough, Nextiva takes you where your customers are.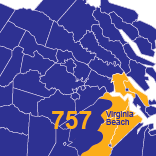 Virginia Beach has an estimated population 452,000 people and is the largest city in the state of Virginia. It covers 497 square miles along the coast of the Atlantic Ocean and is an "independent city" so it's not located in any county. Area code 757 also contains the cities of Norfolk, Chesapeake, Newport News, and more. A Virginia Beach area code is an asset to any business not only because it's the biggest city in the state, but also because it is located 107 miles from the capital city of Richmond, 209 miles from Washington DC, and 254 miles from Baltimore.
Virginia Beach was incorporated as a town in 1906 and as a city in 1952. However, their history started long before that when the area was first settled in 1604. It mostly existed with farming and plantations until the first railroad came into the city in the late 1800's. Then, resorts and tourism began to grow along the beach. The Virginia Beach Boulevard connected the city to nearby Norfolk by road in 1922.
The city's location on the Atlantic Coast made it a strategic place for military and defense, and multiple bases were built in the city spurring population growth as well. Now, Virginia Beach is the biggest city in the state and the 41st largest in the US.