If your business is ready to grow in California, a
Stockton

area code can help.

When your local business presence isn't enough, Nextiva takes you where your customers are.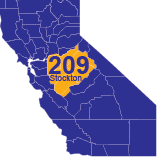 The city of Stockton is located in the central part of California. With an estimated population of 307,000 people, it is the 13th largest city in the state. The Stockton area code covers 64 square miles in San Joaquin County, and includes the Stanislaus, Amador, Mariposa, Calaveras, and Merced counties as well among others. Area code 209 sits on the San Joaquin River and is 47 miles from Sacramento, 77 miles from San Jose, and 78 miles from San Francisco.
Stockton was incorporated in 1850 and is named after Robert Field Stockton, a US Navy Commodore. People began to move to the Stockton area during the California Gold Rush and it received a wave of immigrants from China as well.
The city's location on the water helped it become an important place for trade and transport, and in 1933 the Stockton Deepwater Channel was completed. Stockton continued to grow through World War II and now it is the 13th largest city in California and the 63rd biggest in the United States.