Many businesses can benefit from a
St. Louis

area code.

When your local business presence isn't enough, Nextiva takes you where your customers are.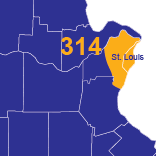 St. Louis is the second-largest city in Missouri after Kansas City. It has an estimated population of 308,000 people and covers 66 square miles along the Missouri River in the eastern part of the state. St. Louis is an independent city, meaning that it doesn't belong to any county, and area code 314 includes the cities of Maryland Heights, Hazelwood, Saint Ann, and others as well. St. Louis is strategically located near other major cities in the Midwest and sits 248 miles from Kansas City and 296 miles from Chicago.
St. Louis was founded in 1764 and incorporated in 1822. The city is named after King Louis IX of France, who was also canonized as a saint in the Catholic Church. In 1803 St. Louis became part of the United States through the Louisiana Purchase.
The population grew swiftly in the mid-1800's. In the early 1900's the city went through industrialization, causing the number of residents to expand to almost 900,000 people at one point. Many moved out to the suburbs and the city's population is now stable around 300,000 people. St. Louis is implementing revitalization efforts throughout the city and is the 62nd largest in the United States.