Expand your business in the
San Bernardino

area code with Nextiva by your side. Start with instant activation on VoIP services and connect to area code 909 today.

When your local business presence isn't enough, Nextiva takes you where your customers are.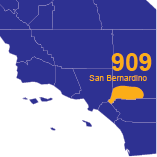 The city of San Bernardino has an estimated population of 206,000 people and covers 61 square miles. It's the 17th biggest city in California and is located in the southern part of the state only 61 miles from Los Angeles. The San Bernardino area code is in San Bernardino County and includes notable cities like Rancho Cucamonga, Ontario, Chino, Upland, Claremont and more within its reach. Other major metropolitan areas near area code 909 are San Diego, California, Phoenix, Arizona and Las Vegas, Nevada.
San Bernardino was incorporated in 1869, although it had been settled for years earlier by different groups. The California Gold Rush brought the first boost to the area's population, and their strategic location between Los Angeles and Salt Lake City helped trade and transport flourish in the city. Norton Air Force Base was opened during World War II and brought more jobs to San Bernardino, but was later closed in 1994. In 2012 the city was forced to declare a bankruptcy. However, their location in California's Inland Empire metropolitan area is helping the economy slowly recover.