Nextiva VoIP services can connect your business to the
Phoenix

area code.

When your local business presence isn't enough, Nextiva takes you where your customers are.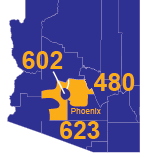 Phoenix is the capital city of Arizona and the largest city in the state. The Phoenix area code covers 518 square miles and has an estimated population of 1.6 million people, making it the 5th most populated city in the United States. It's located in Maricopa County, so area code 602, 480 and 623 includes the neighborhoods of Glendale, Mesa, Peoria, Tempe, Anthem and many more. Phoenix is positioned in the central part of Arizona and is 113 miles from Tucson, 355 miles from San Diego, and 298 miles from Las Vegas.
Phoenix was incorporated in 1881 and became the state capital of Arizona in 1912. As railroads connected it to the rest of the country, Phoenix began to grow with the "5 C's" of their economy: climate, copper, cotton, citrus, and cattle. Surprisingly, the city was a hub for farming and agriculture in their early years.
After Arizona achieved statehood the city experienced a major population growth, which continued through World War II. Multiple army and air force bases in the area helped the economy shift and diversify. Now, Phoenix is the largest capital city of any state in the country and the most populous city in Arizona.