Are you interested in expanding your business in Nebraska? If so, consider tapping into the local economy with an
Omaha

area code.

When your local business presence isn't enough, Nextiva takes you where your customers are.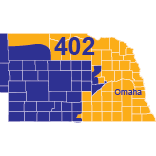 Omaha is the largest city in Nebraska and the 44th largest in the United States. The city has an estimated population of 446,000 people and covers 130 square miles in Douglas County on the Mississippi river. Area code 402 contains all of Omaha and almost the entire eastern half of Nebraska as well. The city is one of the most important in the state not only because of the size, but also the strategic location 135 miles from Des Moines, 185 miles from Kansas City, and 432 miles from St. Louis.
Although Lewis and Clark passed through the area on their western expedition, Omaha wasn't officially founded until 1854 and incorporated in 1857. Omaha's location on the Mississippi River and Transcontinental Railroad helped the city grow quickly during the 1800's as the US population continued to move westward throughout the country.
The city was later hit hard by the Great Depression, but World War II and the construction of the Offutt Air Force Base aided the recovery. The low cost of living and diverse economy have helped Omaha thrive in the past few decades, and the city is even home to Warren Buffet, one of the richest men in history. Now, Omaha is the 44th largest city in the US and one of the most important in the Midwest.