Detroit

, Michigan is in the 313 area code, as a major port city in the Midwest region of the U.S.

When your local business presence isn't enough, Nextiva takes you where your customers are.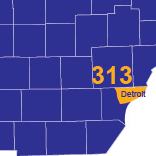 A Detroit area code from Nextiva is possible for any small business. Access area code 313 and the local customer base in Michigan with VoIP digital phone services.
Get a Detroit area code for your business and tap into the local market. Area code 313 gives you access to the largest city in the state of Michigan. Detroit is home to an estimated 672,000 people and is spread out over 142 square miles. It borders Lake Saint Clare to the east and is an easy access point to the city of Windsor in Canada, by bridge across the Detroit River. The city is located in Wayne County, along with the surrounding towns of Dearborn, Grosse Pointe, and Harper Woods, which are all in area code 313 as well.