Can you guess the open rate for a text message? It's 98%. That's nearly five times the equivalent for email marketing.
While that's incredible enough, the response rates are even more exciting. Text message marketing boasts response rates as high as 45%, which is more than seven times email marketing's measly 6%.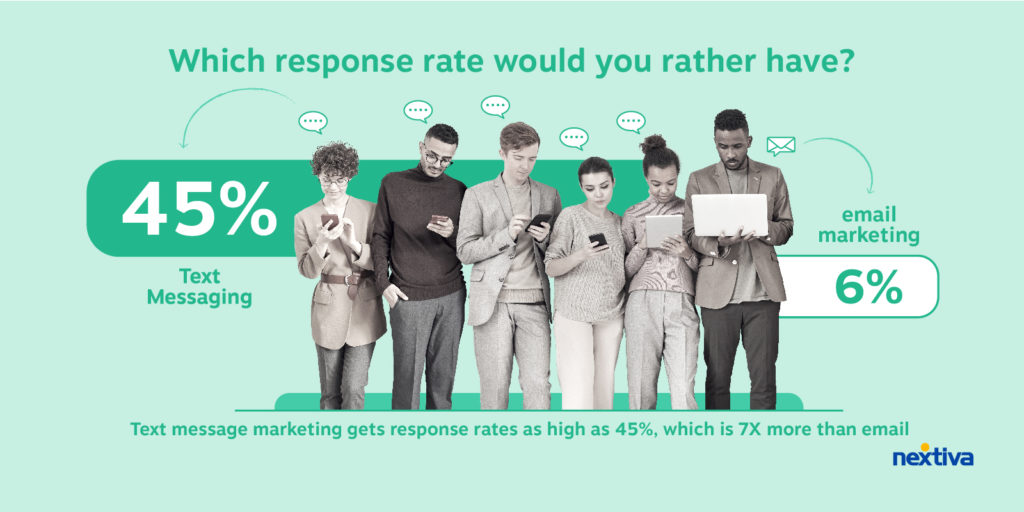 SMS is particularly popular among consumers, as well, with nearly 60% saying it's the best way for brands to communicate with them. Better yet, SMS messaging's popularity is on the upswing. Two-thirds of consumers say they've signed up to receive text messages from more brands in the past year.
If your brand isn't already marketing with text messages, now is the time to start. Even if you've already started using SMS for business communication, read on. We share ten clever ways you can use text message marketing to increase sales, engagement, and more.
1. Share exclusive discount codes
Dollar-off discounts are the #1 reason consumers sign up for text messages from a brand, followed by percentage-off discounts and free gifts with purchase. So, give the people what they want! Share a welcome discount once someone signs up for text messages.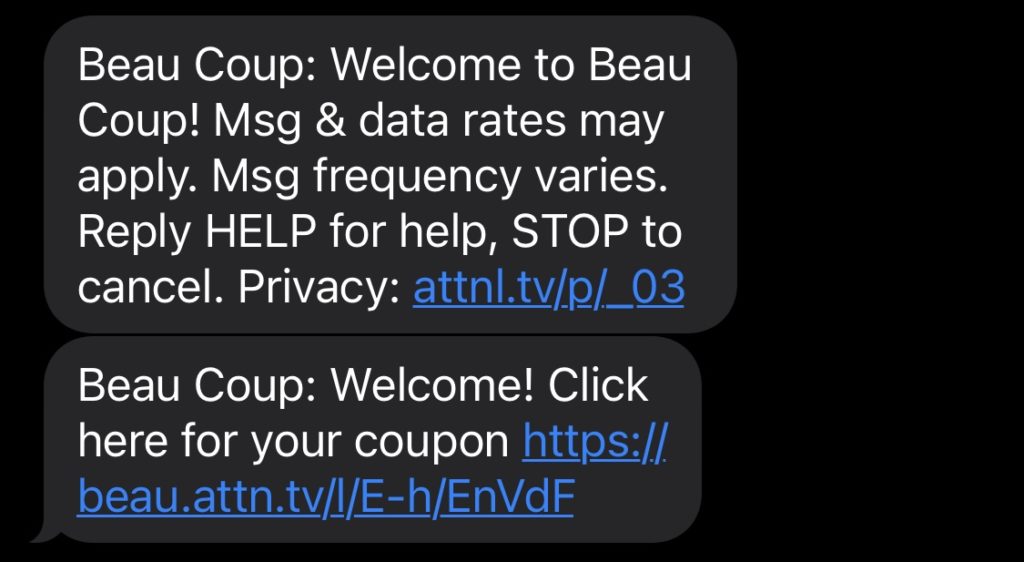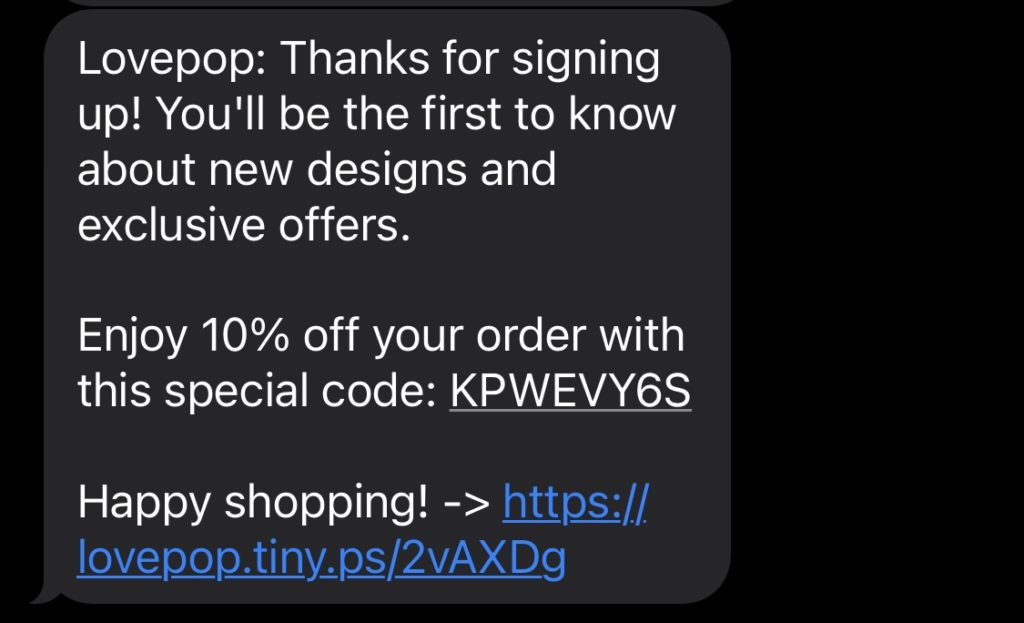 You can also share free shipping discounts, daily deals, and even temporary discounts. Temporary discounts can be sent after a customer has placed an order, offering them additional savings if they add more to their cart.
2. Notify shoppers of sales
Give customers a reason to stay subscribed. Send them a message whenever you're hosting a flash sale, holiday sale, or other promotion. Here's a great example from Lovepop. The brand drives urgency while being helpful and outlines the sales details with a strong call-to-action.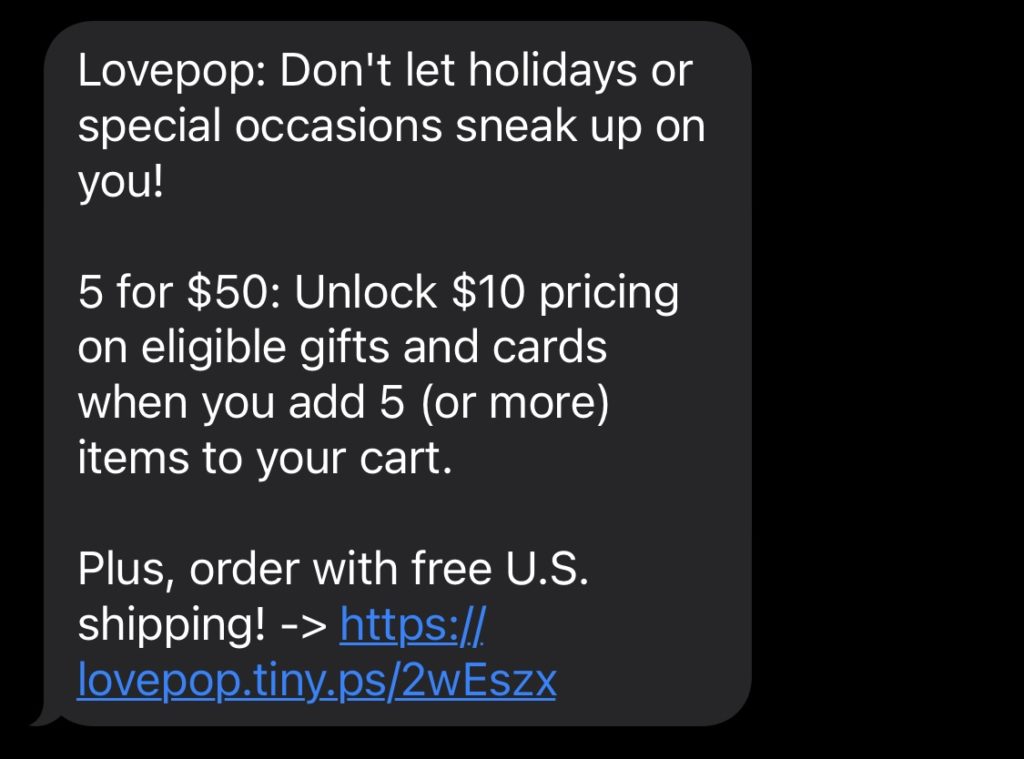 3. Promote your new content
Do you manage a company blog? Let readers subscribe for SMS notifications whenever a new post goes live.
You can also create content challenges that run for a limited time. Author Gretchen Rubin offers a 7-day "Work Happier Challenge," where she texts readers one tip per day designed to improve their work lives.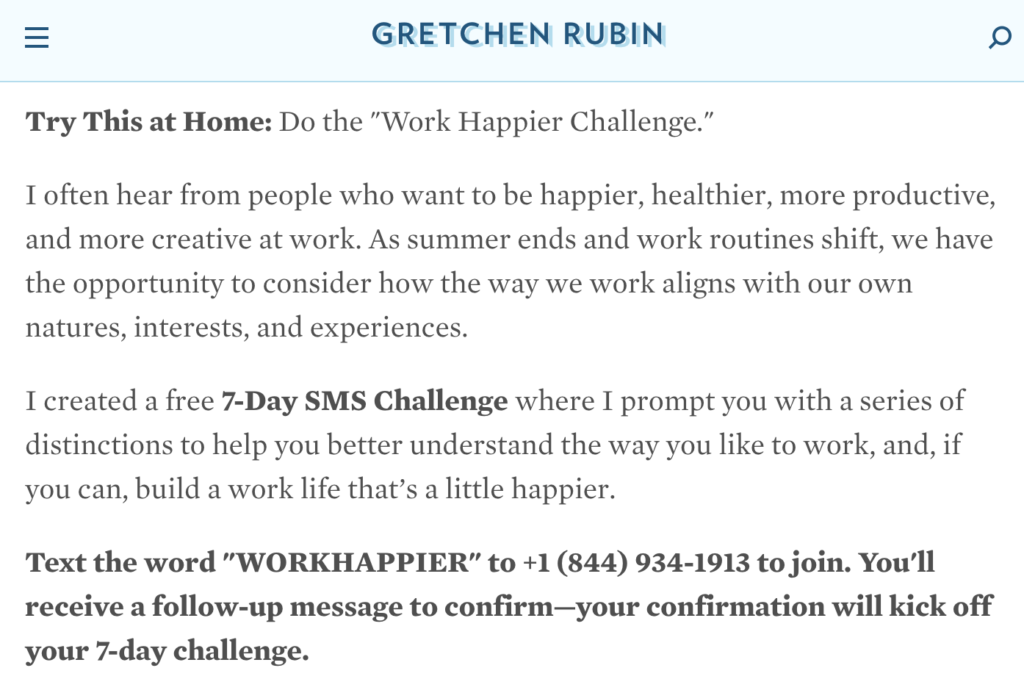 Similarly, The Skimm offers a month-long "Skimm Your Life" challenge every January, designed to help subscribers improve their lives and make their New Year's resolutions a success.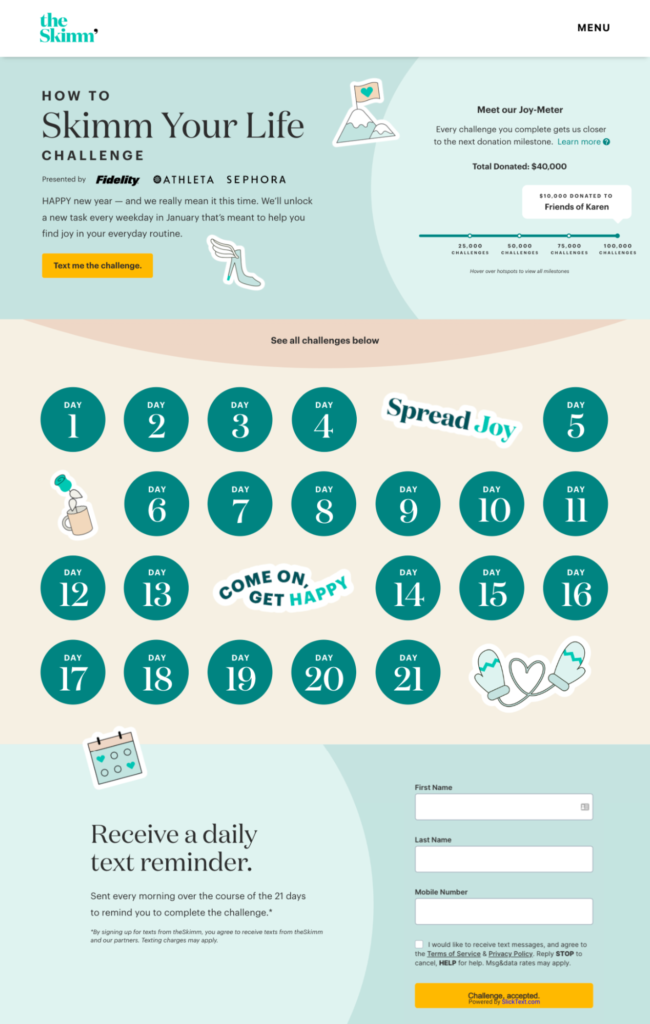 4. Send abandoned cart reminders
The average shopping cart abandonment rate hovers just around 70%. Many people want to buy, and they just get distracted along the way. Remind them of what they left behind with a thoughtful text. You can even sweeten the deal with a discount code.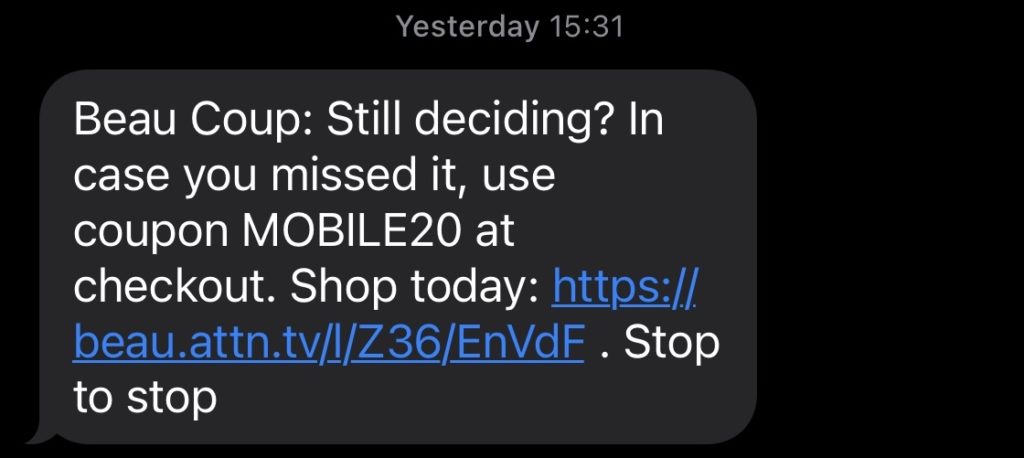 5. Send back-in-stock notifications
Sometimes the item a customer wants is out of stock. That's why you offer back-in-stock email notifications (right?).
Why not offer those same notifications via text messages? One reason SMS marketing works so well is that people check their text messages much more frequently than their email. With a quick text, you can notify customers an item is back in stock much faster — enabling them to purchase faster as well.
6. Ask for feedback
Customer reviews are essential to a business's success. They provide important social proof that builds credibility and trust. By asking your customers for feedback, you can collect more positive reviews and gain valuable insights for improving your business moving forward.
To get more reviews, you need to make it as easy as possible for customers to leave them. Consider asking via text. They can jot down a few quick thoughts and give you that 5-star review.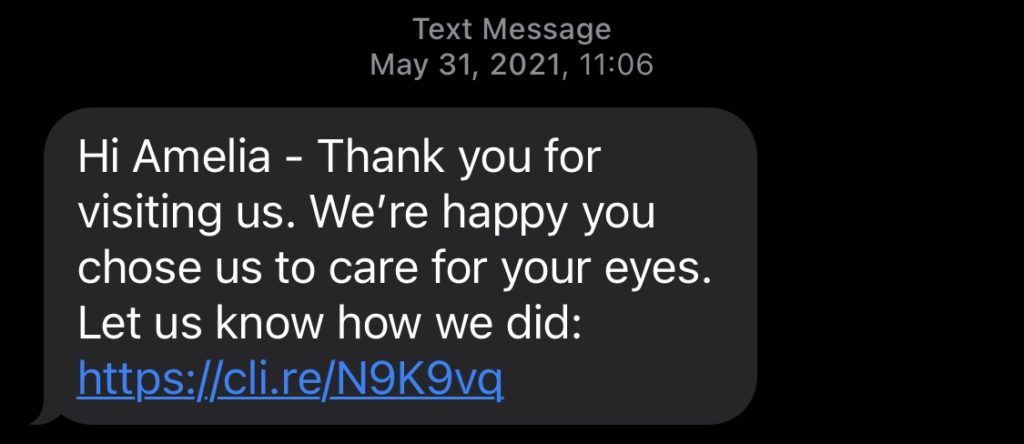 7. Promote online and IRL events
Does your business host webinars, Instagram Lives, or other streamed events? Boost viewership by notifying text subscribers to RSVP or save the date. Then, send them another reminder shortly before the event starts.
Want to build up buzz for a product launch? Direct your audience to a landing page. From there, you can fill them in on the hype and excitement for your upcoming announcement and collect pre-orders before the general public.
You can also send text messages to promote your brand's offline events. Integrate your business communications software with your CRM. Based on a subscriber's physical location, you can notify them only of events in their area.
8. Send appointment reminders
64% of consumers rate appointment reminders as the most valuable form of business VoIP with SMS messaging. You can send texts to remind customers both of their upcoming appointment and when it's time to schedule their next one, as this optometrist does: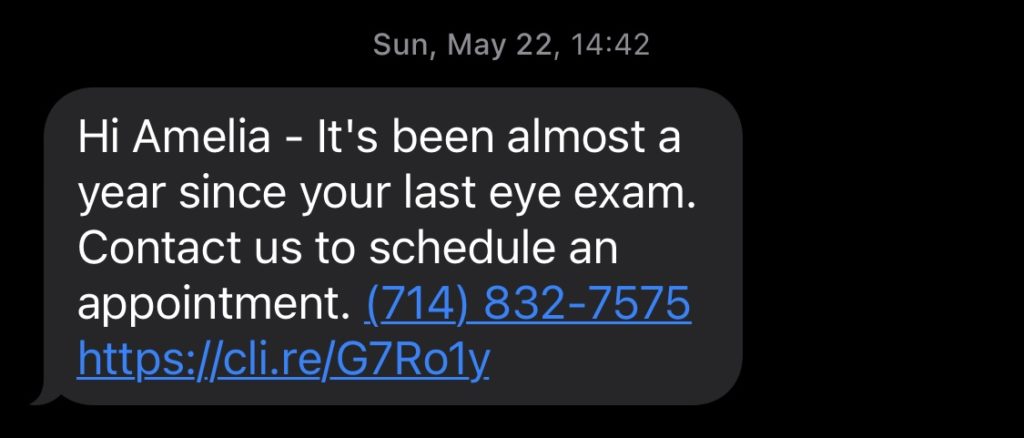 Reminders can also be used to encourage more product orders.
Whether you offer a subscription service or sell products that need replenishing every so often, schedule texts to remind customers when they're getting low, so they can buy before they run out. Your customers will appreciate the heads-up. Friendly reminders like these go a long way toward strengthening a consumer's relationship with a brand.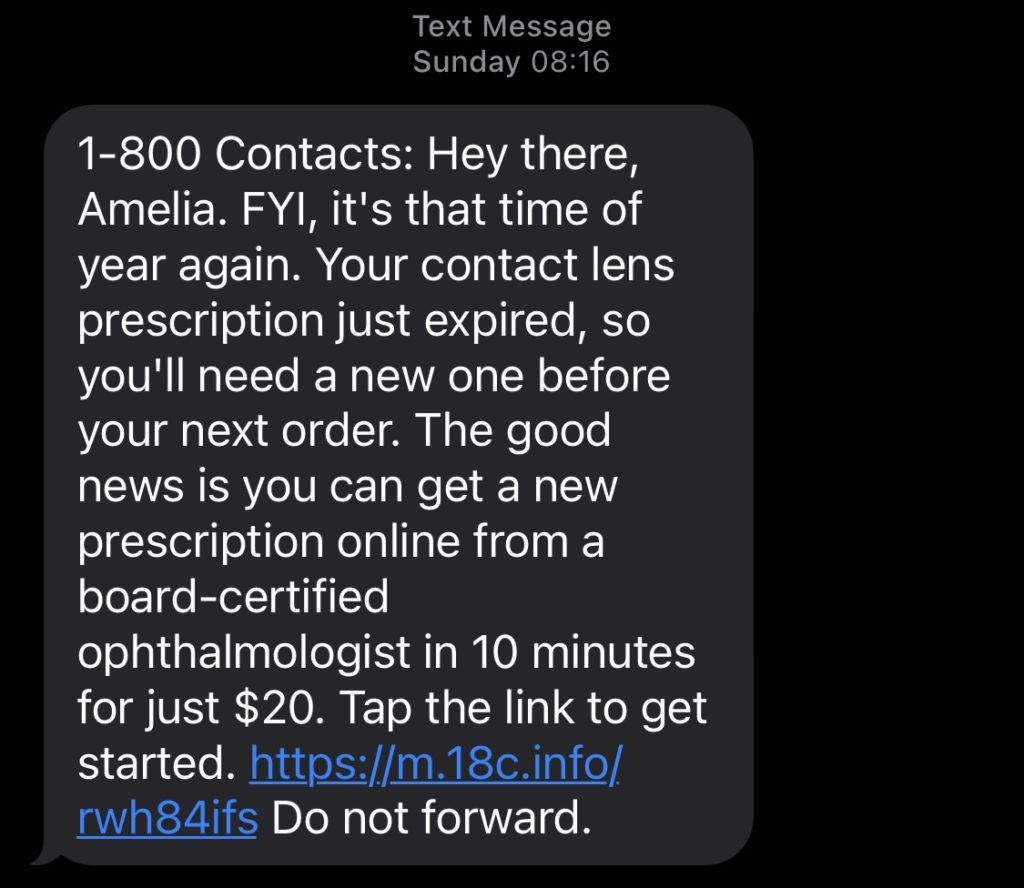 9. Announce new products or services
Do you have a new product or service line launching? Spread the good news over text! You can make the announcement feel extra celebratory by including a photo and emojis, like Lovepop does below: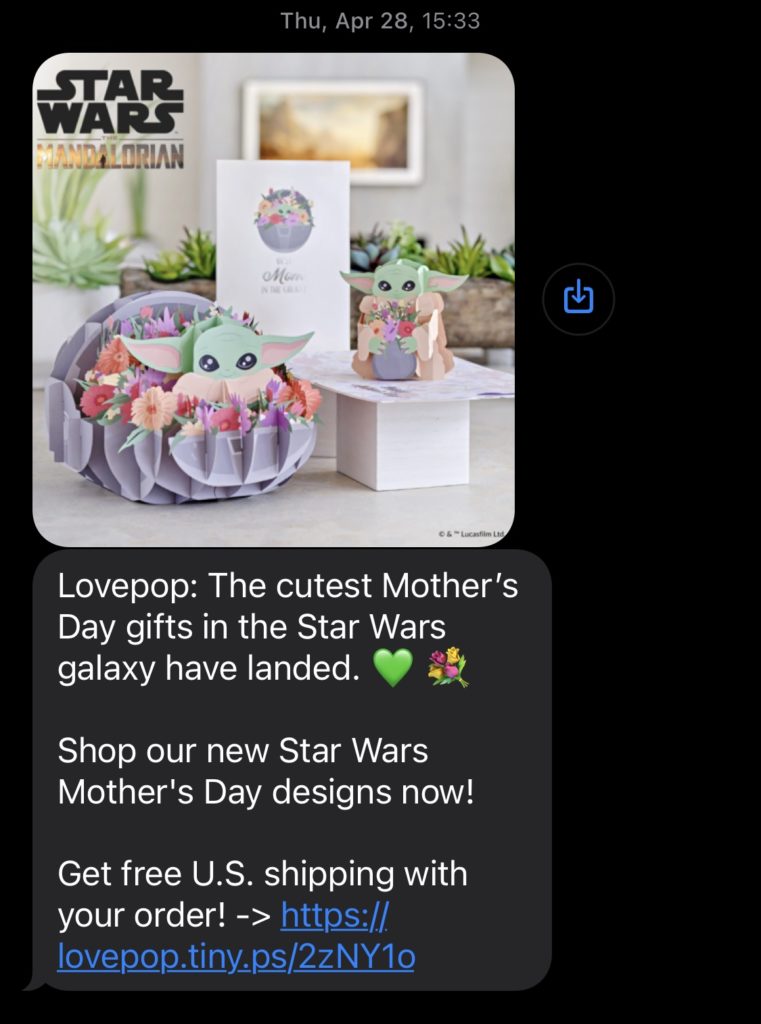 To really make your text subscribers feel like VIPs, consider offering exclusive pre-orders available only for your text subscribers.
10. Be appreciative
Texting feels so much more personal than email. Lean into that by using your text message marketing to build customer relationships. Send them a short thank you after their appointment or their purchase. You might even include a "thank you" discount they can use with their next order.
Sprinkle some SMS into your marketing mix
Text message marketing is popular among brands and consumers alike. You can use text messages to share discounts, request feedback, and promote your latest content and events.
SMS messaging can take your business communication to the next level — especially when it's connected with all of your other business communications.
From chat to text, phone to email, and internal to external, Nextiva's business VoIP phone service makes it easy to manage your text messages from your desktop. Our software gathers all the channels where conversation happens. Your team can see a customer's latest text, email, and phone conversations all in one organized view.
With Nextiva, your brand can work smarter, communicate confidently, and delight your customers. Book your demo now to see how it works.