Once you discover how VoIP works, there's no going back. You want to go all in. An essential part of the transition is getting familiar with the equipment you'll need for VoIP.
This is why, in this guide, we're talking about VoIP adapters.
A VoIP adapter is a device that acts as a bridge between your analog telephone service and the digital network that carries your calls. It's also known as an Analog Telephone Adapter, or ATA for short.
Voice over IP offers a high-quality, flexible phone service solution because it utilizes your internet connection. However, you can't just plug your traditional phone into a router and make it work. A VoIP adapter is what makes this possible even with your existing phone equipment.
Thanks to a VoIP adapter, you can keep using the devices you've already invested in. And with our recommendations below, your VoIP setup will be safe and reliable.
Related: VoIP App 101: Simple Answers to ALL Your Questions About Them
Best 12 VoIP adapters, categorized by type
We've analyzed dozens of VoIP adapters available to bring you these 12 best ones. We've sorted them by the kind of connection you require, including one phone, two phones, an analog line option, and a built-in router.
Single FXS VoIP Adapters
Dual FXS VoIP Adapters
FXS/FXO VoIP Adapters
VoIP Adapters With Built-In Router
Related: What Is a VoIP Number? How Does It Work and How Do I Get One?
Single FXS VoIP Adapters
VoIP adapters with a single FXS port allow you to connect one landline to it. As you'll see, they are among the most affordable VoIP adapters on the market as their capabilities are naturally limited to a single phone.
All the single FXS options listed here support the T.38 fax relay standard, allowing you to send and receive fax documents over the internet in real-time. If you're looking to keep using fax after transitioning to VoIP, these adapters will enable you to do it.
1. Obihai OBi300 1 Port ATA [Supported]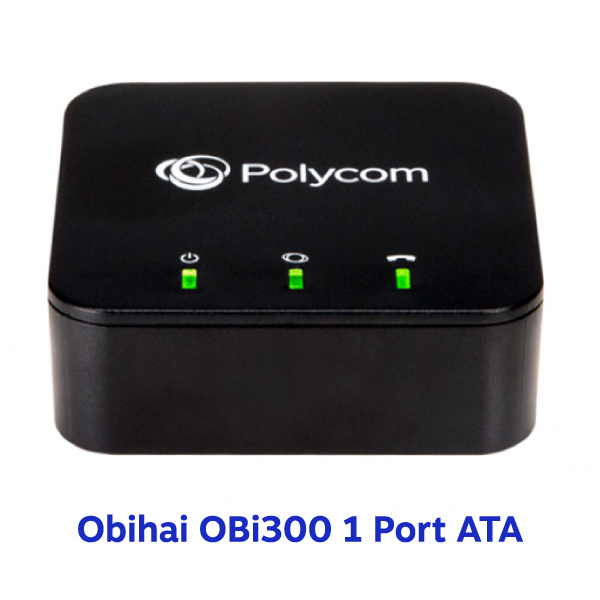 The Obihai OBi300 is a one-port analog telephone adapter that supports the use of analog devices with any SIP trunking provider.
It's extra simple to set up and use. When you use it with a SIP service provider, you'll get to use features such as message waiting indication, speed dial, call forwarding, recording, history, and more.
The OBi300 is the perfect solution for small businesses in need of a mini-phone system.
Obihai OBi300: top features
Zero Touch Configuration thanks to HTTPS redirect to SP provisioning server
OBiTALK device management portal that will help you save time and hassle during setup and configuration
USB port for use with USB devices, as well as the OBiWiFi dongle for wireless use and enhanced placement
Obihai OBi300: cost + where to buy
$45, VoIP Supply
$46.99, Insight
2. Grandstream HT801 ATA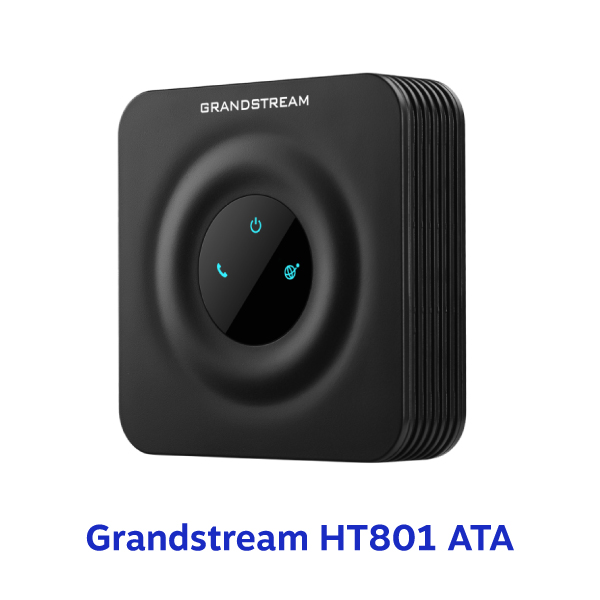 Perfect for your home or office, the Grandstream HT801 ATA replaces the HT701 ATA by Grandstream and provides a reliable IP telephony solution.
With its advanced features, you can easily use it for commercial IP voice service deployment on a large scale.
It's also a great solution for remote and traveling employees who can join the company's voice system from wherever they are—including existing analog lines in their homes or hotel rooms.
Grandstream HT801: top features
Compact-sized with modern design
Advanced VoIP functionality, including 3-way conference, multi-language voice prompt, call forwarding, flexible dial plan, and more
High-quality encryption with a unique security certificate per unit
Grandstream HT801: cost + where to buy
$27.95, Amazon
£28.80, VoIPon
$39, VoIP Supply
3. Patton SN101 SmartNode 1 FXS Port ATA
Patton SmartNode SN101 has one FXS port and lets you integrate an analog telephone or fax machine with your VoIP phone system.
It supports the open SIP communications protocol, so you'll get a broad choice of VoIP platforms. It supports standard VoIP features such as call waiting and call forwarding, as well as high-quality sound and more advanced features.
Patton SN101 SmartNode: top features
3-way local conferencing
Web configuration interface and password protection
Compact (less than four inches in length and width) for easy placement
Patton SN101 SmartNode: cost + where to buy
$72.99, IP Phone Warehouse
$84, VoIP Supply
£82.10, VoIPon
Dual FXS VoIP Adapters
Unlike the single FXS adapters, a dual FXS VoIP adapter will enable you to connect two devices to your IP network.
This can be two phones or a phone and a fax machine. If you can't limit the number of devices you want to connect to just one, a dual FXS adapter will be a logical choice for you.
4. Obihai OBi202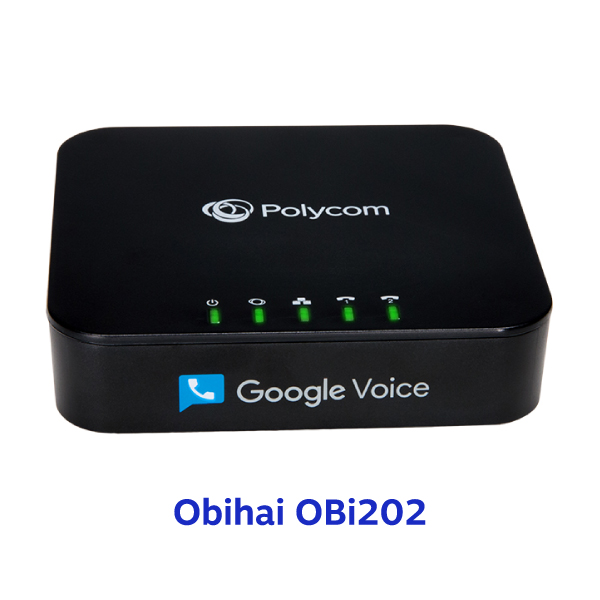 The Obihai OBi202 VoIP adapter provides support for 4 SIP accounts, including Google Voice accounts. This makes it a unique product that can take your international communication a step further while keeping your costs low.
In fact, because of the dozens of VoIP services it allows you to use, OBi202 is the perfect bridge to the landline phone features at a fraction of the price.
Obihai OBi202: top features
Works with Google Voice, so you can enjoy free and low-rate calls to over 150 countries
Flexible placement thanks to the option to insert a Wi-Fi adapter into the USB slot
Mobile phone pairing when used with a Bluetooth adapter
Obihai OBi202: cost + where to buy
$79.95, VoIP Supply
$79.99, Newegg
$79.99, Amazon
5. Cisco SPA112 [Supported]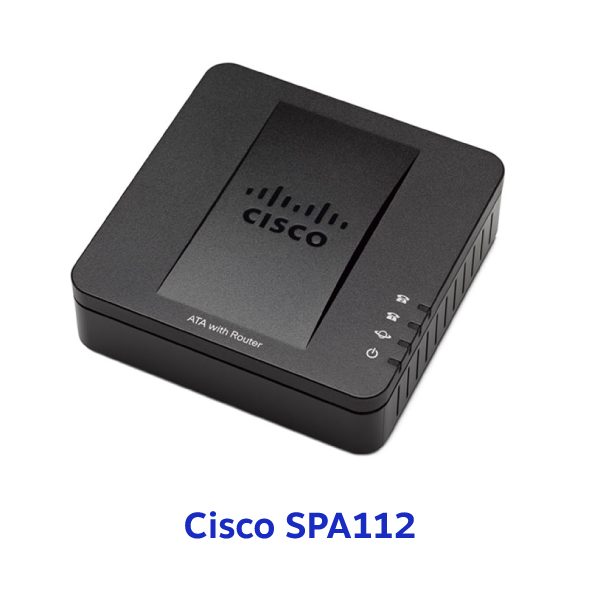 Cisco SPA112 provides quality, peace of mind, and investment protection at an affordable price.
It's effortless to install, set up, and use. Cisco's customers can protect and extend their investment in analog telephones, conference speakerphones, and fax machines as well as control their migration to IP voice with this reliable solution.
Cisco SPA112: top features
Excellent voice quality using advanced voice quality-of-service (QoS) capabilities and the industry-leading voice Session Initiation Protocol (SIP) stack
Reliable faxing with simultaneous voice and data use
Compact size, so it can be installed as a desktop unit or mounted on a wall
Cisco SPA112: cost + where to buy
£38.92, Broadband Buyer
$49, Newegg
$59.99, VoIP Supply
6. Grandstream HT802 Dual FXS Adapter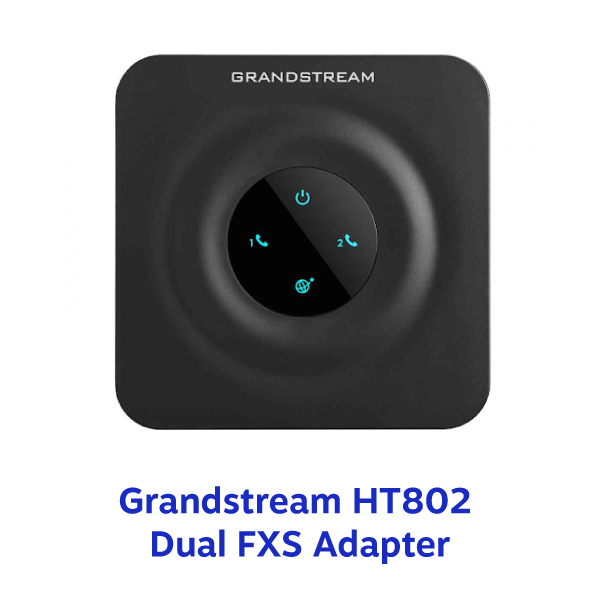 Grandstream HT802 is a compact-sized adapter that's made to handle anything from individual VoIP deployments to commercial applications.
It supports 2 SIP profiles and protects your calls and accounts with high-quality security encryption technology. And if you fear your calls will be dropping out because of lost server connection, there's a failover SIP server that has your back.
Grandstream HT802: top features
A wide range of caller ID formats is supported
3-way voice conferencing
Audio enhancements like echo cancellation and jitter buffer
Grandstream HT802: cost + where to buy
$32.83, Amazon
$32.99, IP Phone Warehouse
$49, VoIP Supply
FXS/FXO VoIP Adapters
The FXS/FXO VoIP adapters also have two ports.
One port is identical to the ones listed so far (FXS, or a foreign exchange station port). However, the other one is a foreign exchange office port (FXO), which connects a plain old telephone system line (POTS).
FXO ports are used by companies who want to keep landline access as a backup option in case the internet/VoIP service goes down.
7. Poly OBi312 Adaptor w/USB, 1 FXS, 1 FXO ports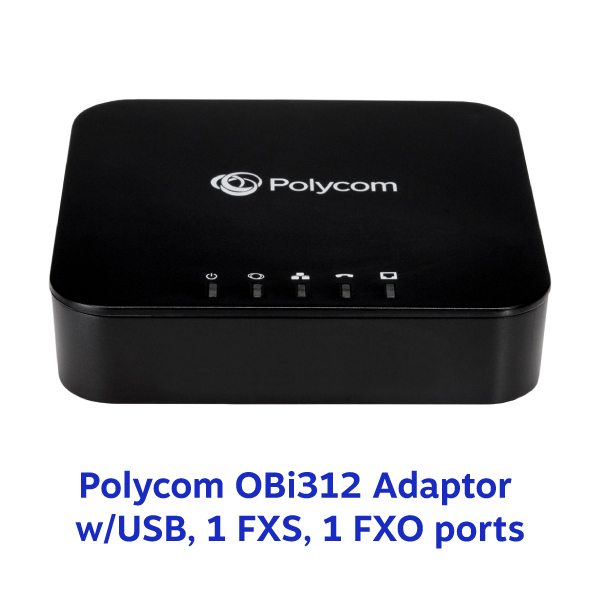 The Poly OBi312 comes with one FXS port and one FXO port.
This enables you to plug a phone or fax machine into the FXS port and bring your legacy equipment into your IP network, as well as connect the FXO port to an outside telephone line to enable remote calling.
With the OBi312, you'll be able to save money on your infrastructure by adding your analog devices to your IP network.
Poly OBi312: top features
USB port to connect to WiFi or Bluetooth using an optional adapter
Intuitive, web-based user interface so you can easily manage the adapter
Poly OBi312: cost + where to buy
$54.99 (full price: $120), IP Phone Warehouse
$120, VoIP Supply (preorder)
8. Patton SN102 ATA, 1 FXS & 1 FXO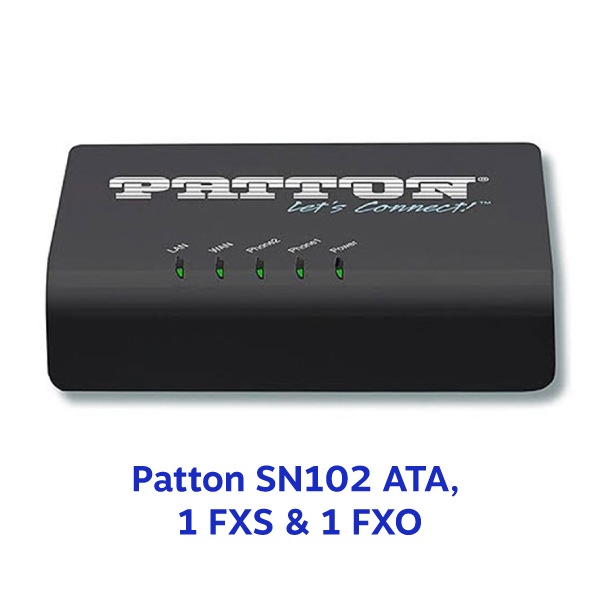 Patton SN102 comes with both FXS and FXO ports (unlike its sibling, SN100).
You can connect an analog telephone or fax machine to your VoIP phone system, and have an FXO port available for fallback. It supports the open SIP communications protocol, which gives you a broad choice of VoIP platforms.
Patton SN102: top features
3-way conferencing
High-quality sound thanks to QoS controls and dynamic jitter buffering
Less than four inches in length and width, so it's compact and out of sight
Patton SN102: cost + where to buy
$82.99, IP Phone Warehouse
VoIP Adapters with Built-In Router
If you don't have a router for your VoIP setup, or you only have a single Ethernet connection at your workstation, you will need a VoIP adapter with dual Ethernet ports to connect to your network.
9. Cisco SPA122 [Supported]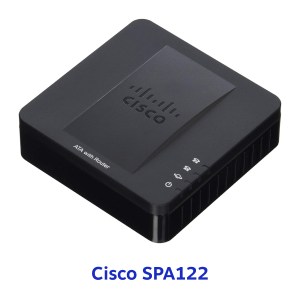 Cisco SPA122 is a direct replacement for the Cisco SPA2102. It provides the same voice quality and reliability that Cisco's customers are used to when it comes to their ATAs.
The SPA122 is compact in design and compatible with international voice and data standards. You can use it across a wide range of business environments to connect your staff and serve your customers better.
You can disable the in-built router to make it just dual FXS. For more troubleshooting tips, check out our guide on VoIP Troubleshooting

Cisco SPA122: top features
High-quality, clear-sounding voice thanks to advanced voice quality-of-service (QoS) capabilities
Supports reliable faxing with simultaneous voice and data use
Comprehensive feature set through a broadband Internet connection, such as caller ID, call waiting, voicemail, call forwarding, distinctive ring, and more
Easy installation and changes, quick deployment, and easy changes thanks to the web-based configuration utility
Cisco SPA122: cost + where to buy
$44.50, Newegg
$48.75, Amazon
$62.99, VoIP Supply
10. Obihai OBi302 – 2 FXS ATA with Router and QoS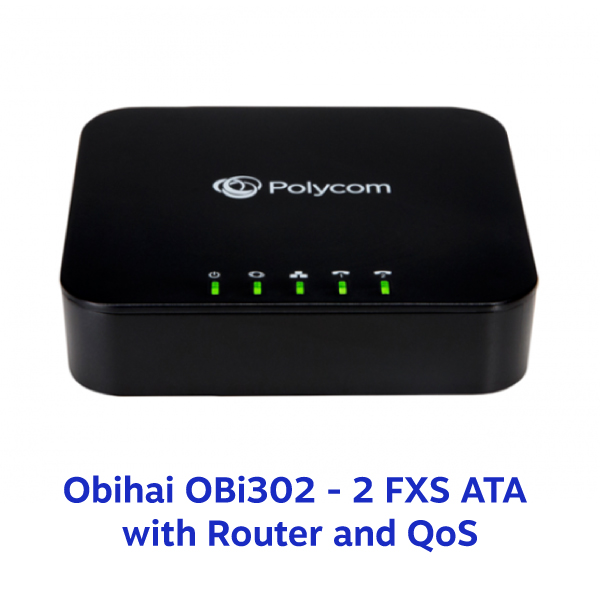 The OBi302 features 2 FXS connections so you can mix and match what you need it for, such as 2 analog phones, an analog phone, and a fax machine, or 2 fax machines to the Internet to make the most of VoIP calling.
It also has 2 RJ45 ports, so you can connect to your broadband router and another IP device such as a PC.
Obihai OBi302: top features
Integrated 2-port router with QoS and can work wirelessly using OBiWiFi or OBiBT
Cloud-based management of devices via OBiTALK portal gives total visibility and control over deployed VoIP adapters
Zero Touch Configuration
Obihai OBi302: cost + where to buy
$54.99, Amazon
$57, VoIP Supply
11. Grandstream HT812 ATA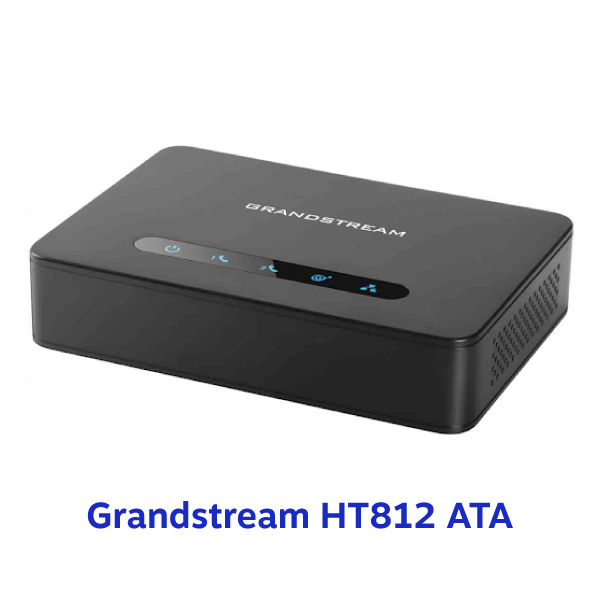 The Grandstream HT812 has two FXS ports. It's an advanced analog telephone adapter that replaces Grandstream's HT502.
As you'd expect from a Grandstream device, this ATA offers exceptional voice quality in various applications and environments. Its installation is simple thanks to two color-coded Gigabit network ports and an integrated NAT router.
Grandstream HT812: top features
Built-in NAT router which can handle routing speeds up to 100MBps
State-of-the-art encryption with a unique security certificate per unit
3-way voice conferencing
Grandstream HT812: cost + where to buy
£32, VoIPon
$49.99, VoIP Supply
$58, REAL Mobile
12. Grandstream HT814 ATA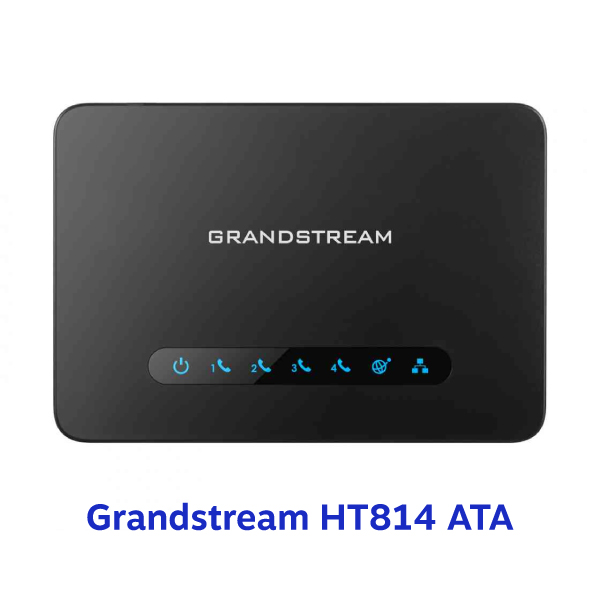 The Grandstream HT814 is a step up from the HT812 as it comes with four FXS ports, so it's highly recommended if you're looking for more than two FXS ports you get with the HT812.
It also replaces the discontinued Grandstream HT502 and HT704.
The HT814 enables users to successfully connect their analog devices to a robust, manageable network. Furthermore, it provides excellent voice quality with its wide-band HD codec.
This device is among the most powerful solutions for better communication.
Grandstream HT814: top features
Supports 2 SIP profiles through 4 FXS ports and dual Gigabit ports
Built-in NAT router which can handle routing speeds up to 100MBps
Zero Configuration provisioning when used with Grandstream's UCM series of IP PBXs
Grandstream HT814: cost + where to buy
$79.60, Amazon
$115, VoIP Supply
$115, Baltic Networks
Other Accessories You May Need
Once you've selected your VoIP adapter, you may want to consider the following backups, accessories, and upgrades to make your VoIP setup even better.
1) VoIP adapter power supply
If you want to have a power supply for your VoIP adapter always at hand (such as in multiple rooms or offices), as well as have a backup in case the original one stops working, look into getting extra ones from your VoIP adapter's manufacturer or a generic one from Amazon.
2) WiFi/Bluetooth USB adapter
As you saw earlier, many VoIP adapters can be used to use your analog devices through a Bluetooth connection and your cell service. Obihai OBiBT is a good option if you want to make the most of this.
You can also turn your USB-equipped VoIP adapter into a wireless device connected over the internet with a WiFi adapter. Obihai OBiWiFi5G is an excellent choice if this is something you want to set up.
Related: Hand-Picked for You: 10 Best VoIP Conference Phones
ICYMI: How Does a VoIP Adapter Work?
By now you know that getting a VoIP adapter means you won't need to buy a new device compatible with VoIP systems.
This is because VoIP adapters convert human voice into the proper form so that the destination network or device can receive it in the proper form.
In other words, a VoIP adapter will:
Convert analog voice signal (from an analog phone) into a digital signal, compress it, and break into a series of packets to transfer across the IP network
Decompress digital packets of voice traffic (from an IP network) into a digital signal, then convert it into an analog signal for station device to receive it
VoIP adapters use special protocols and HD voice codecs to run this process, so compatibility is crucial. This is something your VoIP vendor will look after.
Related: 10 Best VoIP Routers to Buy
How to Choose the Best VoIP Adapter

Finally, you should know the answers to these questions before making a final decision on the VoIP adapter you'll purchase:
How many telephones do you want to connect?
Will you require a router?
Do you want to keep your plain old telephone service (POTS)?
What kind of support and compatibility do you require for your VoIP system?
What's your budget?
This will clarify and help you review our list of VoIP adapters to find the one that suits you perfectly.

Here at Nextiva, we want to ensure your phone service plan perfectly matches your business needs.
In case you're just setting up your VoIP service, don't have enough desk space or the cost of VoIP adapters exceeds your budget, make sure to check out our voice solutions readily available over PC, Mac, iOS, and Android.