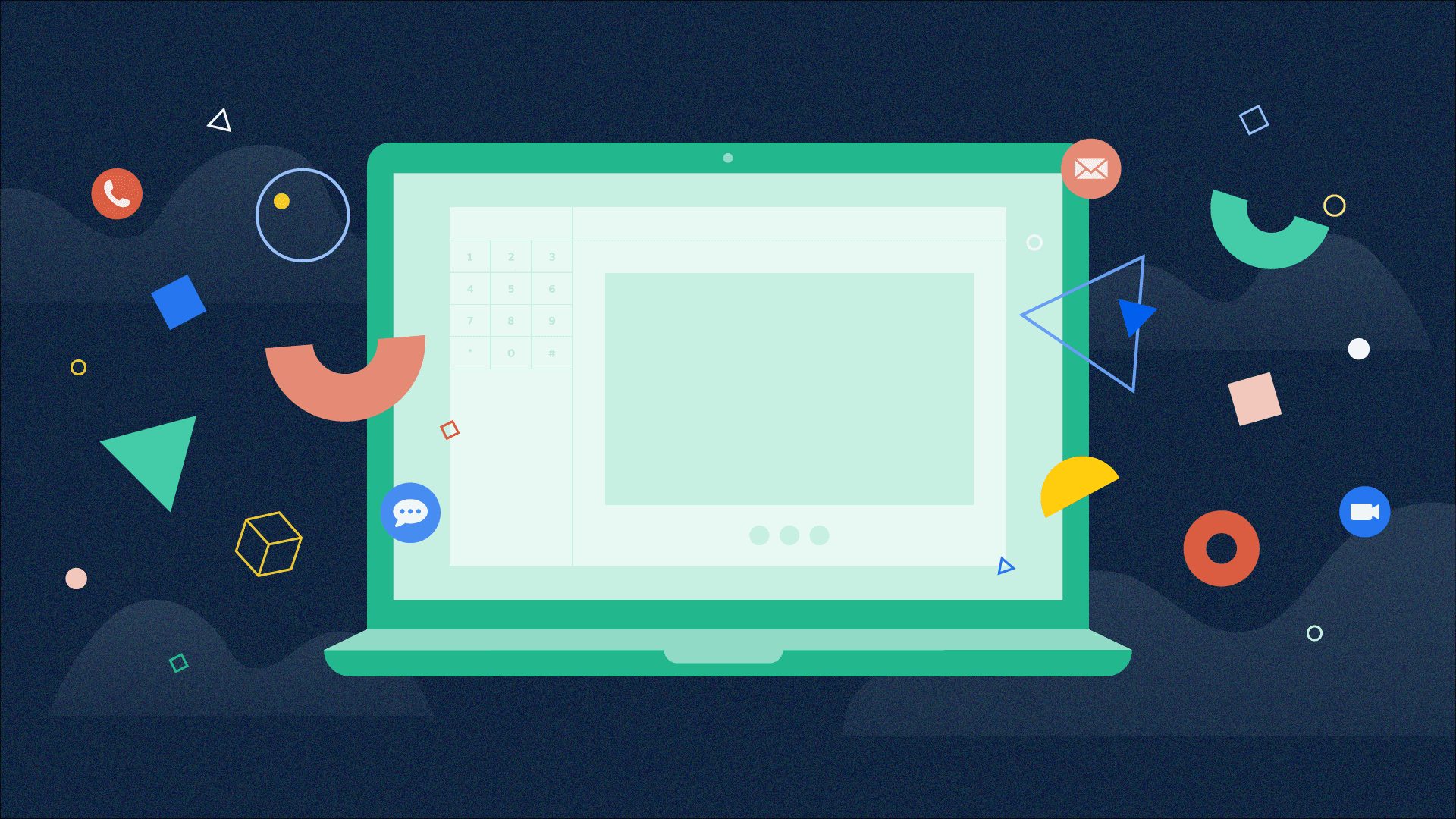 Thinking of switching to a cloud PBX phone system? It's a smart choice.
With cloud PBX, you can run your entire business phone system over an internet connection. It allows your team to make and receive calls from anywhere, not just the office.
But what should you look for when considering a cloud PBX solution? How do you narrow down providers who offer everything your business needs?
We'll share the top cloud PBX features in this guide, including:
What is cloud PBX?
A cloud Private Branch Exchange (PBX) is a business phone system where the service provider stores your business communication data in the cloud. It's also known as a virtual PBX or hosted PBX because the network is hosted away from your office, unlike a traditional PBX where the data center is in your place of work.
Cloud PBX users access their system with an internet connection and an internet-connected device, like a mobile phone or laptop, to make VoIP calls. That's the only equipment you'll need, making it a popular choice for large and small businesses.
Related: Hosted Phone System: Features, Benefits, Pros & Cons
How does a cloud PBX work?
Calls made through a hosted PBX phone system use Voice Over Internet Protocol (VoIP) technology. All you'll need is an internet connection to make and receive calls.
The business VoIP software you're using converts audio files into digital sound waves. This is passed to the end-user through the internet, meaning you'll only need an internet connection with a strong enough bandwidth to make and receive business calls.
You don't need copper phone lines trailing around the office like you would with a traditional PBX system. That's what makes cloud PBX a great choice for businesses of all sizes – especially those with remote employees, who can use the cloud-based phone system from anywhere.
Top cloud PBX features
Before switching to the first hosted PBX service provider you see, it's important to make sure they have all the phone features your business needs. Here are 13 of the top cloud PBX features to look out for during your research.
1. Auto attendant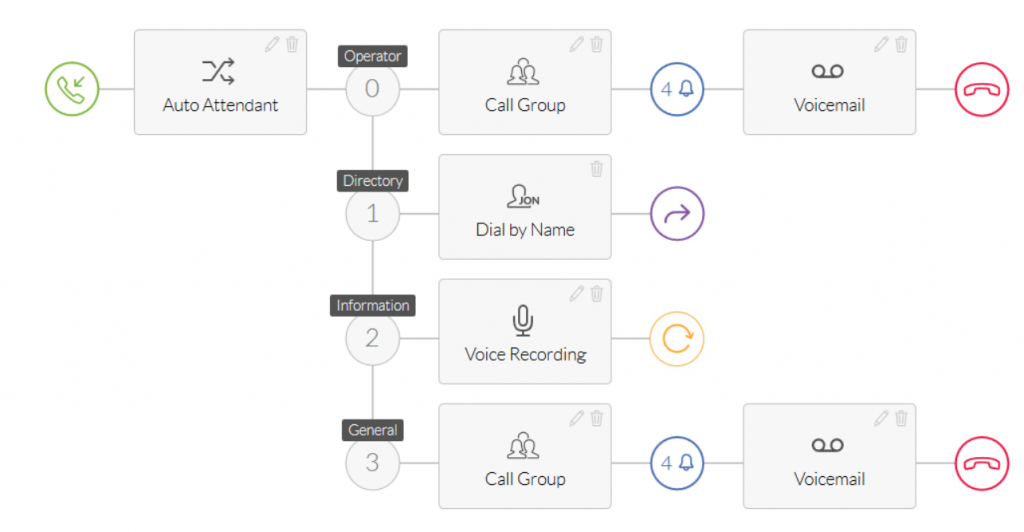 Want an easier way to direct callers to the department they're trying to reach? An auto attendant does exactly that. It acts as a virtual receptionist that greets incoming callers and routes them to the necessary departments. If you've ever heard, "Press 1 for Sales, Press 2 for Support," then you've used an auto attendant.

Not only does an auto-attendant reduce costs by removing the need for a human receptionist, but it's superb for customer satisfaction. Plus, auto attendants add a professional touch for incoming callers. A simple greeting that introduces your company and thanks the person for calling can go a long way for building credibility.
2. Call reporting and analytics
If you run a large scale call center or manage a busy sales team, phone call reporting capabilities are key. They'll tell you real-time call analytics about your business phone usage, including:
Time spent on phone calls
Number of answered, missed, and toll-free calls
The most popular time of day for phone calls
Which team member answers the most calls
Each of these gives you better insights into how your business uses the phone system. For example, if you find that sales rep #1 spends half the time on sales calls than other reps but still closes the same amount of deals, you can ask them to share their script.
Having access to call data makes it easier for you to spot quick-wins or pain points. Unlike a traditional PBX, you'll know exactly where your team is spending their time.
3. Interactive Voice Response

An Interactive Voice Response (IVR) functions similarly to an auto-attendant, except instead of pressing numbers on your dial pad, you simply say the department you'd like to be routed to.
There are two types of IVR. Basic IVR like the one described above, and advanced IVR built with conversational AI. Either option is suitable for businesses with lots of inbound call traffic.

IVR is a great way to stay on-brand with your business communications policy. It also lets you provide self-service options for customers.
4. Free local and toll-free phone numbers
Customers may incur calling fees if they're calling a business' toll number. But with a toll-free number, customers won't be charged extra fees for contacting you from a landline. Your business' caller ID will show an area code that doesn't charge extra fees.
These phone numbers can have a positive effect on your sales team, too. According to TollFreeNumber.org, people calling toll-free numbers order more products and higher ticket items 95% of the time.
Area codes aren't just important for customers to see if they'll incur extra fees. Unfamiliar area codes on the caller ID could be the reason they're not picking up the phone. According to Software Advice, people are nearly four times more likely to answer calls from local numbers.
Check whether your provider offers free local virtual numbers to cash in on the trust people have with local, recognizable area codes.
5. Audio and video conferencing
A cloud PBX system does more than make and receive phone calls. Some providers allow you to host video and audio conference calls with your team.
This works by creating a virtual meeting room, called a conference bridge, with a corresponding passcode for your team to join. They can use any internet-connected device to join the conference, including their softphone, VoIP headset, or mobile phone. Each person can hear the conversation, jump in where necessary, and even take turns sharing their screens for better collaboration.
The best part? Call quality doesn't suffer when you're in a conference. Since VoIP calls are made through the internet, you'll only need a strong bandwidth to have conference calls.
Related: Beginner's Guide to VoIP Call Quality & VoIP Troubleshooting
6. Call encryption (TLS and SRTP)
A data breach in the U.S. can cost businesses an average of $3.68 million. It's no surprise why security is a major factor when you're choosing a cloud PBX phone solution.
However, VoIP calls are highly secure if your provider offers call encryption. Inbound calls have two layers added to the digital connection, including:
Transport Layer Security (TLS)
Secure Real-time Transport Protocol (SRTP)
Both of these mean that your phone calls are encrypted. Hackers can't eavesdrop on internal or external calls.
Related: Is VoIP Secure? The Ultimate Guide to VoIP Security & Call Encryption
7. Voicemail to email
Most business phone systems have a cluttered and unorganized voicemail system. That doesn't have to be the case with a cloud PBX phone system.
Voicemail to email is a feature that takes your voicemail recordings and delivers them to your email inbox. You'll get a notification each time a voicemail is left on your VoIP number, and an email containing the MP3 file. You can then listen to it on your computer and follow-up at your convenience.
Some providers also offer voicemail transcription features. It'll deliver the same voicemail, only you'll see a transcription of it in plain text, as well as audio format. This makes it easier for you to return calls, make notes, and share call information with your team.
8. Advanced call routing and queuing
A major benefit of using a hosted PBX is call routing and call queuing. Agents might not be able to answer all phone calls immediately, but instead of the calls failing or being stuck on hold, inbound callers will join a call queue. An automated message will tell them what position in the queue they're in, how long they should expect to wait, and thank them for their patience.
If a call goes through to the incorrect team, advanced call routing diverts the call to the most relevant agent. Callers won't need to join the queue again. This makes call routing and queuing perfect for high volume call centers.
9. Call recording
Business call recordings are great resources for team training. You can replay recordings to review which sales scripts work best, and which customer support queries need answering most often. You can also use call recordings to prepare new employees for handling awkward situations using real-life examples.
Plus, access to call recordings helps with staff accountability. Should you need to clarify who said what, you'll have a repository of recordings to go back and listen to for up to six months. This can help minimize legal risks, depending on who the conversation involves.
10. Call forwarding
Call forwarding diverts calls from your in-office desk phone to your mobile phone without any interruptions. The person on the end of the line wouldn't notice any difference, which makes this a great feature for on the go employees.
You can even change your cloud PBX settings to automate call forwarding. It's useful for situations where you know you won't be able to take calls on your regular device, like if you work from home on a Tuesday or are out of office for the holidays.
11. Click to call
With click to call capabilities, you can press a phone number on a device and immediately call a local business – hence, why you might see this feature labeled as one-click calling.
Click to call allows you to take advantage of web traffic and make it easier for customers to call you. They don't need to copy and paste the number into their cell phone. They'll just click the phone button and a connection will be established.
12. Mobile and desktop app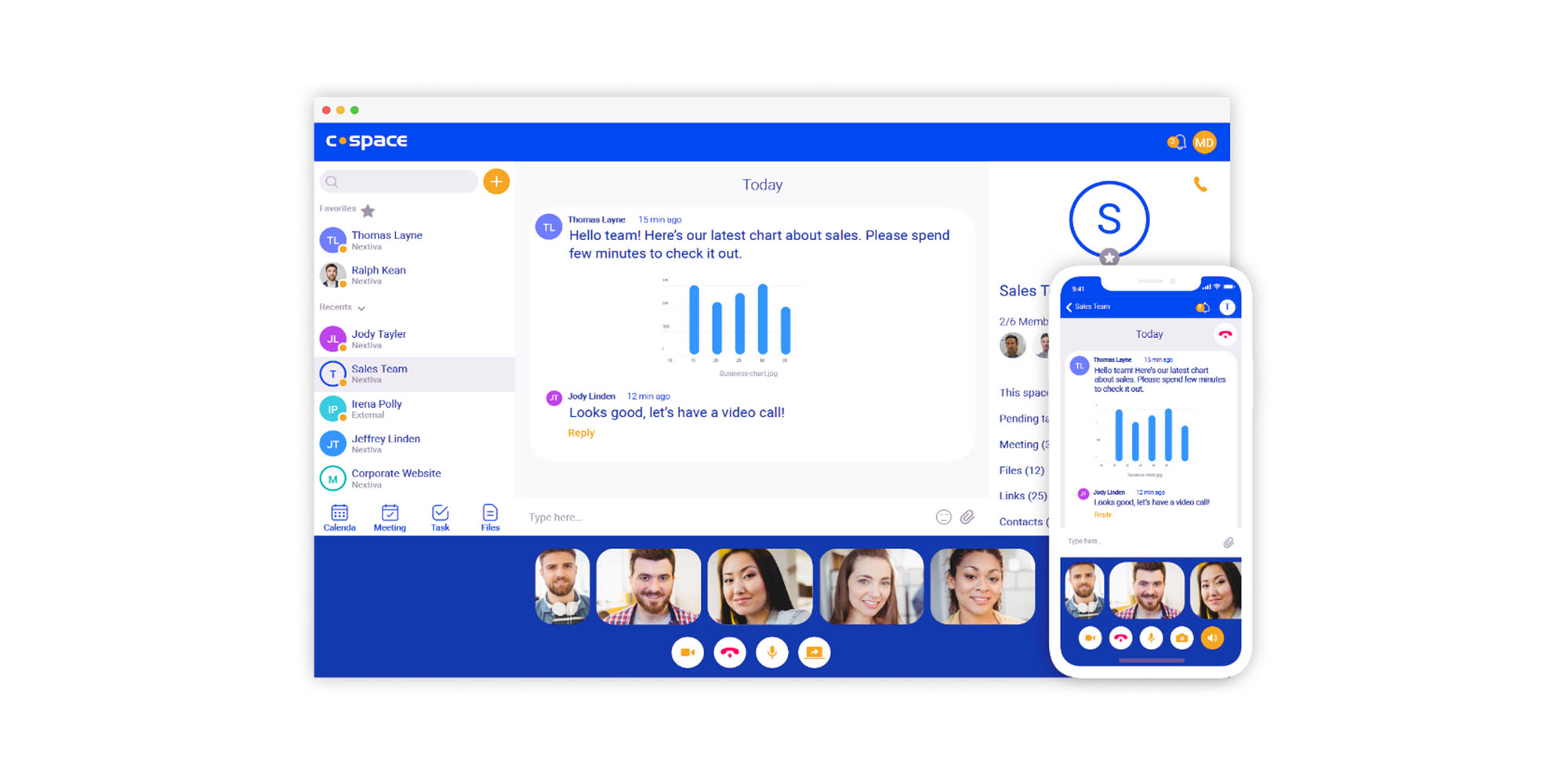 Having a mobile and desktop app with a coherent user interface can be a gamechanger for team productivity. It also allows employees to take conversations anywhere and still be in the loop. This is especially important with the rise of remote work.

It's important to check whether your provider has a compatible app for the devices you're already using. This can include mobile apps for devices running on iOS, Android, and Google.
The best part? All of this contributes to bigger cost savings. You don't need to run out and replace all of your equipment when using a cloud PBX, nor buy a new desk phone when a team member joins. With a compatible mobile app, they can use their existing devices to get up and running instantly.
13. Enterprise-grade reliability
A cloud-based phone system offers one benefit that a traditional setup doesn't – the network is always manned by engineers.
Check that your provider has a dedicated security team where the data centers are housed. That way, they can monitor and fix any security vulnerabilities and make sure the network is always up. Thankfully Nextiva has a 99.999% uptime, which means no downtime for your business.
If the worst does happen, disaster planning means our backup generators will always try to keep your system up and running.
Choosing a cloud PBX provider
When you're choosing a new cloud PBX provider, the cost of the solution is likely a major factor. After all, it doesn't make sense to invest thousands of dollars into a new business phone system if it doesn't offer the features you need.
So, use this list during your research of providers and make sure to see what is listed as standard or an add on. You can reduce costs on your business phone system even more by choosing a package that offers them as standard.
Here at Nextiva, we offer all of these features, and more. Our cloud PBX system can help you save up to 60% compared to your current setup. And, you don't need to be the most tech-savvy person to understand how it works.
Pricing starts from just $19.95 per user, per month. That's a small price to pay for a reliable business phone system with all the features you'll ever need.