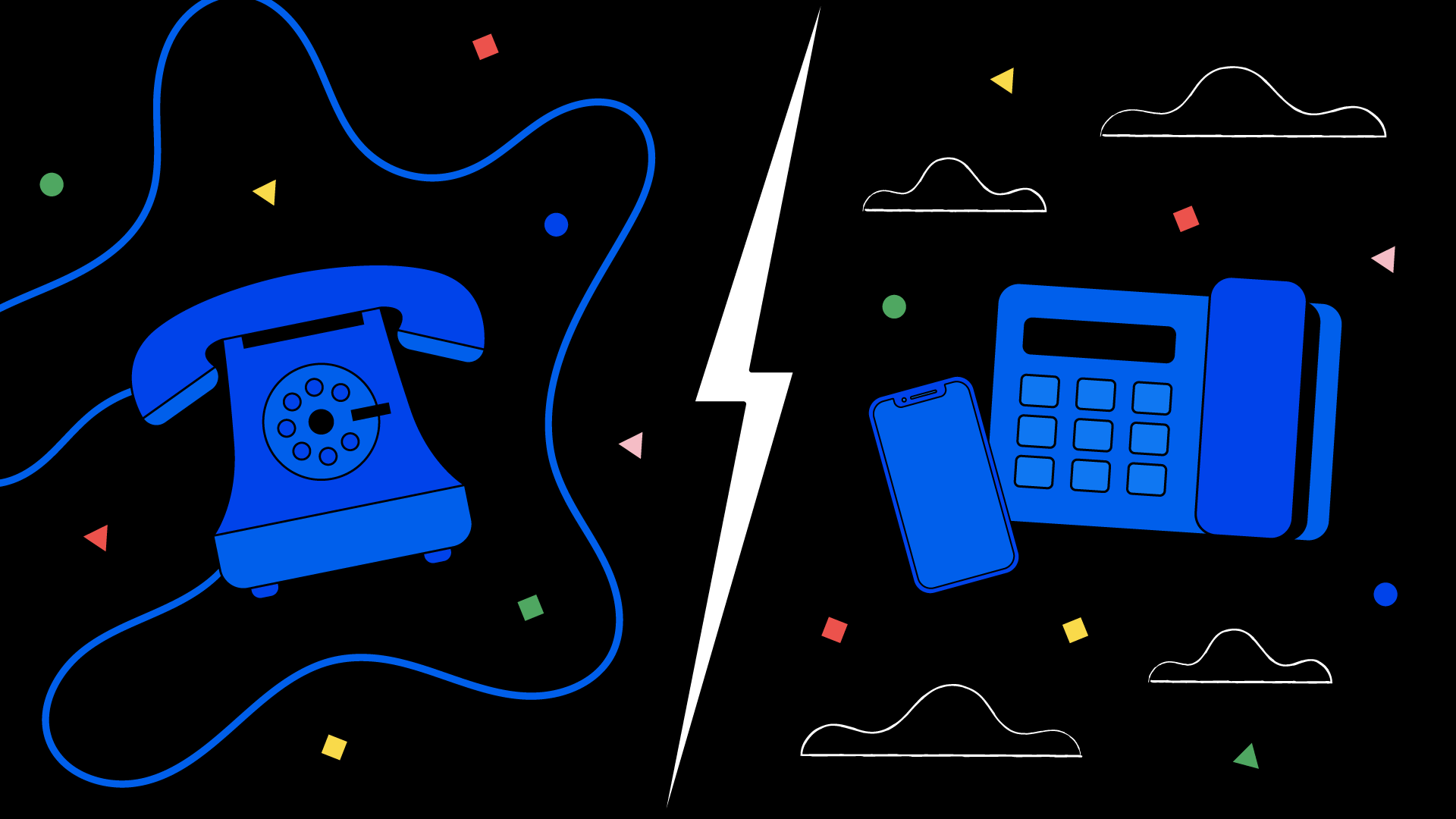 One of the most decisions a business leader can make is to upgrade the company's phone system. You might be using an on-premises PBX but have recently discovered it doesn't keep up with the needs of a remote team.
As IT experts weigh their options, they often look into a cloud-based calling solution for their organizations. Beyond the enhanced flexibility and reliability, there are many pros and cons to keep in mind.
So, is a cloud PBX a direct replacement for an on-premises phone system?
The departure from legacy phone systems is inevitable. More than 60% of companies have resolved to switch to VoIP when their landline contracts end, according to a study on business telephony.
Let's take an in-depth look at the benefits and risks of a cloud PBX system.
What is a Cloud PBX?
A cloud PBX, better known as hosted PBX, is a business phone system that runs over an internet connection. You don't need to have Private Branch Exchange (PBX) equipment in your location — a VoIP provider does it for you.

Essentially, a cloud PBX provides all the functionality needed in an office phone system such as voicemail, call forwarding, and of course, calling. Instead of setting up a server you have to maintain, you'd use a VoIP provider for your company's communications.
When your staff answers or places calls, VoIP handsets convert the sound into data packets. These packets travel over the internet to the hosted PBX provider. The provider establishes a clear calling path between both parties. When needed, hands off to the Public Switched Telephone Network (PSTN).
Once data packets reach their destination, the business phone system converts them back into sound. It does all this within milliseconds without any extra configuration. See this diagram below to visualize the process. Here's a diagram for what it would look like for a single office.

All you need is a reliable broadband connection to use a cloud-based PBX. The underlying technology accepts all kinds of IP phones, including desk phones, smartphones, and conference phones.
There are some practical business benefits you should know before getting a free quote.
Advantages of a Cloud PBX
Besides beaming electrons over the internet to talk with others, what makes a hosted phone system the ideal choice for businesses?
With an on-premises PBX, everything is analog, and you need phone lines for every handset. It also means you have a telecom expert who can perform maintenance and upgrades.
Here are the top six advantages cloud communication systems provide for businesses.
1) Powerful features level-up your workflows
There are many more built-in VoIP features offered by a hosted PBX compared to an on-premises PBX phone system. These advanced features are the ones stakeholders care about most. Expect them to show up on a VoIP requirements list.
Several of the top cloud PBX features include:
Mobile device support (mobile apps)
Voicemail to email transcription
Auto attendants (call flows)
Automatic call recording
Intelligent call forwarding
Built-in video conferencing
Inbound call queuing
Company leaders will appreciate that there are dozens of VoIP features available that don't require any technical setup. Your phone system can also integrate with other essential tools like your organization's CRM.
These added capabilities mean you can get more work done with enhanced productivity.
2) Flexibility for all locations and seasons
A flexible phone system means it can adapt to the changing conditions in the workplace. You can customize your phone system around your business needs versus feeling constrained by an old PBX.
There's nothing more frustrating as an IT manager than unexpected business changes. You can say yes when the boss asks you if it can be done — without coming in on Saturday.
Small businesses enjoy total control over their company's phone system. It's easy to add and assign business phone numbers to your team. It's even easier to equip your remote team with phone service.
In the era of remote work, employees can stay connected with a robust VoIP softphone app. Alternatively, you can have them take their office desk phone home.
When you increase demand, such as holiday sales, a hosted PBX will allow you to increase your call capacity. Plus, you can add hold music and comfort messages in minutes. This way, you can bump up your call quality and customer satisfaction.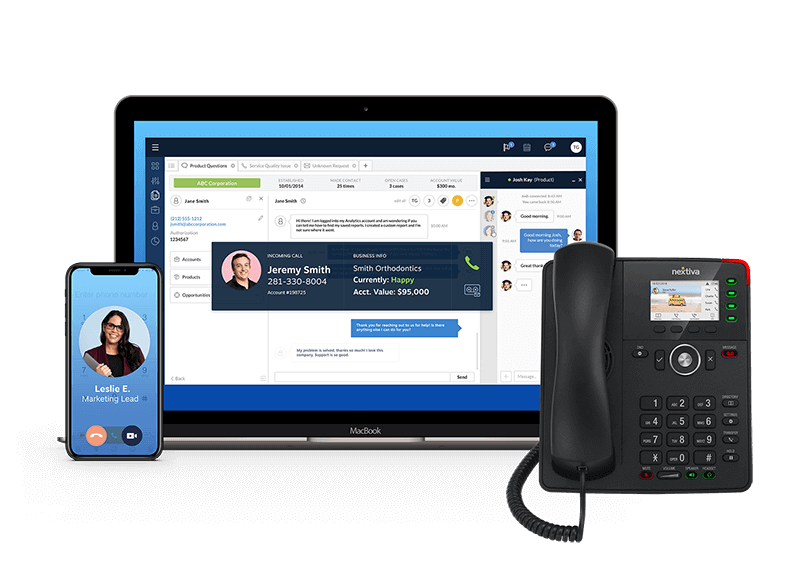 3) Worry-free reliability and uptime
What's the cost of downtime for your business? From tarnishing brand trust to losing revenue and sales, you can't afford to deal with outages.
Luckily, a cloud PBX keeps you always reachable. A reputable service provider will offer 99.999% uptime, which is the gold standard for enterprises. Read what customers have said about them on social media, such as Twitter. You'll get a sense of the reliability provided by the cloud PBX provider.
This increased reliability is made possible thanks to a redundant network of eight separate data centers. VoIP can work even during a power outage. You can route calls to different locations, including mobile phones, within seconds. On the flip side, a traditional phone system can crash due to weather, power failures, and other disasters.
Nextiva has invested millions into building one of the largest, most reliable business VoIP networks nationwide. Even if one of our data centers goes offline, there are seven more to handle the calls.
Related: Is VoIP Reliable? Nine Helpful Tips You Must Know
4) No maintenance
Lack of maintenance is a tremendous advantage of cloud PBX systems. System updates, network routing, adjusting VoIP codecs — it's all handled by the hosted provider.
IT leaders and CIOs deal with a lot of fires throughout the week. (We hear you!) You can empower select people to make changes to your phone service online. Today's VoIP phones are hassle-free, so it means fewer helpdesk tickets.
The problem with on-premise PBX systems is maintenance doesn't stop when you hire full-time support. Having a technician available at all times is great, but you have to budget for $74K annually.
Businesses today have to get more done with less. It's why switching to a cloud solution is a sensible investment. Get ready to say goodbye to a bulky on-prem communications system and costly VoIP maintenance contracts.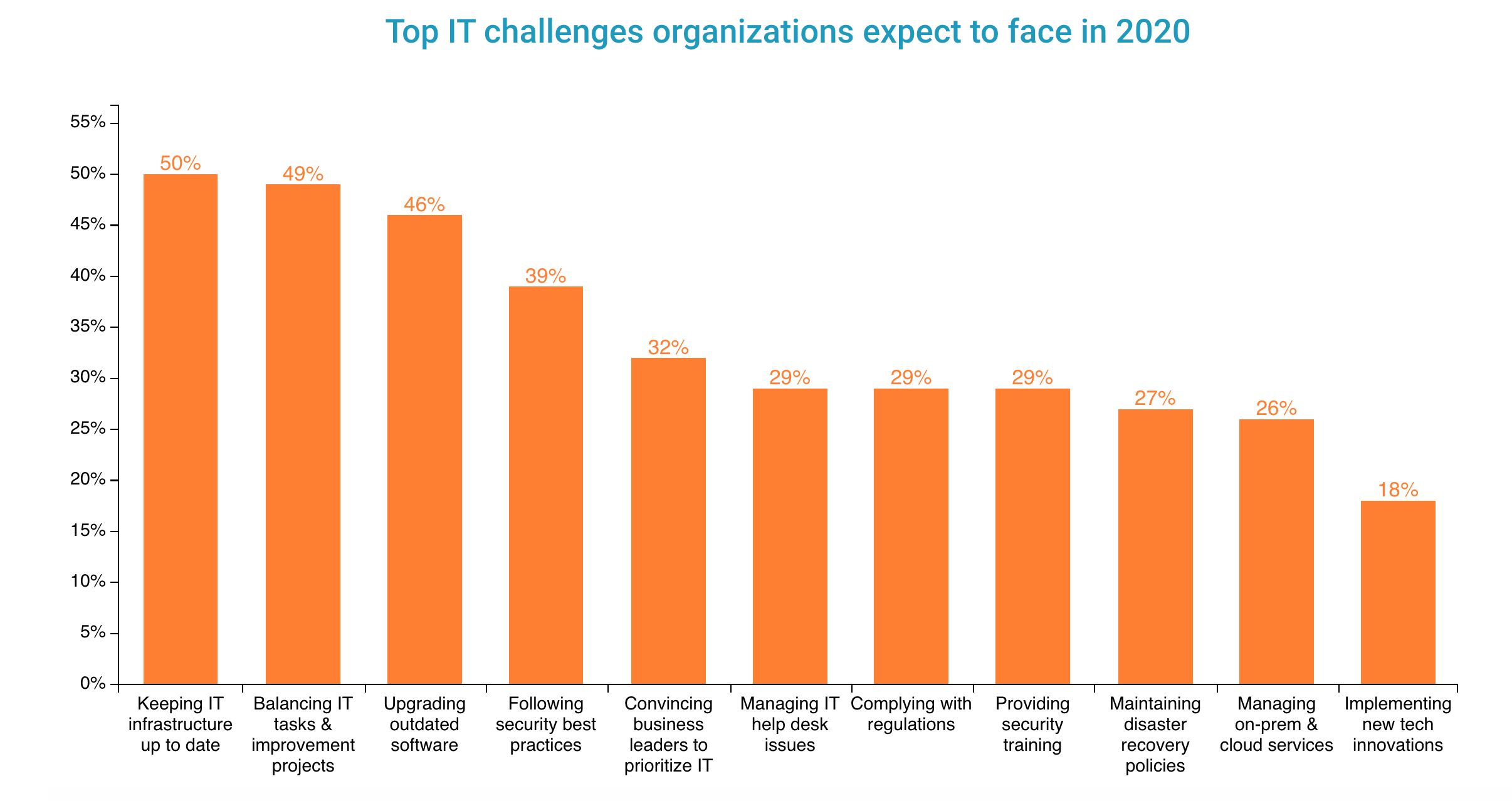 5) Unparalleled security
Cloud PBX phone solutions offer higher security compared to traditional PBX. When you have a physical landline, it's up to you to ensure no one gains access to it. Many PBX systems are vulnerable to outside attacks, and audio signals they transmit are much easier to intercept.
Some hosted PBX solutions offer call encryption and 24/7 server monitoring. VoIP providers are consistently validated by third parties to check for compliance. VoIP security also means there's the benefit of certifications like ISO/IEC 20071, PCI compliance, and HIPAA compliance.
Voice over IP itself is both reliable and secure, thanks to the redundancies of IPv4 routing. Encrypted voice packets and signaling works by using TLS and SRTP protocols.
Simply put: A cloud PBX lets you sleep at night. The backbone of your business communications is secure and resilient to bad actors.
Related: VoIP Hacking: How It Works & How to Protect Your VoIP Phone
6) Cost-effective for all companies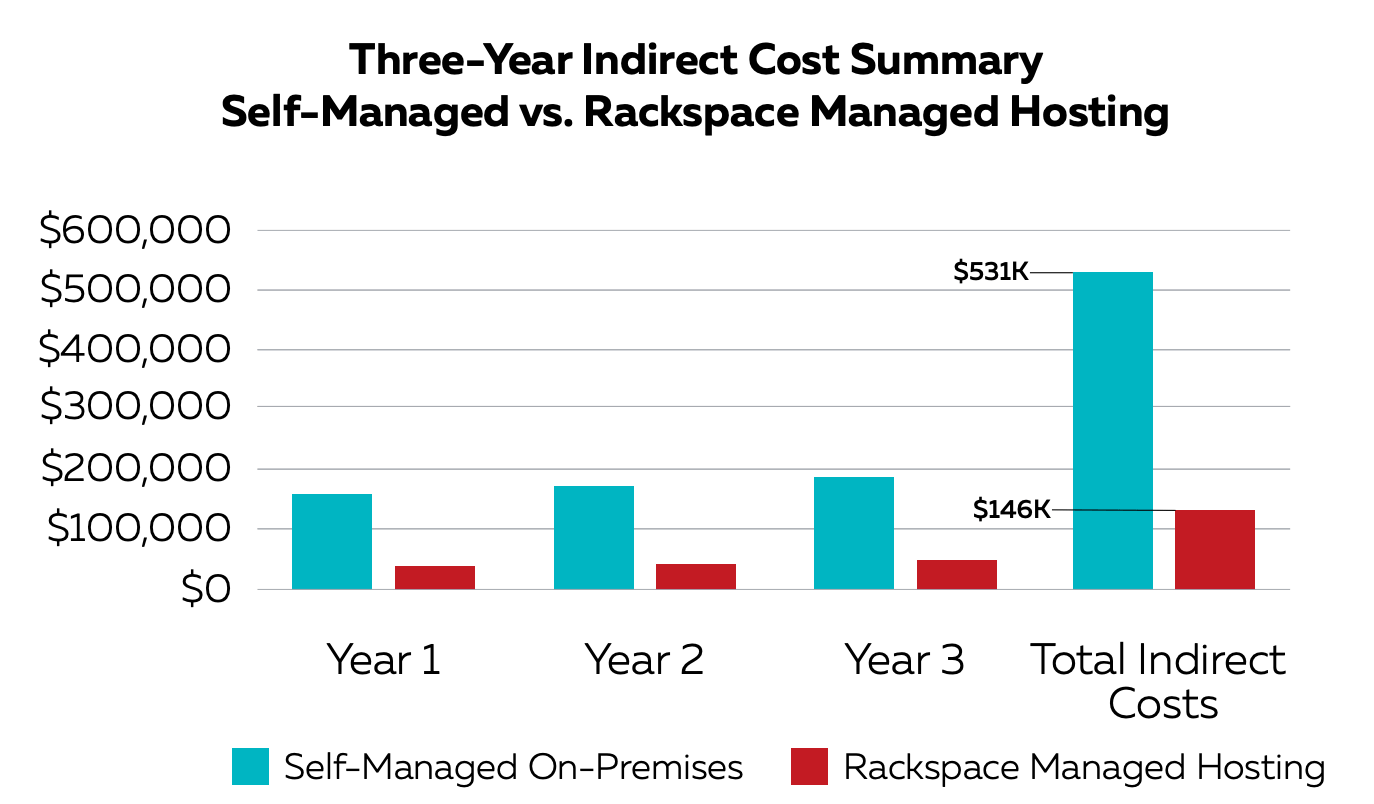 You'll save a ton when you upgrade to VoIP service. Compared to a traditional PBX, premium features are either included or available for a low cost.
The team at Rackspace studied the total cost of ownership of cloud-based solutions. For every $1 spent on hardware upgrades, companies can expect to pay $2 for maintaining and securing that infrastructure.
This statistic should be alarming. On-prem voice equipment can cost you twice as much as you think. Make sure you think about the additional, indirect costs beyond the list price.

Here are the areas where a hosted PBX can lower costs:
Workforce: Unless you're a pro at SIP trunking, you'll want dedicated IT staff or at least on-call IT support.
Equipment: Use the equipment you already have, such as softphones. You can also rent VoIP phones for lower upfront costs.
Maintenance costs: You won't need to pay extra for software, security patches, or firmware updates.
Adding phone lines: New employees and departments don't have to wait to get calling.
Calling costs: Enjoy the freedom of unlimited nationwide calling and low-cost international calls. Likewise, you can block international calling as well.
These cost savings add up. Sure, the switch might be a bit of work, but the payoff is immediate. It's not hard to understand why over 100,000 businesses have already switched to Nextiva.
Related: How to Switch to VoIP and Save Up To 60% off Landlines
Disadvantages of Cloud PBX Systems
Despite the meaningful benefits of moving your PBX to the cloud, there are a few downsides you should know.
1) Demand for a high-speed internet connection
Cloud PBX phone systems achieve better sound quality in every call. To make this happen, it requires data from your existing internet connection. We recommend planning for 100 Kbps upload and download speed per phone line.
The bandwidth of your phone system varies based on the VoIP codec and number of calls you make.
Let's put this in perspective. In the United States, the average speed is 96 Mbps for download and upload is 32 Mbps. Your business could handle hundreds of calls at once with business broadband and even a home office setup.
2) You might have to adjust network settings
IT staff may need to optimize network routers for cloud telephony. This often involves trial and error and can be a surprise in some VoIP deployments.
Here are some technical requirements bear in mind:
Don't have two routers in sequence (double NAT) before connecting your phones.
Prioritize SIP-based voice traffic via Quality of Service (VoIP QoS).
Possible network switch upgrades if you want to use Power over Ethernet (PoE).
Turn off SIP ALG (Application Layer Gateway) to avoid issues.
These are minor and inexpensive adjustments that your cloud PBX provider will guide you on. To avoid unexpected issues, request an in-depth network check from your VoIP phone service provider for simulating these conditions on your network.
3) Users might need more guidance
Deploying a new phone system is a challenge because it affects well-established habits and workflows. Changing those is hard.
When switching from an on-premise PBX to a cloud PBX, the most significant change will likely be the new world of advanced calling features. Chances are you can't walk every employee through every part, but you also don't want to leave them hanging.
Making calls over VoIP is no different than using a traditional phone. Invest a bit of time providing users with specific guides to the top questions: voicemail, call forwarding, conference calls, and transferring calls. Better yet, snag the helpful tips from your cloud VoIP provider, which likely has them ready to go for you.
Comparison of the Pros and Cons of Cloud PBXs
Advantages

Disadvantages

✔ Powerful calling features included

✘ Needs a broadband connection

✔ Flexibility to work remotely

✘ Adjusting network settings

✔ Superior reliability and uptime

✘ Users might need guidance

✔ Encrypted communications

✔ Lower startup and ongoing costs
Top Business Benefits of a Cloud PBX
Your business stands to realize substantial productivity and efficiency gains when you switch to a cloud-based telephone system. It doesn't just look good on paper. It allows people to work better and improve the company's bottom line.
Let's examine the ways companies get more out of cloud-hosted VoIP versus an on-prem setup.
1) Improved team communication
Effective virtual team communication is no longer a luxury. Consider that one-third of companies lose customers due to communication issues — it's undoubtedly worth improving companywide.
This advantage is where cloud PBX performs well. Here are a few ways it makes team communication frictionless:
Virtual phone extensions – Assign individual phone extensions that make every team member easy to reach within a shared directory.
Team chat – Let colleagues communicate over a single app for collaboration, including one-on-one and group chats.
Video conferencing – Hop on a video chat and share your screen with ease.
2) Enhanced customer experiences
Make your customers feel seen, heard, and understood using the modern functions of a cloud PBX. No one wants to be on hold for an hour or have to call multiple times.
As much as 56% of people worldwide have stopped doing business with a company because of poor customer service experience. If you can solve a customer's issue efficiently, you win.
Features to look for in a cloud PBX include:
Auto attendant – Greet incoming callers with a menu to choose the person or department they want to reach.
Voicemail to email – Receive voicemail messages in your inbox so you can respond to customers quickly.
Call queuing – Avoid busy signals and dropping callers to voicemail with an intelligent call routing system.
3) Future-proof your company for resilience
Business leaders this year have accelerated their plans to embrace working from home. From a perk to a mainstay, you need to embrace this change.
Companies everywhere have been through the gauntlet. Your company's phone system shouldn't hold you back from the next shift.
Those firms that were already using hosted PBX could pivot to working from home almost instantly. That's the power of a cloud PBX system — all you need is broadband internet service. Cloud PBX solutions provide uptime and reliability to withstand natural disasters. And when you bring everyone back to the office, unified communications perform well there, too.
Your phone system needs to make life easier for your team to handle whatever comes next. Even if you need to add new team members after going remote, a cloud phone system unlocks even more growth and expansion.
Related: 50 Best Remote Work Tools to Get More Done
4) Increase your team's performance
How can a cloud PBX elevate everyone's productivity? As a full-featured commercial phone system, you can measure performance across your entire company, even if you can't be there.
For example, you can:
Track real-time stats so you can always compare them with metrics for the day or week.
Analyze call recordings so your call center agents keep improving.
Reward high performance, such as improving first contact resolution (FCR).
Predict and prepare for higher call volumes.
In other words, you can increase your team's performance, which will drive both your customer satisfaction and your bottom line. Win-win!
5) Excellent call quality and reliability
An excellent VoIP solution comes with high-quality phone calls. A traditional phone system's sound quality doesn't come close to the crystal-clear, lifelike sound of a cloud PBX.
HD voice codecs offer twice as much bandwidth so that everyone can hear a wider range of sound in each call. Customers won't have to repeat themselves, and you'll create an enjoyable customer experience in every call.
Since cloud-based PBXs exist in the cloud, they leverage the proven reliability from multiple data centers. Nextiva's network completed over one billion calls last year — it can handle yours.
Cloud PBX systems have your back
When weighing the pros and cons of a Cloud PBX, you have to look at your needs today and tomorrow. You have to ask yourself where you want to be in the next year or two.
If you're convinced cloud PBX is the right choice, you can breathe easier knowing that moving your phone system to the cloud is easy. You don't have to navigate this upgrade alone.
Here at Nextiva, we'll walk you through everything, including free porting of your existing business phone numbers. We'll help you select the right VoIP desk phones that meet your budget and everyday business needs.
In the age of remote work, you cannot keep inching along with a legacy PBX. Your traditional phone system costs you more than it's saving.
Take advantage of unlimited calling across the U.S. and Canada, HD audio and video meetings, and the freedom to work from anywhere. It's all included for a competitive, flat rate.
A cloud PBX lets you focus on serving your customers, not trying to figure out your phone system. You can leave the rest to us.