File Sharing allows users to upload and share files within a company. The files can also be sent to Group Chats, or Broadcast Chats.
Feature:
Drag and Drop for file upload to chats or group chats.  
Progression bar to show the status of the upload.
Problems File Sharing solves:
Allows Users to immediately send a document to another user without needing another form of communication, such as email.
Allows Users to upload documents and keep the information in one portal.
Benefits:
Ability to provide attachments to other Users via chat. The file attachments will be found in the chat thread as well as the Chat History for reference in the future.
Users can send attachments with the simple drag and drop interface.
File Sharing:
To share a file with another user, click the Add Icon next to the Send box at the bottom of the chat window, or simply drag the file to the chat window. An icon will then indicate to drag and drop files into the chat window.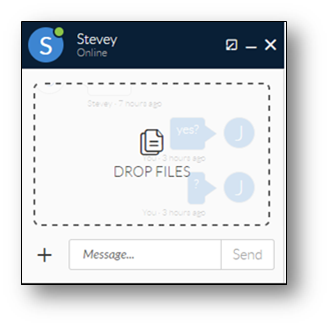 File Sharing
A status bar will appear at the top, displaying the status of the file transfer. Once the transfer completes, the other user will be able to access the file.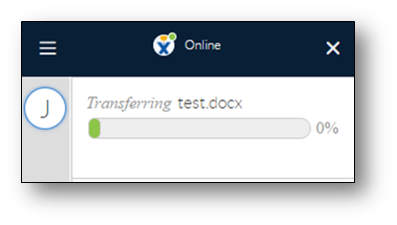 File Transfer
Examples:
Call Center Agents:

Outbound agents calling customers for appointments can quickly receive documents from project managers if they were not included in the appointment notes.
Call Center Managers:

If managers have an important document to share with their whole team, they can share the file using Broadcast Chat and send the file to everyone at once.
Managers are able to send documents, such updated policies,and procedures, to all of the Users in the organization.
Retail:

Corporate offices can upload and send documents to their stores regarding last-minute changes for sales or signage.