The future of business productivity and communication is here.
Our new software, NextivaONE, brings all conversations together in a single application that lets you manage communication, team collaboration, and customer engagement in one place.
NextivaONE does what no other company has been able to do:
We're bringing all conversations into a single stream from voice, text, video, and email into a single stream
We're bringing communication and team collaboration together in a single tool without the need to toggle or switch.
We're bringing the power of conversations together with customer engagement in a single app.
And at the center of our new software is a feature we think you'll love called Threaded Conversations. Imagine having access to every customer contact in one spot. No matter if they send you an email, voicemail, text, or call. Threaded Conversations enables businesses to have a single conversation across any channel. No more shuffling between apps like Slack, zoom, Asana, and Gmail to do your work. 
Our new software is designed to help businesses of any size boost team productivity and create meaningful, engaging customer experiences, all from one tool. No more friction, no more product silos, just the ability to get your work done quickly.
"From the beginning, Nextiva's vision has been to power human connections," said Tomas Gorny, founder and CEO of Nextiva. "With our latest innovation, we're helping businesses transform with meaningful conversations that build strong and lasting relationships with customers. Our goal is to help our customers have great conversations, effortlessly."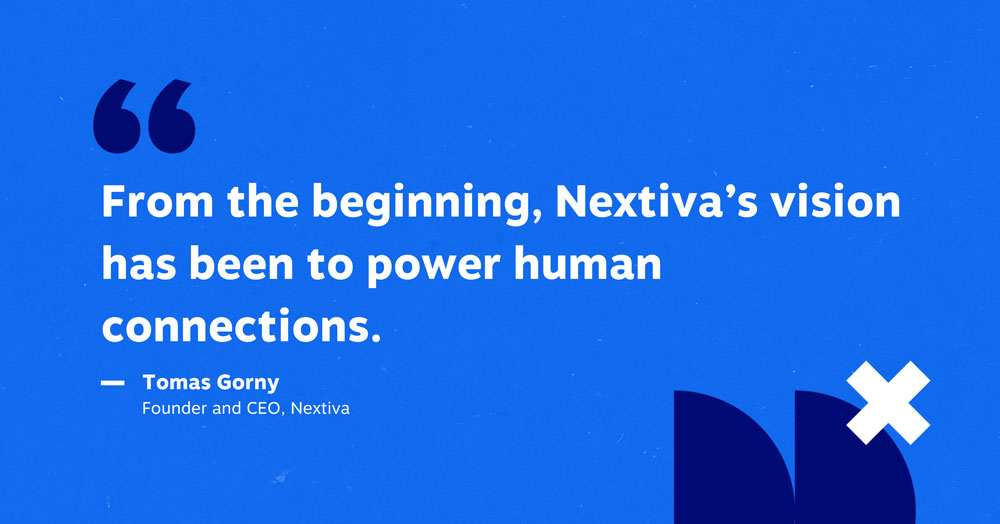 Here are some of the features that business owners will love about NextivaONE:
Save money and reduce the number of applications needed to get your work done
Improve team efficiency and information sharing with centralized document sharing
Gather customer feedback by automatically sending surveys after a customer interaction
Build stronger customer relationships by sharing customer notes and conversations across the organization
Engage with customers in their medium of choice — phone, SMS, chat, email — all from one platform.
Simplify tasks with enterprise-grade workflow automation capabilities
Use call pop to see who's calling — before you answer the phone — and their complete customer experience records
Why the business world needs this solution
For three years in a row, Nextiva has been named the best business phone service by U.S. News & World Report. However, 74% of customers interact with a brand via multiple channels — email, phone, text, video. 
Most companies are using dozens of applications to communicate and collaborate. But these applications only do one thing at a time. And we're left with fragmented conversations and siloed data.
Fragmented conversations mean customers have to repeat themselves. A conversation with support can't be started on a call and later picked up on an email. 
Siloed data means teams can't see the full customer story unless they exhaust both time and money on expensive integrated solutions.
Work smarter with revolutionary team productivity tools. Here's how…
Never switch to a different app for internal communications again. Team chat, calls, and video meetings are all part of this integrated solution. 
Don't you hate toggling between apps to find a conversation you had with a coworker? Or wishing you could find that file someone shared with you on a video call that now lives in video call heaven? We are too.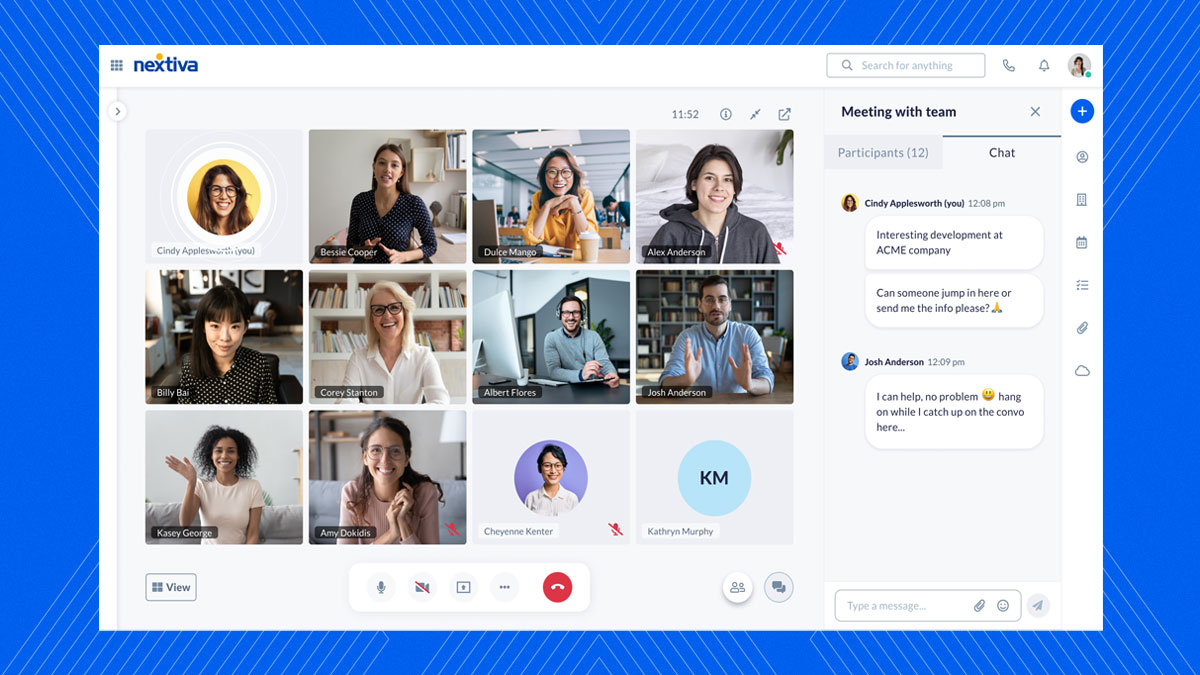 That's why we brought productivity tools into the application to make work with teams and customers easier. All of your conversations are kept in one place. So the notes from your calls are stored here, the project files, are here too. Now we can all stop frantically tab-hopping to find an asset. 
Our software also breaks down department silos and opens up data sharing between teams. When everyone in the business uses the same tool, you'll stop missing critical context because everything – conversations, files, links, notes, attachments and meeting recordings are maintained in one system and are always referenceable. This benefit extends past team collaboration capabilities to shared customer information.
Finally… On a customer service call but feel a little stumped? How should you handle it? With NextivaONE, you've got direct access to your teammates, so you can message your coworker for help without dropping the call or switching apps. Then jump into a quick debrief video meeting with your boss or coworker — without leaving the app — because sometimes it's just easier to explain "in person." 
This is what delighting customers and communicating confidently looks like, and it's all done with NextivaONE.
Today's customers expect companies to know, understand, and remember them in every interaction. That means if you email a brand and text or call their support line, you expect them to remember your issues so you don't have to explain the whole story….again.
Enter: Threaded Conversations, a mega benefit of NextivaONE. Our Threaded Conversations feature allows you to open a conversation with a customer and see all interactions from that customer in one place. Calls, texts, emails, voicemail transcripts, surveys, and notes from your calls are threaded into a single stream.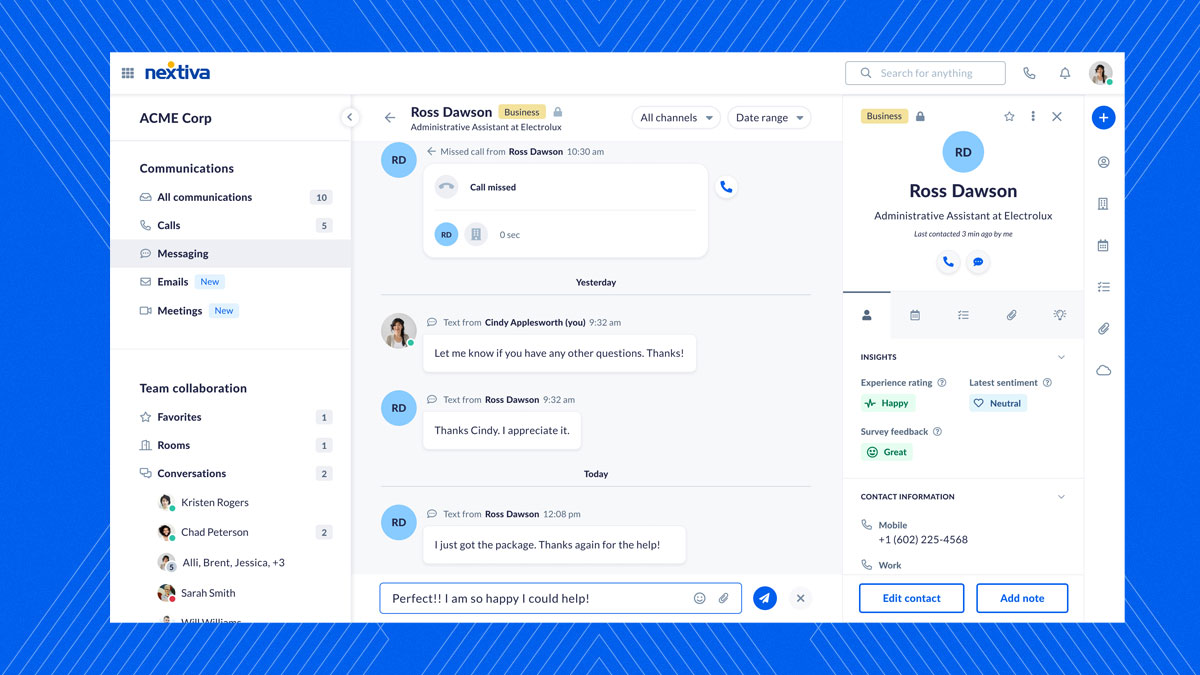 Anyone in the company who has that customer contact shared with them, will be able to see the full customer history and context, so that no one has to repeat information.
It's time to communicate confidently, work smarter, delight customers, and grow faster with Nextiva.
FAQs about NextivaONE
1. What is the new NextivaONE app?
NextivaONE is business software that helps you run everything. This software brings all your customer and team conversations into a single platform to simplify communication, team collaboration, and information sharing so your business has a full record of customer interactions.
2. When will NextivaONE be available? 
It's available now, of course!

We're always adding to the product new capabilities that make it easier for customers to delight customers and work smarter. Once you're using NextivaONE, you'll get regular product launch updates on our communication, collaboration, and customer management capabilities.
3. How do I sign up?
Chat with an expert to learn more about NextivaONE and how to get it for your business.  
4. Is my team too big for NextivaONE?
Our enterprise solutions are meant to scale for every modern business. We have packages for companies with 100+ team members. Contact enterprise sales to see what we can create for your team. 
5. Is my team too small for NextivaONE?
We create software to obliterate the digital glass ceiling and help even the smallest of businesses scale, grow and compete.  Even if your office is just you and the dog right now,  we have a plan for you. And when you add teammate number 2 or employee 200, we'll be there to grow with you.
6. Do existing Nextiva customers automatically get access? 
Nextiva customers will be upgraded to the new application in summer 2022. Contact your account manager for more info.
7. Is my customer data protected with Nextiva?
Nextiva service is backed by our 99.999% uptime guarantee and comes with 24/7+365 data center monitoring. Every Nextiva data center meets the security standards set by the ISO/IEC 27001 certification. Read about our security measures here. 
8. Can I use NextivaONE for remote teams?
Yes! NextivaONE was created to support distributed teams as easily as in-office teammates. No matter where you're working, Nextiva's business software is a single platform that gives you the power to communicate confidently, delight customers, work smarter, and grow faster.