Salt Lake City

, Utah is in the 385 and 801 area codes in Summit and Tooele Counties, Utah.

When your local business presence isn't enough, Nextiva takes you where your customers are.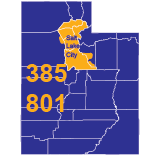 Salt Lake City is the capital of Utah. With an estimated population of 193,000 people, it's also the biggest city in the state. The Salt Lake City area code is centrally located and covers 110 square miles in Salt Lake County. However, area code 385 and 801 includes Utah County, Davis County, Weber County, and Morgan County as well in an area collectively known as the Wasatch Front.
Salt Lake City has a unique history. It was founded by Brigham Young and originally began as a Mormon settlement. Salt Lake City was named the capital of Utah in 1858 and the city's population quickly grew with both Mormon families joining the religious community and others hoping to strike it rich in the California Gold Rush.
In more recent history, the city experiences a population decline in the second half of the 20th century that it is only now beginning to recover from. Salt Lake City hosted the 2002 Winter Olympic Games which helped increase tourism in the mountainous region, and though small, it's still influential as the capital city of Utah.