Success in
New York

can change the trajectory of any business. Now you can start growing in the Big Apple with a New York area code.

When your local business presence isn't enough, Nextiva takes you where your customers are.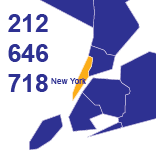 New York is one of the most important cities in the United States. It has an estimated population of 8.6 million people and is the largest in the country. New York City is also one of the biggest US cities by area, and it covers 468 square miles in the southeastern part of the state. The size of the city means it requires multiple area codes, and area code 212, 646 and 718 cover Manhattan and parts of The Bronx, Brooklyn, Queens, and Staten Island as well.
Because New York City played an important role in the Revolutionary War, it was briefly named the first capital of the United States. By the 1800's it was the biggest city in the country and quickly became a hub for trade in the US. The city continued to grow and annexed the nearby boroughs of Brooklyn and Queens to become what it is today.
In the 1900's New York City survived the Great Depression and World War II and came out on the other side as the country's leading financial center. Now, New York City boasts a strong economy and the number one spot as the biggest metropolitan area in the world by landmass.