Great conferences provide attendees with the opportunity to connect with like-minded individuals, build community, learn the best tips from the pros, boost their business strategy, and dive deep to offer rich new knowledge.
There are so many conferences held each year in locations all over the world encompassing a variety of exciting topics.



So, what makes a dream conference, and how do you choose which to attend?
A successful conference depends largely on the organization committee. Every aspect for you - as an attendee - should be considered, from the speaker line-up to the key takeaways, the day of activities, and everything in between.
We've outlined four key factors that you should look for when choosing a business conference to attend. We think attendees should be treated to a meaningful conference experience that is:
Value-focused

Universally applicable

Actionable

Accessible
Value-focused. Conferences shouldn't be solely about a product showcase or reveal; a thoughtful event should provide you with content specifically curated with the intent of fostering growth in your respective industry.
Universally applicable. Conference keynotes, demos, and workshops should be beneficial to companies of all sizes. Every single attendee should have access to useful information to apply to their small, medium, or enterprise-level sized businesses.
Actionable. The content presented should empower you to leave the conference with clear ideas, concepts, and knowledge that they can integrate into their business right away.
Accessible. Location, location, location. Planning a conference venue that is accessible matters, and smart events know this. Your ideal conference should be breezy to attend and not break the bank. Exotic destinations might sound enticing, but may be too expensive to attend.
Check out this cool infographic that debunks popular myths about VoIP.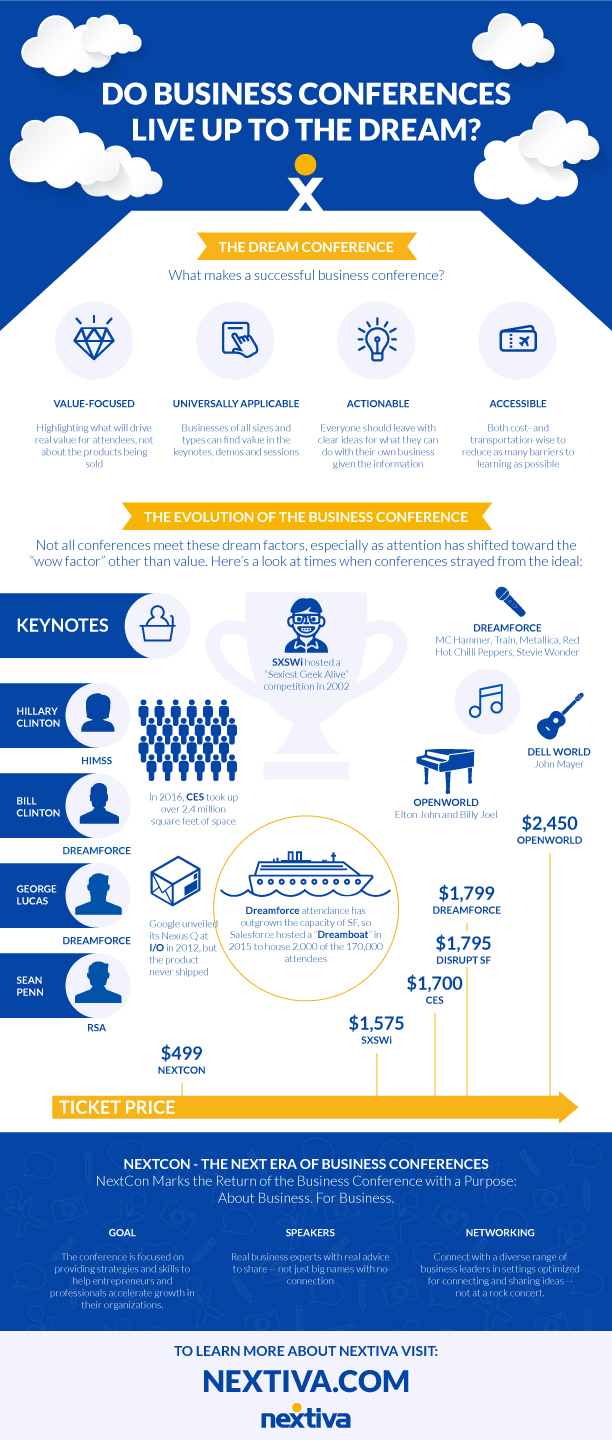 A few more tips on how to plan a conference:
You speaker panel should be killer.

A great speaker panel has some diversity and spice, a little something for everyone. Speakers should be confident and engaging experts that provide content in a manner that is both inspiring and smoothly understood.
Content rules.

You've heard it before, but we'll say it again. Content really is king! Your conference content should be relevant, generate buzz, and provide those a-ha! moments for the audience.
Sweat the details.

A branded conference makes sure that everything is done with style — badges, schedules, posters, lighting, projections, flow of agenda, catering, swag, and more. Every detail is critical as it's something attendees will usually talk about to break the ice. If something failed to go right, it could jeopardize and lower the perception of the entire event.
NextCon marks the return of the business conference with a purpose.
NextCon is a spectacular 3-day event and this year it takes place each fall in Scottsdale, AZ.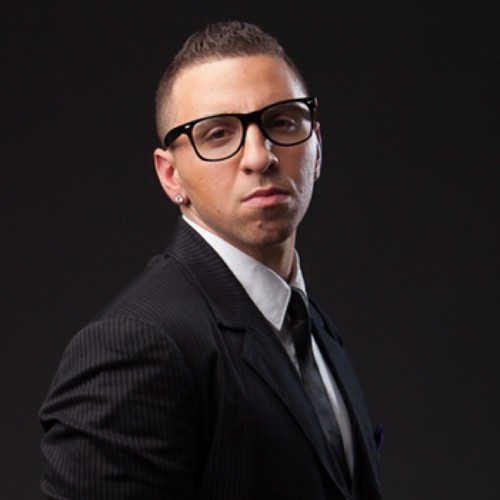 Gaetano DiNardi is the Director of Demand Generation at Nextiva and has a track record of success working with brands like Major League Baseball, Pipedrive, Sales Hacker and Outreach.io. Outside of marketing, Gaetano is an accomplished music producer and songwriter - he's worked with major artists like Fat Joe, Shaggy and loves making music to stay turbocharged. To get in touch, follow him on LinkedIn.