We founded Nextiva on the idea that business communication should be simple. Over the past several years, we've taken incredible strides to achieve that vision. We've taken it to the next level.
We've made several big updates to NextOS, our business communications platform.
Customer expectations are rising, and businesses need to keep up. It's all too familiar to see organizations using multiple apps that silo data. Millions of companies struggle to know and remember their customers because they lack a unified customer view.
Our all-in-one platform connects all your communications with business applications, intelligence, and automation.
Let's take a look at what's new.
All your conversations in one platform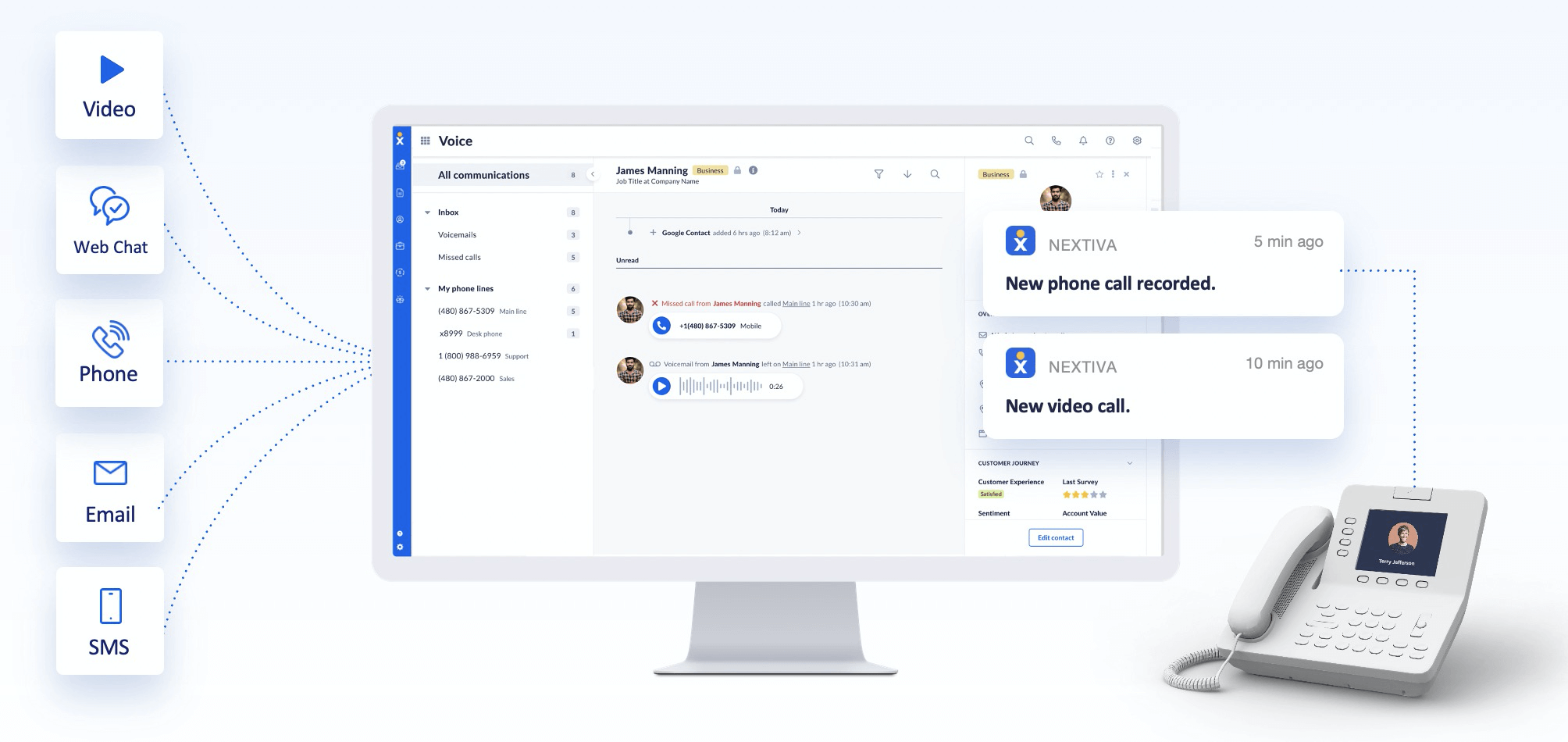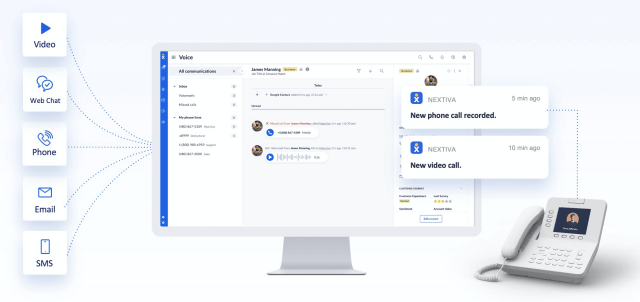 Our platform integrates all your conversations into one connected communication platform. You can now view and manage your customer and team conversations in a single place.

Nextiva is as flexible as your business needs to be. Start simply with business communications, and add users, sales and service productivity tools, or additional products as you grow.
The problem with disparate communication apps is that they store small fragments of data about leads and customers. It's up to you to put it all together. The NextOS platform surfaces these interactions across its ready-to-use business apps.
Nextiva apps include sales productivity tools, virtual workspaces, and automations. These help you define and manage the customer journey on your terms. Ultimately, they help you make better decisions and provide better service to your customers.
With Nextiva, the whole is greater than the sum of its parts. It frees you from switching between apps, so you have more time to serve the customer.
And every interaction makes your business better from the inside out.
Simple, beautiful customer experience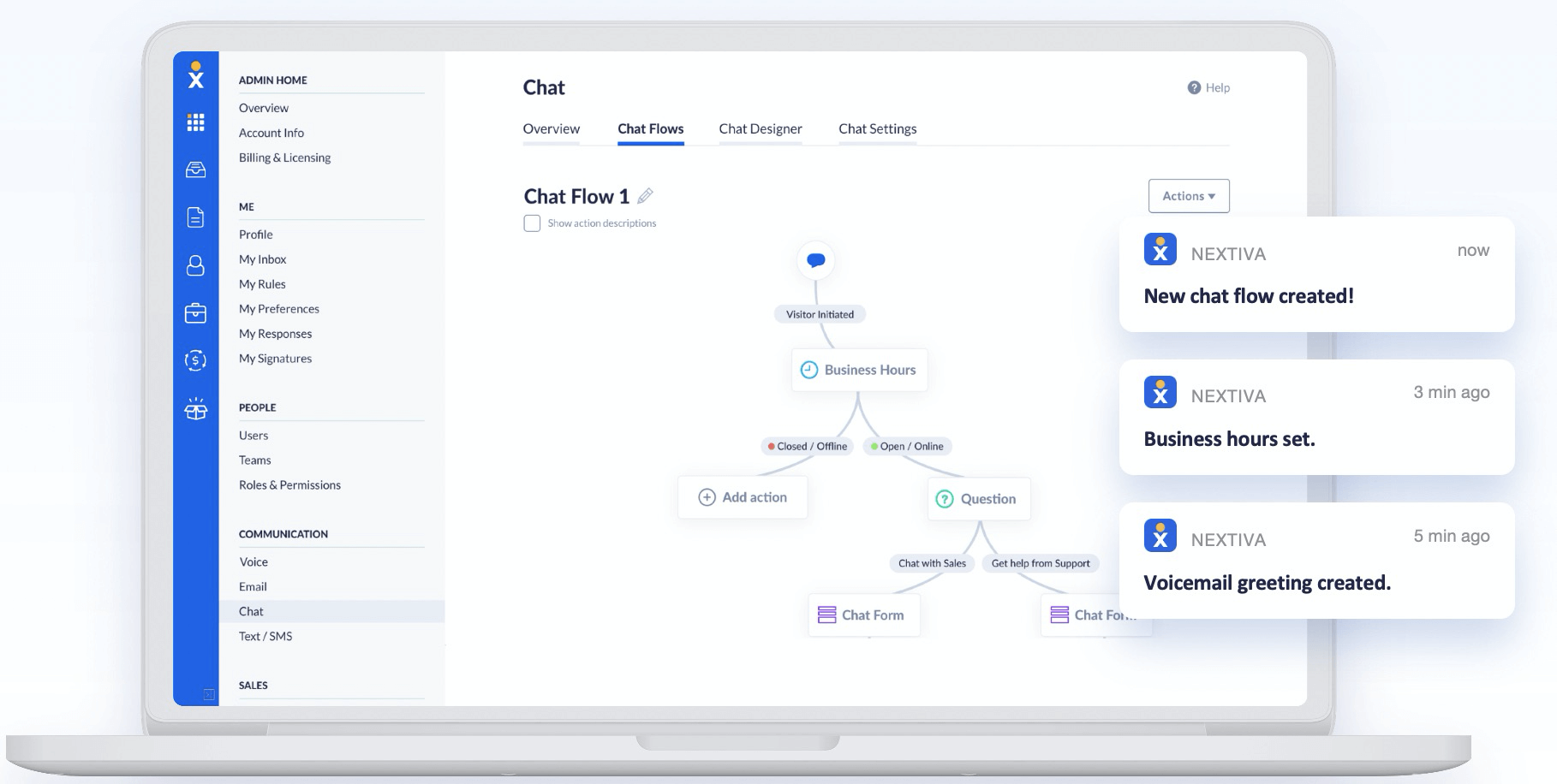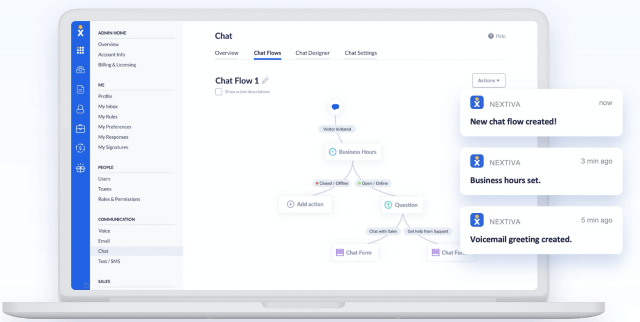 We revamped our admin portal experience in NextOS. It's simple to set everything up, such as phone numbers, users, call flows, and voicemail. You can do it all in the span of a coffee break. No other business communications provider is this easy to use.

It only takes just minutes to set up your company's voice, video, and help desk needs. From the moment you create your account to talking to customers, it's a breeze with Nextiva.
We didn't stop there.
Our new Call Pop displays real-time intelligence, which helps you provide the best customer experience. You can see the lifetime value, past interactions, sentiment, and other actionable business data — all before you answer.
Nextiva is easy enough for an entrepreneur and robust enough for an IT pro.
The best value for business communications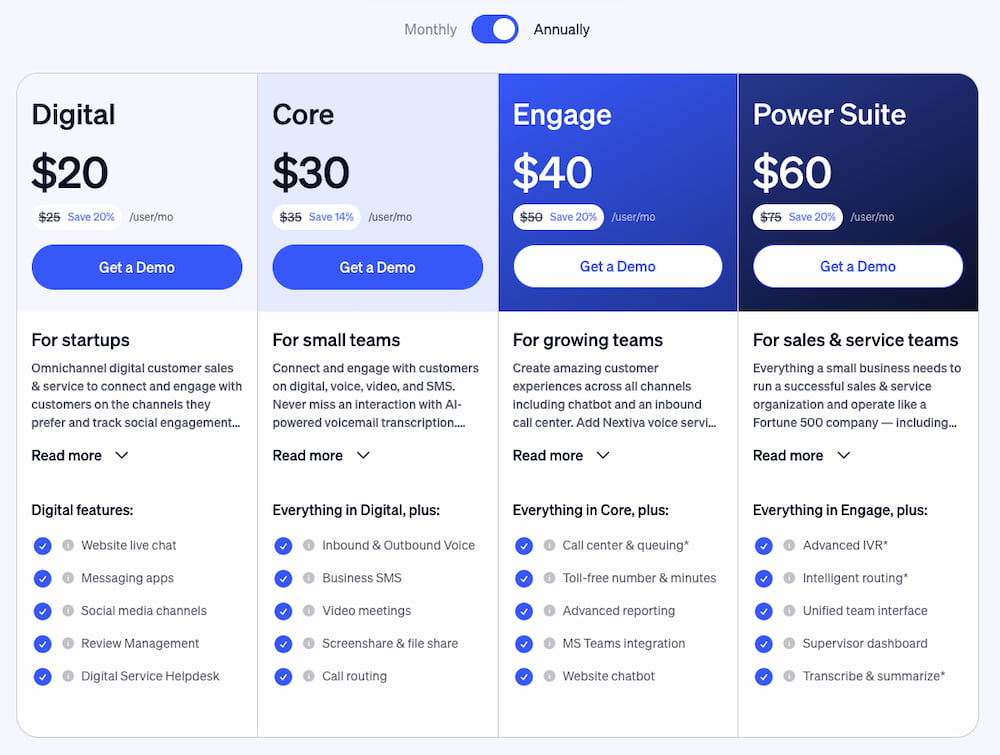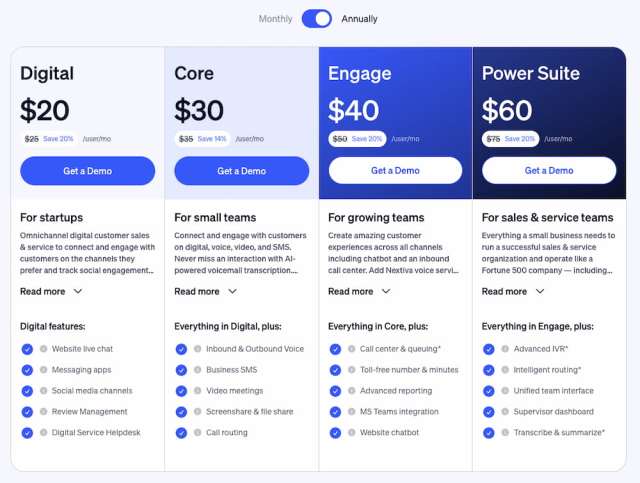 We've enhanced our price plans to align with business owners' needs and deliver even more value. You've told us you want a more comprehensive business communications solution. And it's here.

The Ultimate plan lets you take advantage of every function of the NextOS platform. Voice, collaboration, sales tools, customer management, automation, and more. This plan has it all. You get a complete package to speed up your workflow, increase customer satisfaction, and drive sales.
If you want just the basics, you'll enjoy our Essentials plan, which starts at $18.95. Small businesses and startups have embraced working remotely, and it provides the best value.
Our new price plans provide the best tools at the right price so you can focus on running your business. Our competitively priced plans are the perfect fit for businesses of any size — and we mean it.
What is NextOS?
NextOS is a platform that allows companies to connect all communications channels together with Nextiva's business applications. It eliminates the need for several siloed, individual applications.
The NextOS platform provides ready-made solutions to help organizations operate with a centralized view of their customers. More business applications are available that address the top challenges of our customers.
Companies can grow faster by using NextOS for their phone system, sales, helpdesk, automation, and collaboration software. The platform's integrations give you the freedom to use our platform at your own pace.
Every business can grow with Nextiva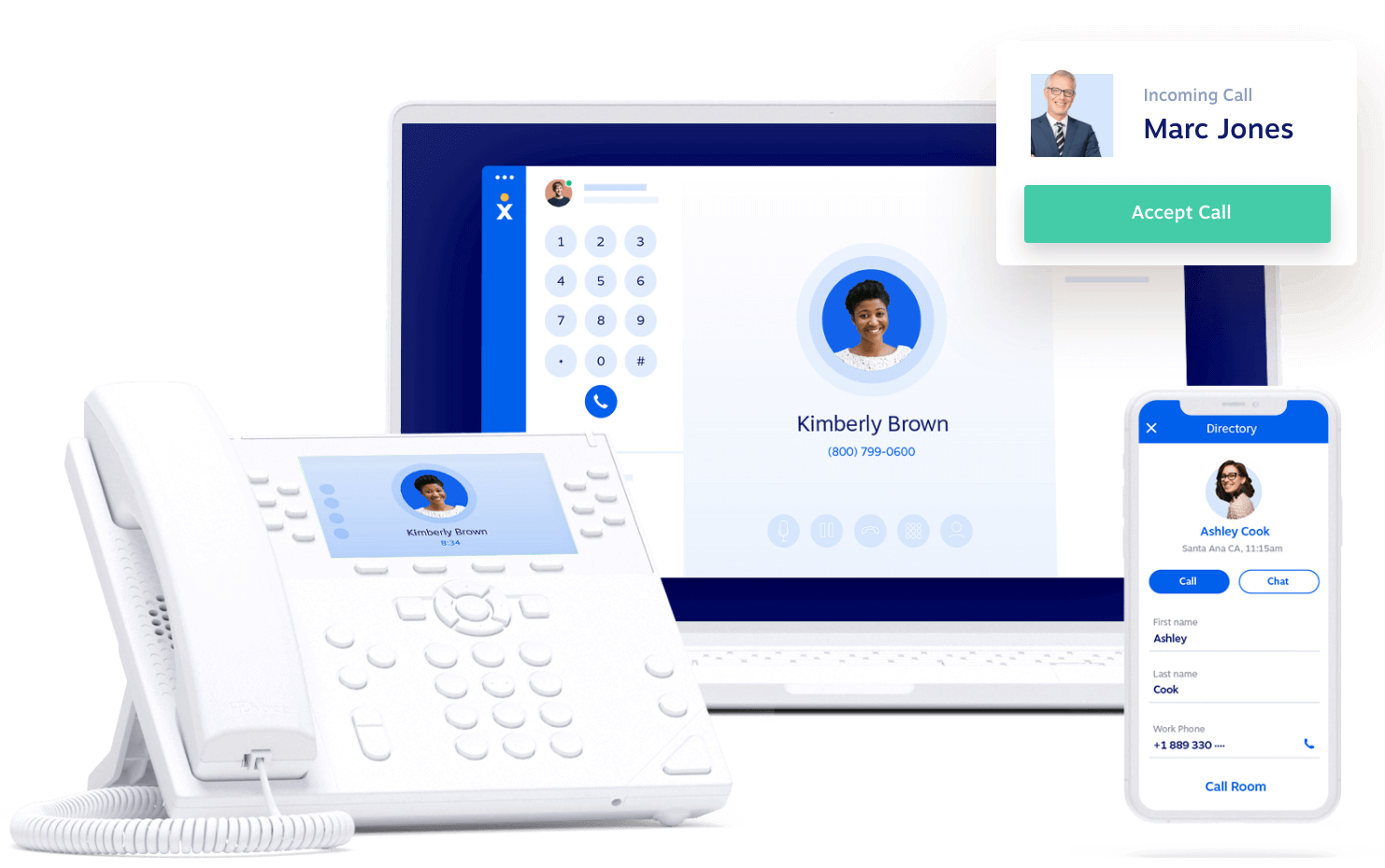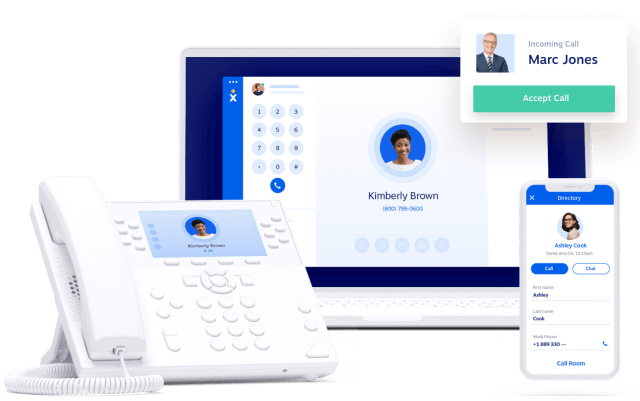 Nextiva is the only company that provides connected voice, video, business apps, intelligence, and automation — in one powerful communications platform.

We've made it surprisingly simple to get started. Once you get Nextiva, you can speak with customers and stay connected with your team in minutes — not days or weeks.
Amazing Service is why more than 100,000 businesses trust Nextiva for business communications. These enhancements deliver forward-thinking solutions made for the future of work.
Related: Introducing New Ways to Improve Customer Experiences [Fall 2021 Update]