As businesses discover the benefits of cloud contact center solutions, they can become overwhelmed by the wide variety of vendors, platform types, and feature sets available.
This article will help you understand the differences between two popular contact center solutions – the Nextiva Contact Center powered by Five9 and the Unity Contact Center. Both options can help you streamline your business, lower costs, and improve customer service. 
But understanding which is a better fit for your business needs will help you take the next steps to upgrade your contact center capabilities and enjoy the rewards.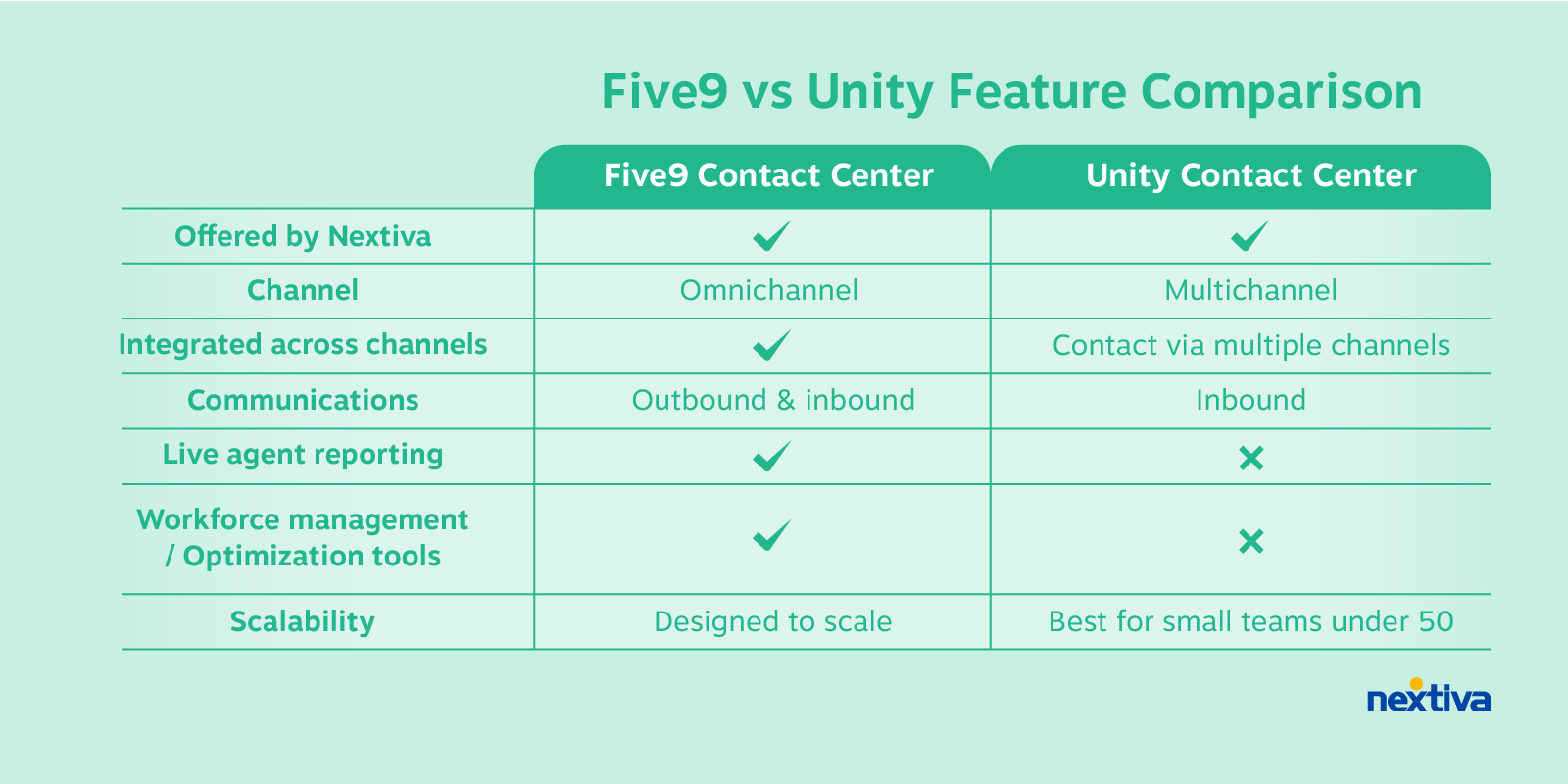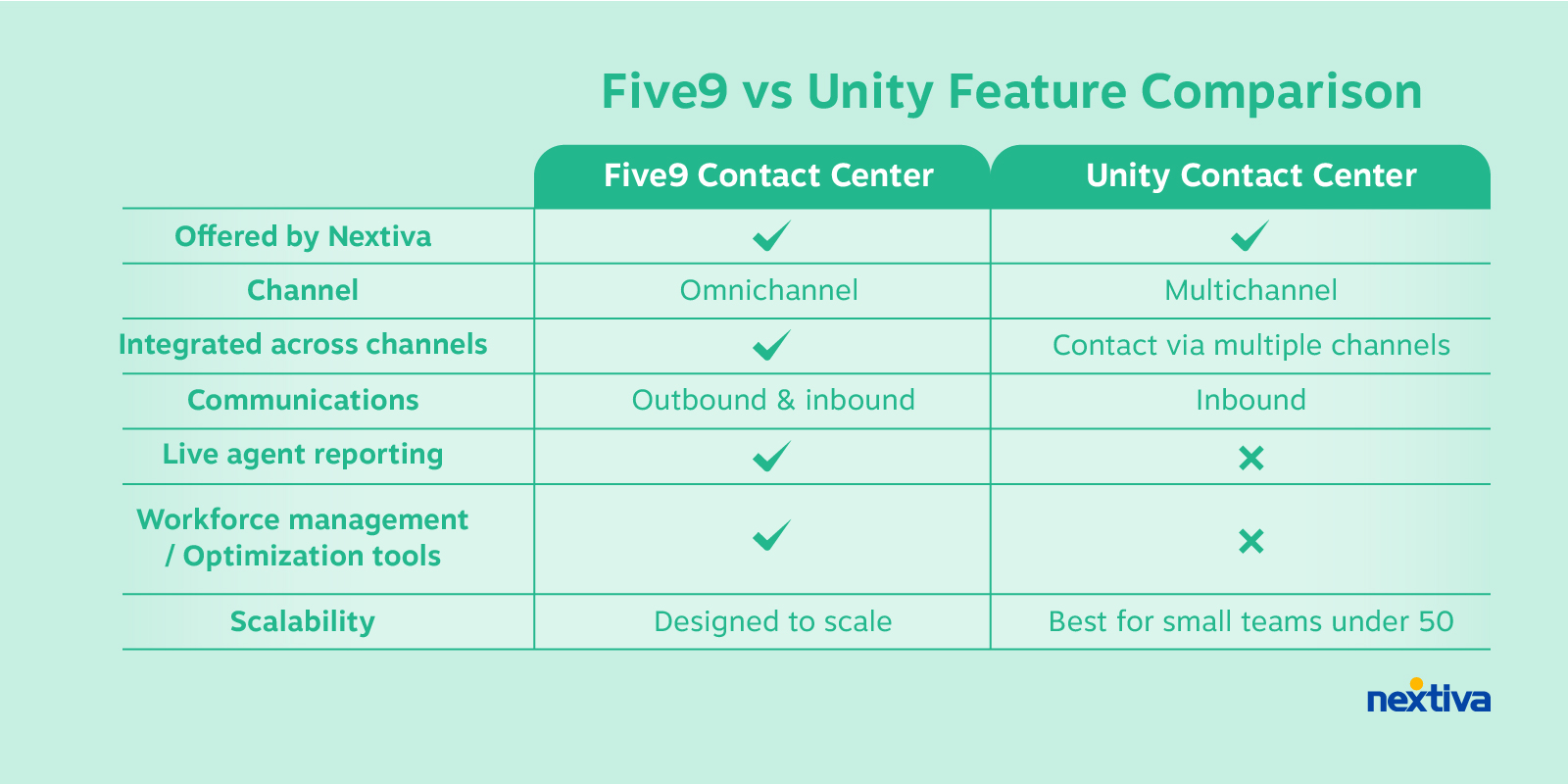 What is Five9?
Five9 is a leading cloud contact center software company that has partnered with Nextiva's business phone services to create the Nextiva Contact Center, an integrated customer engagement solution designed to provide customers with Nextiva's Amazing Service® and industry-leading technical capabilities.
The Nextiva Contact Center offers the full benefits of a Unified Communication as-a-Service (UCaaS) and Contact Center as-a-Service (CCaaS) platform, streamlining your omnichannel customer service experience into a single point of contact.
Nextiva Contact Center Pros
Best-in-class Omnichannel Communications
The Nextiva Contact Center allows your agents to work with customers utilizing a wide range of popular customer contact channels, including phone, email, text messaging (SMS), social media, and web chats.
Our Intelligent Virtual Agent (IVA) and Interactive Voice Response (IVR) capabilities also ensure that customers can interface naturally with phone systems, often directing themselves to information without needing live agent contact.
Customer History records and CRM integration allow your agents to tailor their assistance to fit each customer's specific profile and journey. And with our Sentiment Analysis capabilities, you can better monitor trends in customer satisfaction.
Outbound Campaign Management
The Nextiva Contact Center's capabilities include outbound dialer capabilities for outbound campaign management. Whether running a customer feedback survey or orchestrating a demand gen campaign, you can access several key outbound dialer features, including progressive, predictive, power, and preview mechanisms to reach and handle more customer interactions.
Best-in-Class Analytics and Reporting
The Nextiva Contact Center empowers your business with supervisor and agent reports to allow real-time response to situations while gathering longer-term data for trend analysis. Supervisors can silently monitor agent/customer interactions, use their dashboard to adjust agent availability/queues, and perform quality control checks on the fly – all while being supported by a full suite of statistics on current contact center operations.
Nextiva Contact Center Cons
A Powerful Solution Built for Easy Scaling
The Nextiva Contact Center provides a full best-in-class contact center experience and is designed to support firms with even thousands of agents.
But if you are a small business owner with a small customer support or call center operation and do not anticipate growth or scaling needs, you may find some features are overpowered for your goals.
Full Cloud Capabilities
The Nextiva Contact Center allows your business to enjoy the full benefits of a cloud contact center and business phone service environment.
But if your business is operating BroadSoft PBX and ACD deployments, you may find that the Unity Contact Center is a quicker and more appropriate option for your current goals.
What is the Unity Contact Center offered by Nextiva?
Unity Contact Center is a turnkey, add-on, lightweight call center service for BroadSoft Hosted PBX and ACD deployments. It is designed to augment these existing services with a call center hub for your customer service operations.
Because the Unity Contact Center does NOT offer outbound dialing services and is designed for small-to midsize businesses with up to 50-agents, it is intended as a purely inbound customer service operation.
Unity Contact Center Pros
Multichannel
The Unity Contact Center provides you with the critical multichannel support platform you need to service customers in key channels, including phone, email, web chats, texting, and social media. This can represent a significant step forward in your customer service capabilities over a traditional call-only infrastructure.
Interactive Voice Agents
Another key benefit over standalone ACD deployments will be our Interactive Voice Agent (IVA) capabilities. IVAs are an efficient way for customers to learn basic information and accomplish simple or repetitive tasks over the phone without needing a live agent. 
Lower Cost and Complexity
If you are looking for an inexpensive and simple way to add CCaaS capabilities to your customer service program, the Unity Contact Center may be the best option. Its turnkey capabilities can spare you the cost and training time that may come with a broader UCaaS implementation. And because it integrates into leading CRMs, you can still enjoy the benefits of a connected customer service/management environment.
Unity Contact Center Cons
Limited Scaling
The Unity Contact Center is designed for small businesses seeking a turnkey CCaaS platform. If your company expects to scale beyond 50-agents in the future, you may find that the full Nextiva Contact Center is a better upfront investment to prepare for quick upscaling and more robust contact center capabilities.
Continued Physical IT Requirements
The Unity Contact Center assumes your business will continue to use PBX/ACD systems that may be less suited to future transformations from on-premises office operations to remote work scenarios.
No Workforce Management (WFM) or Workforce Optimization (WFO) Capabilities
Unlike the Nextiva Contact Center, the Unity Contact Center does not offer the WFM and WFO capabilities that allow you to forecast agent staffing needs and improve their overall performance. These tools can provide critical insights to your business during new growth and expansion, especially where staffing and training costs are concerned.
Nextiva Contact Center vs. Unity Contact Center: Feature Comparison
Now that you understand the pros and cons of each platform let's briefly recap some of the direct feature comparisons between the Nextiva Contact Center (powered by Five9) and the Unity Contact Center.
Omni-channel vs. Multichannel Capabilities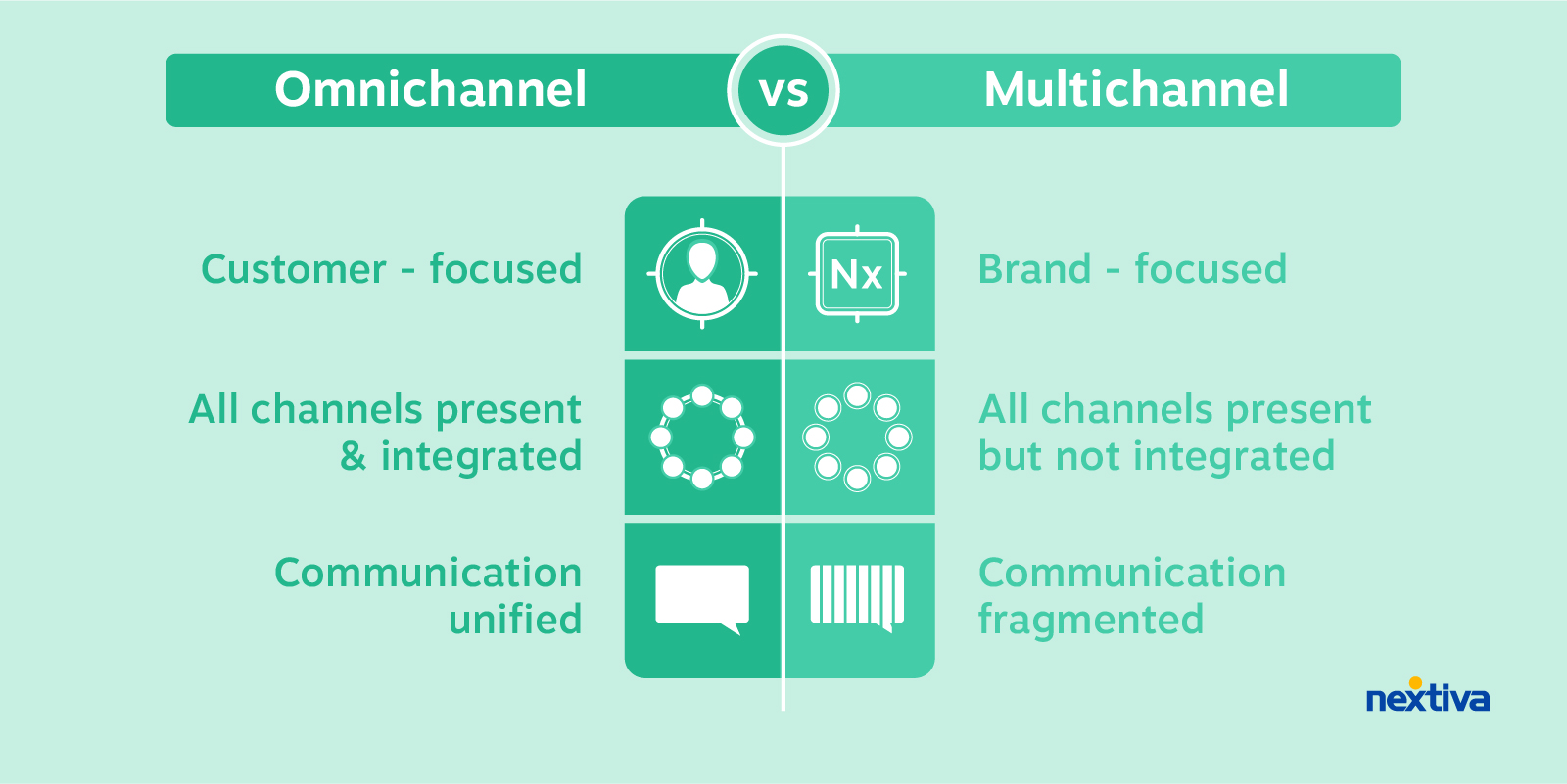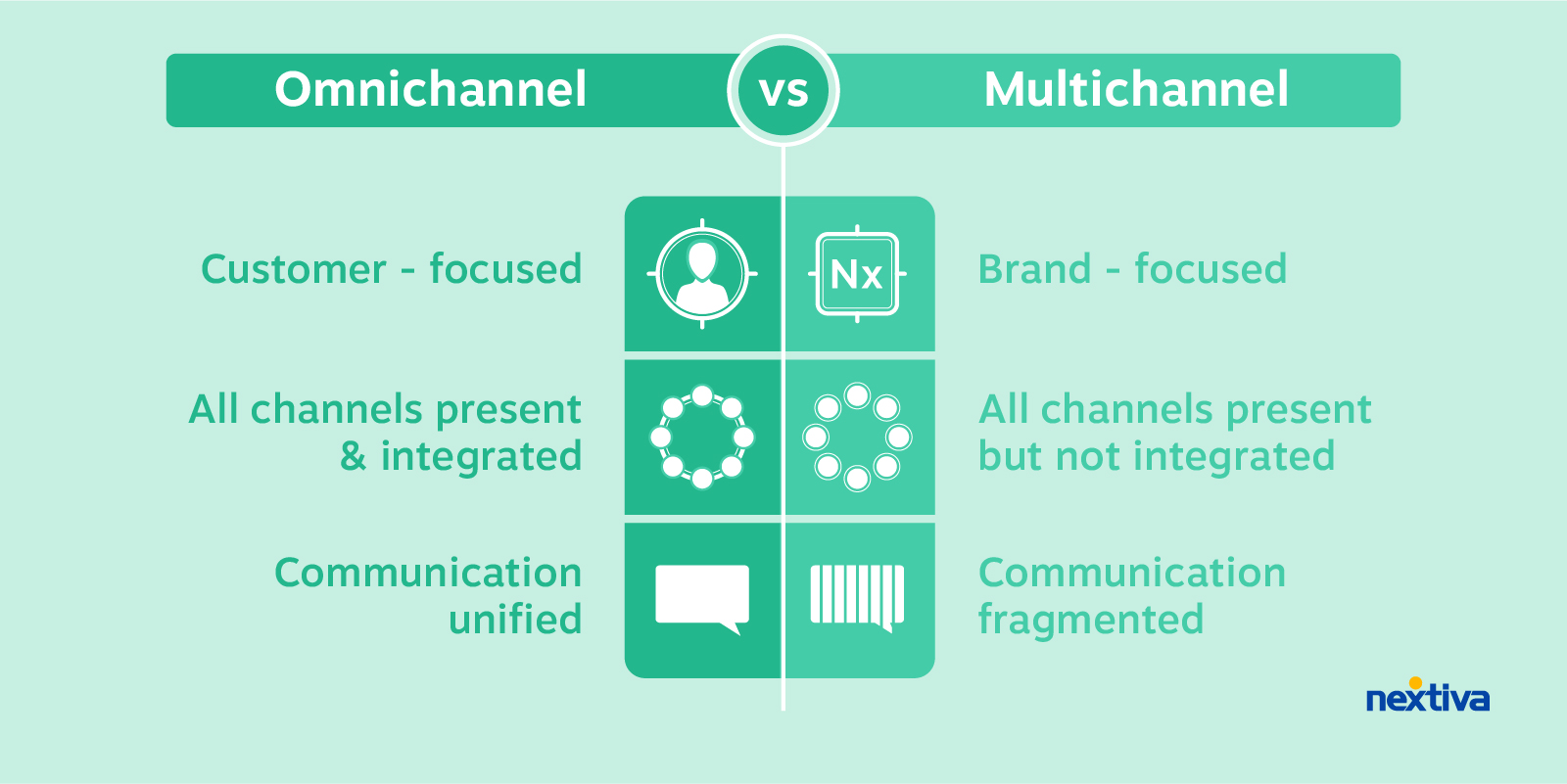 One crucial difference between the two platforms is that Nextiva Contact Center offers omnichannel capabilities. An omnichannel contact center provides a consistent customer experience across all channels (i.e., call, email, mobile app-based chat, website-based chat, SMS (texting), and social media).
Customers rarely need to enter the same information twice and can operate in the most convenient channel without feeling like service quality or times are being affected. This is made possible by dedicated technologies, including omnichannel routing and a unified dashboard that gives a global view of customer activity.
Unity Contact Center offers a multi-channel contact experience. This allows customers to choose their preferred channel(s) to engage with your business, but there will be no data exchange between channels. (A customer using web chat may deal with a different group of agents than if they place a phone call.)
And because multi-channel contact centers do not offer the continuity of an omnichannel experience, the customer may have to explain their situation to an agent each time they switch channels.
Supervisor Tools
Nextiva Contact Center provides live agent monitoring, queue management, screen recording, and WFM/WFO capabilities. Unity, on the other hand, only does agent reports and statistics.
IVA and IVR
Both platforms offer Interactive Voice Agent capabilities to handle basic tasks. However, Nextiva Contact Center also provides Interactive Voice Recognition and Sentiment Analysis to allow customers to explain their questions or problems naturally, improving routing and issue management.
Outbound Dialer
Unity Contact Center is designed for inbound communications only.
Nextiva Contact Center offers blended (inbound and outbound) communication capabilities to allow you to manage customer support and sales campaigns.
Integrations
Both tools support integrations to major CRM providers (i.e., Salesforce), but Nextiva Contact Center has integration capabilities to a broader suite of providers and tools.
Nextiva Contact Center vs. Unity Contact Center: Which is right for my business?
Choosing the right cloud contact vendor and center is critical for the success of your business operations.
You will need to consider your current and future customer service volumes, the types of efficiencies you believe will help reduce your costs and the need for future scaling. The biggest difference, of course, may be the size of your team and if you need an outbound call center.
And pay special attention to if you want multi-channel or omnichannel capabilities.
Talk to an expert today to explore which solution is best for you.