Cheap or free Voice over Internet Protocol (VoIP) services may seem attractive for small businesses, but is it a trap? In this article, we review the pitfalls of cheap VoIP and why a top VoIP provider may be the best investment for your business.
What is VoIP?
Voice over Internet Protocol (VoIP) is a service for providing voice communications (i.e., phone calls) via the internet. Because it operates digitally, VoIP offers considerable cost and flexibility options over traditional landline telephone systems.
VoIP has become critical for businesses and contact centers in the past few years, enabling the rise of work-from-anywhere flexibility and leveraging cloud computing's cost and efficiency benefits.
In this article, we'll examine why VoIP is so important for your firm and explain how important it is for businesses to look beyond just price when selecting your VoIP provider.
3 reasons to choose VoIP over traditional landlines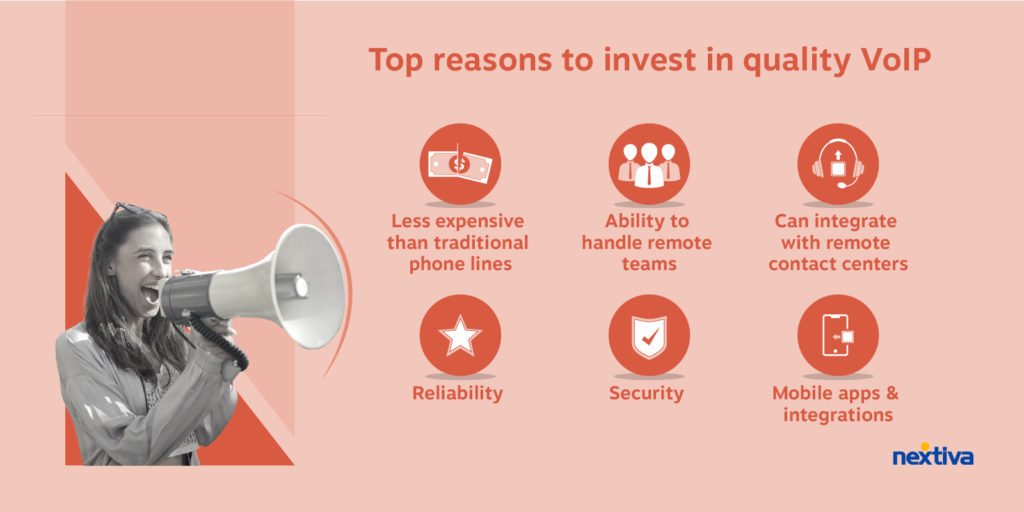 Businesses turn to VoIP providers to solve a number of problems. You can learn more about VoIP and its advantages here, but some of the key points include:
1. Lower cost than traditional phone lines
Because VoIP works over an existing high-speed internet connection, businesses can manage their contact center traffic without needing landline connections. VoIP equipment is portable, allowing companies greater resilience in work-from-anywhere situations. And long-distance calling costs can be significantly cheaper through VoIP systems than with a traditional landline.
2. Expanded capabilities for remote teams
Not only can your teams operate seamlessly from their homes or alternate offices, but you can use your business numbers for a range of additional services including sending and receiving faxes, video conferencing, voicemail, etc.
This reduces the confusion associated with operating many different phone numbers for your business – now your team doesn't need a personal phone and a business phone. They can accept business calls from any device using the VoIP app.
But if you do want new phone numbers, a VoIP provider can provide them without the need for technician visits, new equipment, and associated costs.
3. Integrate advanced contact center features
Quality VoIP providers will be able to provide seamless access to key additional features that are critical for modern contact centers, including automated phone attendants, call recording/monitoring, queue management, etc.
VoIP is about more than price
VoIP provides businesses with increased operating power and competitive advantages in customer service, so choosing the right provider will be one of the most critical decisions a company can make.
Unfortunately, business owners can find it confusing to navigate a wide range of providers, including many offering free or cheap VoIP services that may be missing many of VoIP's true advantages.
This section will tell you some key questions to ask free or ultra-cheap VoIP providers when considering their services.
3 reasons to be skeptical about free VoIP
As with any technology, the internet will give you access to a wide range of VoIP service providers. There will even be free options available, though these have primarily been designed for use by everyday people, not businesses.
1. Free VoIP is not built for a business
For example, free VoIP usually comes with one assigned number (think WhatsApp or Google Voice; each new number has to be managed separately.) Creating a customer experience with an automated assistant, extensions, or even separate voicemail is usually impossible, making it a poor choice for a small business. Likewise, your plan may not include basics such as unlimited calling. True business VoIP will likely pay for itself when your firm begins to scale.
2. Forget customer service with free VoIP
Your ability to make and receive calls and benefit from the other features top business VoIP providers offer will be critical to the client experience you offer. But what happens when there is a provider outage or you run into a technical issue? Free VoIPs seldom provide any customer service options, which can leave your business and its customers unable to communicate.
3. Free VoIP is not really free
Free VoIP may sound attractive, but remember that it comes without most or all of the features that customers expect from an operating business, such as an automated phone system, the ability to reach different departments, etc. 
As with cheap VoIP, the business model will be to charge you upgrade fees for different services, leaving you with an incomplete solution that doesn't measure up to that offered by top-quality VoIP providers.
What the cheapest VoIP providers won't tell you
One step up from free VoIP are a number of 'cheap VoIP' options. These firms post attractive rates by cutting out elements of a top VoIP provider experience, such as integrated solutions, top-quality UI, and top customer service.
In many cases, they will then offer you access to 'premium' or 'enterprise' plans and charge you for those services on the backend. These are often per user and month and can still carry caps on the number of calls, texts, or international dialing – adding additional hidden costs to your bottom line. This means you will be locked out of key services that cheap VoIP providers know a growing business needs until you have no choice but to pay stiff upgrade fees.
3 reasons to get quality VoIP as a business investment
Quality VoIP providers get and keep customers by providing their customers with a suite of offerings that represents the true value-add of VoIP. And when you account for the add-on and upgrade fees for cheaper solutions, their prices are competitive, an indicator of the actual value of a quality business investment.
Here are some of the key benefits top-quality VoIP providers offer, above and beyond cheaper (limited-service) solutions:
1. Reliability and security
When considering your VoIP provider, make sure they offer one of the world's most reliable networks, with a goal of 99.9999% uptime to ensure your customers never experience service interruptions. 
You will also want to ensure they have 24-7 network monitoring and security to protect you from a range of issues, including hashing, phishing, malware, etc.
2. Apps and integrations
If you are new to VoIP, you may not know how important it is to integrate your solution with the rest of your business. Top VoIP providers will help you through the process, allowing seamless integration to tools like Salesforce, ZenDesk, Microsoft Outlook, and more! 
And it's not just external apps you should think about. Make sure your VoIP provider offers their own mobile app to allow your team to engage in calls, conferences, video chats, screen sharing, and more – all at the touch of a button from their mobile phones – with a seamless switch to your desktop at any time. 
3. Amazing customer service
You trust your VoIP provider with your customers' impressions of your business. Make sure you are receiving Amazing Service – not from automated scripts or chatbots, but from real people ready to answer your questions, solve your problems, and help you make the most from your integrated VoIP investment.
Finding the right VoIP provider for your business
Ready to take the next step in selecting the right VoIP provider for your business? Talk to an expert today to begin exploring the seamless integration between your business and its customers.