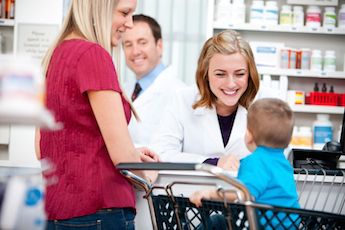 All new hires need some formal or informal training to learn the ins and outs of their jobs, including customer service reps, who need to master basic company policies and procedures connected with customer interactions. While most employees who master training become great workers, perfect policy and procedure proficiency does not automatically make customer-facing employees good at their jobs.
Great customer service requires a special breed of people. Whether they sell to customers, help them navigate the aisles or resolve their issues on the phone, they display a genuine caring and helpful spirit, while being authentic. You can't teach that spirit, so your job is to seek it out from the time you write the want ad and throughout the interview process.
Advertise and Assess for Character Traits Before Technical Skills



Exceptional technical skills are meaningless in a customer service rep who doesn't deal well with people, so ask for people skills in the heading of your employment ad. A heading like, "Customer Service Rep with Computer Experience" attracts people who can log calls. A heading like, "Do People Come to You for Help?" draws in people who really like to help others. By all means, list minimum qualifications within the ad, but focus on attitude and people skills.
Of course, the interview requires the same type of focus. Be prepared to pose customer-related scenarios to find out how the applicant will handle them. And, even if some applicants fall slightly short of the skills requirements, listen for signs of trainability. Friendly, helpful people with basic computer skills can learn how to log calls, even if they have never before worked in a customer service environment.
Identify the Right Character Traits



You probably have no training in psychology, but that doesn't mean you have no capacity to recognize applicants who have a natural affinity for customer service. Here are some of the character traits to look for — and how to identify them:
Strong communication skills: Face it; angry or frustrated customers often do not communicate clearly. The reps you hire must be able to listen and understand long before they deliver a clear, unambiguous message. During the interview, applicants with the knack for two-way communication rise to the surface when you ask unclear questions. If they tactfully ask for clarification, they are better communicators than applicants who answer the wrong question.
Patience and compassion: Customers seldom seek out support when they are happy. In the worst cases, they are so livid that no solution seems to satisfy them. Your reps need a thick skin to avoid striking back at unearned verbal attacks. Then, they need the stamina to find resolutions that meet the customer's needs, while displaying a genuine degree of compassion for the customer's circumstances (no pity, please). A good way to test for these traits is to present an unsolvable issue and monitor the applicant's patience levels every time that you reject another solution.
Proactive problem-solving: Your company may have a rule book for resolving typical complaints. But even when reps memorize every rule, undocumented issues frequently arise. If you empower your employees to make decisions on the fly, raise some hypothetical situations to make sure that applicants have enough common sense to respond appropriately — and when they recognize the need to seek management intervention.
Mirror the Work Environment During the Interview



Traditionally, short phone interviews are a first step before bringing applicants in for one or more face-to-face meetings. But, does this really tell the whole story for a phone support applicant? Sure, these people may need to interact with other employees, so meeting in person makes sense. Still, the phone interview may be the best way to assess what their on-the-job performance will really be like.
If the position involves phone support, maybe the phone interview is most important because it lets you listen for a smile and get an idea of how well applicants read emotions over the phone without of the benefit of facial queues. Similarly, consider meeting in a coffee shop or restaurant to see how traveling sales reps handle business conversations in noisy environments — and to check their table manners.
Put Yourself in the Customer's Shoes During Each Interview:



You may be interviewing as the boss, but you need to listen to each answer as if you were the customer. Customers quickly recognize the difference between genuine support and scripted problem-solving. You can certainly teach new reps about the support process. You can even teach them to avoid certain stock phrases — like responding to a thank you with "no problem."
But helpfulness and winning personalities come from the heart. Bruce Nordstrom, of the third generation of customer service-oriented Nordstrom management, said it best: "We can hire nice people and teach them to sell, but we can't hire salespeople and teach them to be nice."