Graphical templates display statistics in a variety of graphical elements, including charts, tiles, and half and full gauges. Graphical templates can be presented for Call Center queues only.
Under Display Template, click the Plus (+) icon to the right of the Graphical Template panel.
Enter a Name for the new graphical template.
Unity Dashboard provides a list of pre-set layouts featuring different components that can then be configured and edited. Select the desired layout from the Layout drop-down.
Select the desired Call Center from the Default Data source drop-down list.
All pre-set layouts are entirely configurable. Add and remove graphical elements from the pre-set layouts by right-clicking on an element and selecting the desired option (Add Tile or Remove).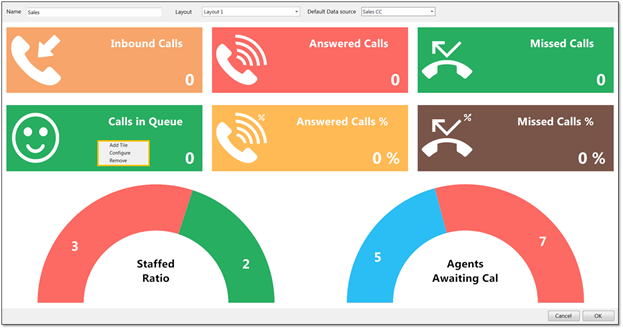 Add/Remove Options
NOTE: Users can change the graphical elements by removing the elements in that section and then right-clicking in the space and selecting from the list, as shown below.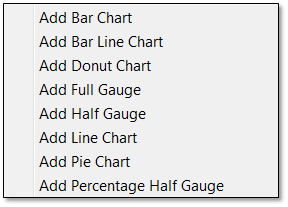 Adding Graphical Element Options
To configure or edit a graphical element, right-click on the element, and select Configure.
Enter the Name of the graphical element as it should be displayed. If left blank, the default statistic name will be displayed.
Select the desired statistic from the Statistic drop-down menu.
Check the desired Data Source(s), if not the default data source.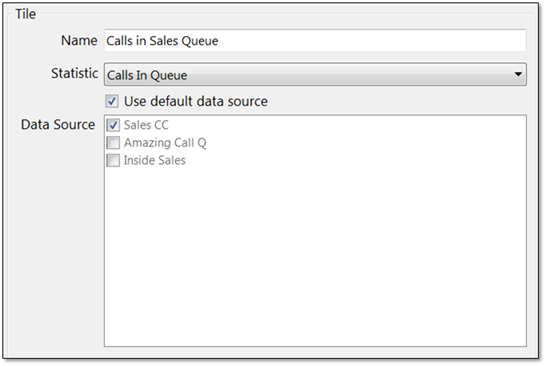 Configuration Window
Configuring Thresholds:
Color thresholds can be set for all graphical components with an additional icon threshold available for tiles. There are two types of values; non-negative integers and time spans. For example, a Supervisor may want Calls In Queue to display green when 1-5 calls are in queue, yellow when 6-10 calls are in queue, orange when 10-15 calls are in queue, and red when more than 16 calls are in queue.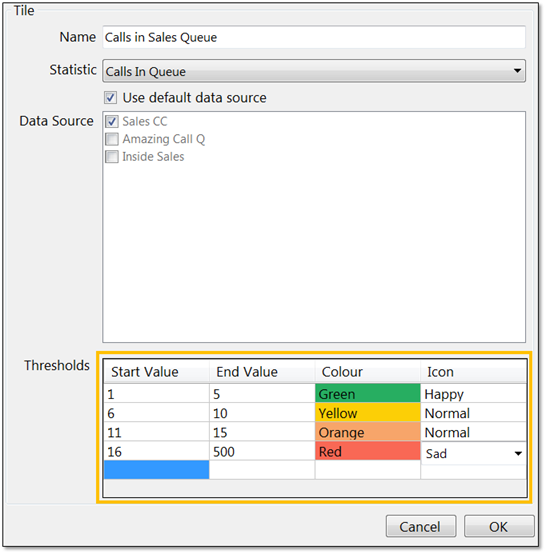 Thresholds
NOTE: The Icon threshold is only available for statistics presented on a tile. Once an icon threshold has been set, it will override the default icon.
NOTE: If the selected item displays time duration, then the value entered should be in time span format (HH:MM:SS). For example, a Supervisor wants Total Average Call Duration to display green if under 5 minutes, orange if longer than 5 minutes but less than 10 minutes, and red if longer than 10 minutes.

Time Span Thresholds
NOTE: Users can delete thresholds by right-clicking on the desired row and clicking Delete Row.
Click OK to save the new graphical template.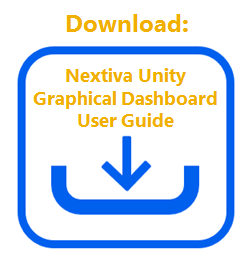 For additional assistance, please contact a member of our Amazing Service team by emailing support@nextiva.com to immediately open a case.
Related Articles: