Nextiva Unity is releasing a new version (8.6.5) of the desktop application, containing new features and multiple bug fixes. All unity users must restart Nextiva Unity before 09/05 to automatically update to the new version. If the update fails to apply automatically after restarting Nextiva Unity, click here.
Thresholds allow Supervisors to configure performance triggers against various parameters so they can easily identify abnormal behavior and can take corrective action. Supervisors can set values to display different colors under the Personal Wallboard and Agent Activity tab and receive pop-up alerts when those values are met. Supervisors can specify different values and alerts for all statistics displayed. For example, a Supervisor may want the Number of Calls in Queue column to display green anytime there is more than 1 call in queue, yellow when there are more than 5 but less than 10 calls in queue, and red when there are more than 10 calls in queue, as well as a pop-up alert.
Go to Tools > Services > Statistics > Columns.
Select Agent Columns (My Statistics), Call Center Columns (Overall Queue Statistics), or Agent Activity.
Double-click the Statistic (e.g., Calls In Queue), then click the Set threshold alert values checkbox.
Double-click All or a specific Call Center to populate the threshold value.
NOTE: Different thresholds can be set for all queue parameters for different Call Centers, or all Call Centers can have the same threshold.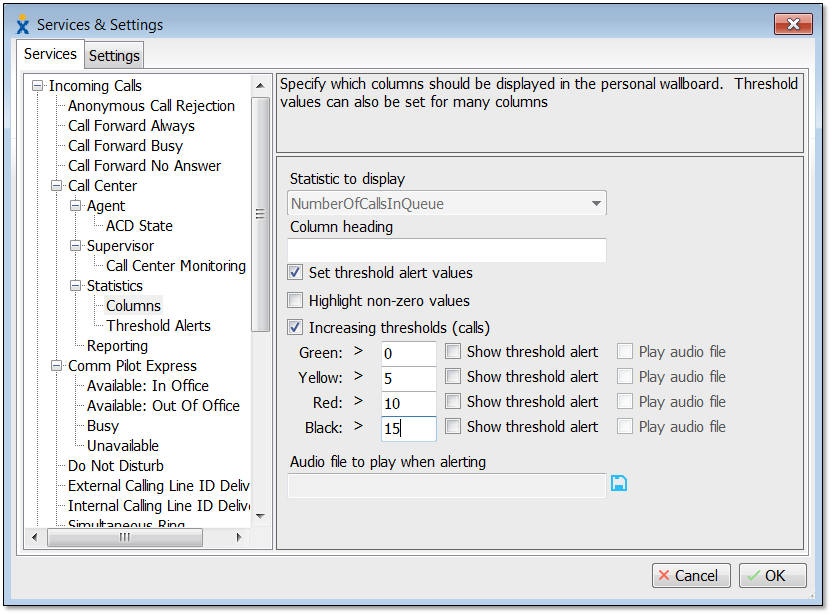 Configuring Thresholds – Settings
Click the Set threshold alert values checkbox.
Enter the threshold values. Click the Show threshold alert checkbox to receive pop-up alerts when the specific threshold is met.
Click the OK button when finished. The threshold will be set as shown below.
Related Articles: