The Nextiva SIP Trunking portal gives administrators the ability to login to review their account settings, make changes to SIP trunking settings, and keep information updated to ensure your records are current. To access your SIP Trunking Portal, please follow the instructions below.
NOTE: As a Nextiva customer you can use your credentials to login to any portal you have permission to access.
For phone customers, click here to log in.
---
How do I log in as a SIP Trunking customer?

As an administrator, you can access the Nextiva SIP Trunking portal by clicking HERE.
You will be asked to enter your username and password credentials to log in to your Nextiva SIP Trunking account. If you recently received a welcome email, utilize the information contained in the email to login. If you have already logged in, utilize your username and password.
NOTE: There is a 'Forgot Password' button below the log in window (Figure 1-1). This will send a password reset email to the address associated with the username. Alternatively, you can select 'Forgot Username' for help with that.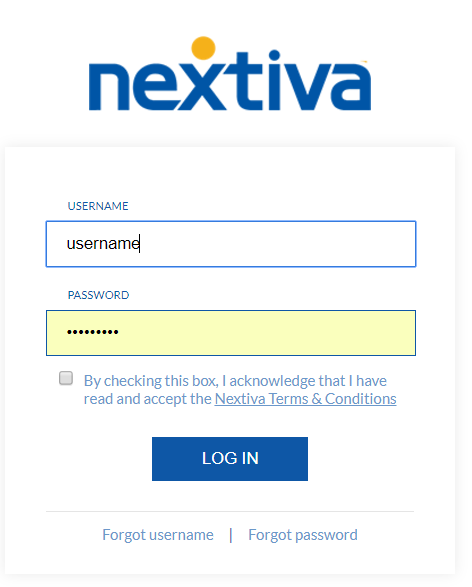 Figure 1-1: Login.
Here is an example of your Nextiva Welcome Email (Figure 1-2):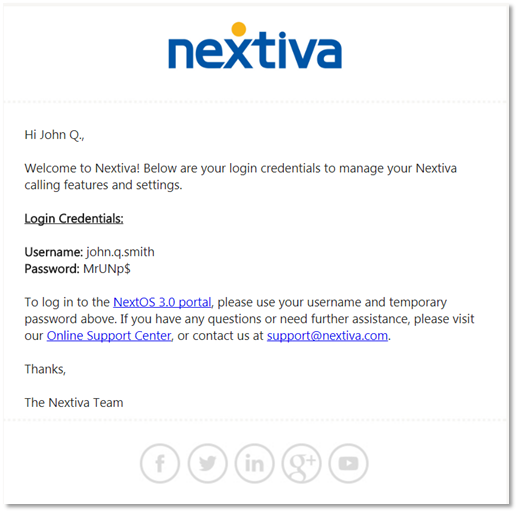 Figure 1-2: Sample Welcome Email.
NOTE: When entering your username and password credentials from your welcome email, you may have issues using copy and paste. Shortcuts like copy/paste may capture additional spaces and cause your login to fail. If your attempt fails please retry by typing the information in manually, exactly the way it appears in your welcome email.
If this is your first time logging into Nextiva.com after receiving the welcome email, you will be asked to reset your password, as well as set a security PIN. Re-enter the temporary password contained in the welcome email one more time (Figure 1-3).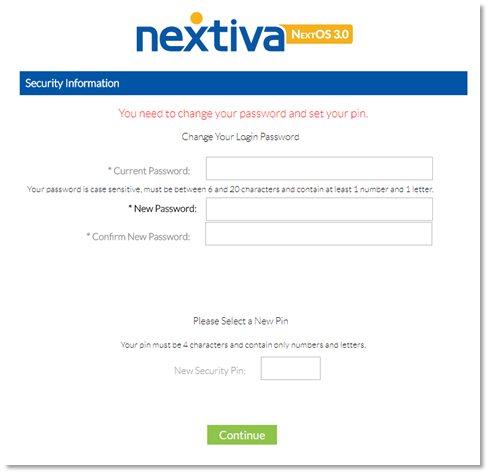 Figure 1-3: New Password Screen.
Once finished setting up your security credentials for the first time, you will have full access to your Nextiva SIP Trunking portal.
Still having challenges logging into your Nextiva SIP Trunking account?
If you have any questions, ask an Amazing Service Team member here or email us at support@nextiva.com.