Announcements are custom audio recordings used with Auto Attendants. These announcements greet callers and provide them with a menu of options. Administrators can upload audio files created with third party audio recorders to the Nextiva announcement repository to use them with the desired location on an account.
NOTE: For information on recording announcements using the Nextiva Voice system, click here.
Audio files must adhere to the following requirements:
PCM Uncompressed (µ-Law)
.wav file format
8 or 16 Bit
8000 HZ
Mono
Under 2 MB
TIP: Use the BroadSoft Recorder to create audio files that adhere to all the requirements listed above.
TIP: Convert audio files not in .wav format by using one of many audio file converters available for free online.
NOTE: For assistance with formatting audio files, please contact our Amazing Service Team at (800) 285-7995 or email support@nextiva.com.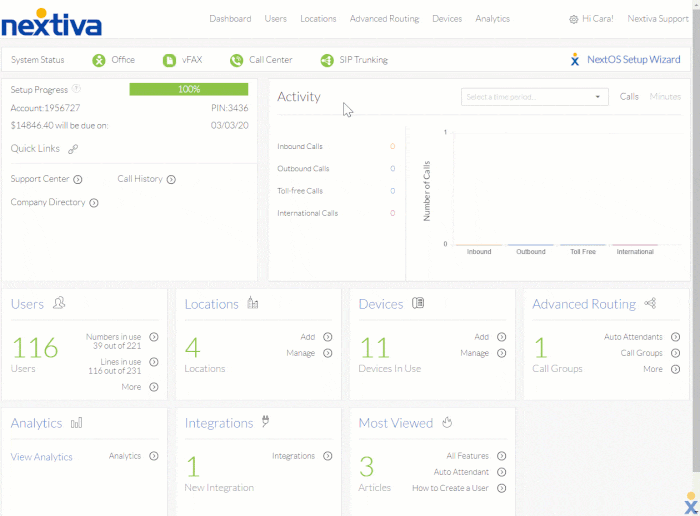 Uploading Announcements to a Location
Visit 

www.nextiva.com

, and click Client Login to log in to NextOS.
From the NextOS Home Page, select Voice.
From the Nextiva Voice Admin Dashboard, hover over Locations and select Manage Locations.
Click the Pencil icon corresponding to the desired Location.
Click to expand the Announcements section. Audio files in the announcement repository for this location display here.
NOTE: The maximum repository capacity is 5 MB per box. Users, Call Groups, and Music on Hold each have separate repositories.
NOTE: For instructions on assigning an announcement to an Auto Attendant, click here.
Click the Upload File button.
In the Announcement Name field, enter a descriptive name for the announcement and click Choose File to select the desired .wav file.
Click Upload.
Related Articles: