Uploading audio files to a Location's announcement repository allows those files to serve as Auto Attendant Business and After-Hours greetings, as well as a recorded message when callers choose an option on the Auto Attendant such as hours of operation and location information.
Audio files in the repository files can also serve as the initial greeting callers hear when they reach a Call Group. Only Nextiva Voice Portal Administrators can upload audio files to a Location's announcement repository. For information on uploading a voicemail greeting for a User, click here.
Audio files must meet the following requirements:
PCM Uncompressed (µ-Law)
.wav file format
8 or 16 Bit
8000 HZ
Mono
Under 2 MB
Under 5 minutes 
TIP: If the desired audio file does not meet the requirements, use one of the many audio file converters available online.
Uploading an Audio File
Visit 

nextiva.com

, and click Client Login to log in to NextOS.
From the NextOS Home Page, select Voice.
From the Nextiva Voice Admin Dashboard, hover over Locations and select Manage Locations.
Click the pencil icon to the right of the desired Location.
Click Announcements to expand the section.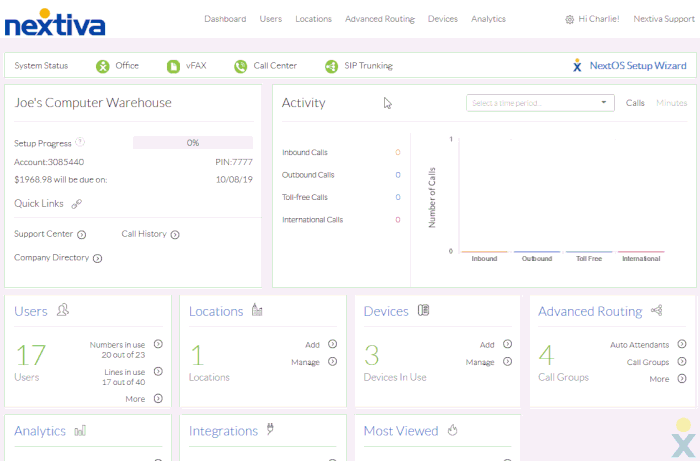 Navigating to Announcements in Location Settings
Click Upload File and click Choose File.
Locate the desired file and click Open.
Fill out the Announcement Name field with a friendly name for the announcement and click Upload.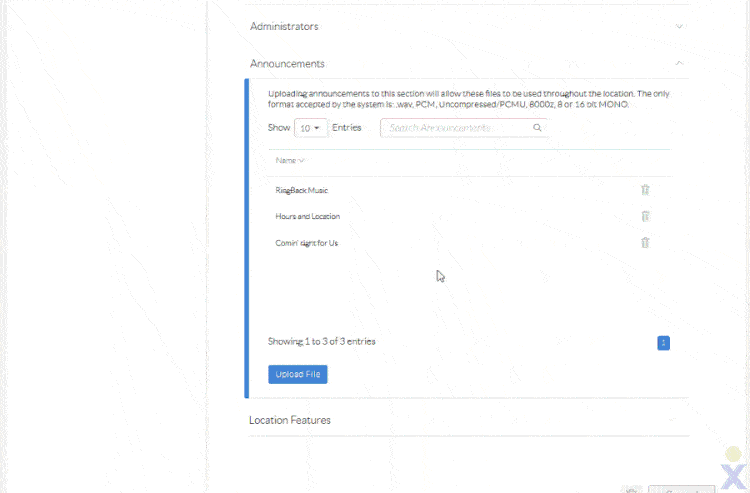 Choosing the File to Upload
For information on using audio files as a Business or After Hours announcement on an Auto Attendant, click here.
Related Articles: